Growing supply tamps down hog plum prices
But increased demand and connectivity negate losses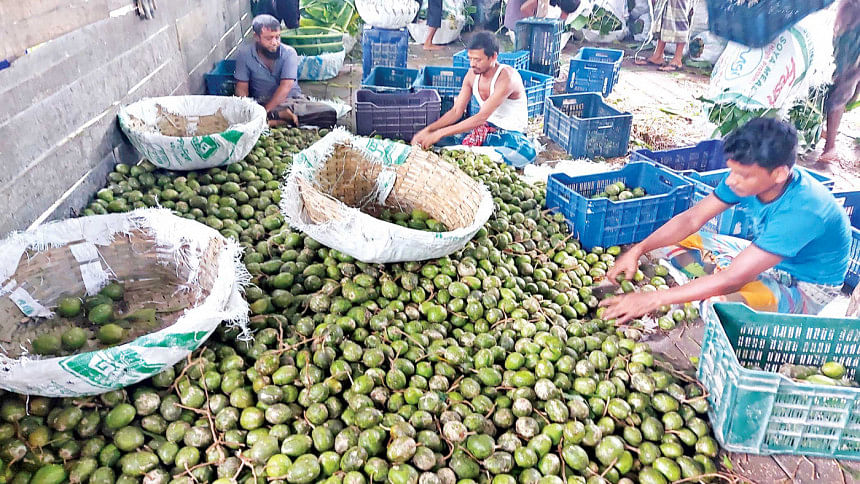 If you travel through the canals of southern Barishal, particularly those in the Pirojpur and Jhalkathi districts, you will see hog plum fields on either side with trawlers and trucks filled with the fruit passing alongside.
At least 10 to 12 wholesalers working in the region supply hog plums to different parts of the country, including major cities like Dhaka and Chattogram, using these trucks and trawlers that collect the fruit from all over the coastal division.
Barishal accounts for about 40 per cent of the hog plums produced in the country each year while Khulna is the second biggest growing region.
More than 42,500 tonnes of hog plum were produced on about 11,400 acres of land across Bangladesh in fiscal 2020-21, when cultivation was around 5 per cent higher than what it was two years earlier, according to the Bangladesh Bureau of Statistics.
And this year, yields have been so high that the increased supply has caused a drop in the fruit's market value, farmers and traders said.
Ripon, a hog plum trader from Pirojpur's Nesarabad upazila, said he is currently supplying the fruit for Tk 700 to Tk 1,000 per maund (37 kilogrammes) in the capital's Karwan Bazar wholesale market while the same amount was worth Tk 1,000 to Tk 1,300 last year.
"So, the price has decreased by 30 to 40 per cent as the yields are very high this year," he added.
Ripon Howlader, a hog plum farmer of the same upazila, said this year's yields are expected to be double what it was last year.
The harvesting period usually begins in mid-June and continues until October-November, he added.
But the decreased prices are nothing to worry about as the increased connectivity offered by Padma Bridge allows farmers and traders to ship more of the fruit than ever before.
Moniruzzaman, another hog plum trader, said he previously used to send about five tonnes of the fruit to Dhaka by truck every day but after the completion of Padma Bridge, he has been able to send more to the capital city at a lower cost.
Local farmers say more and more of their peers are being attracted to cultivating hog plums as the profit is good amid ever-growing demand.
As such, many people are cutting down their guava orchards and planting hog plum trees in their place.
Anisur Rahman Humayun, a farmer of Jhalakati sadar upazila, said he could not profit from growing guavas but hog plum cultivation turned his luck around.
"Hog plum cultivation is playing a major role in overcoming the stagnation farmers faced during the Covid-19 pandemic," said Niranjan Haldar, president of the Hog Plum Farmers' Association of Nesarabad upazila.
Md Harun-Or-Rashid, additional director of the Department of Agricultural Extension (DAE), said hog plums were cultivated on some 2,094 hectares of land last year to get a yield of 27,073 tonnes.
And although just 1,766 hectares of land is being used to grow the fruit this year, farmers are expecting higher yields than before.
According to DAE sources, Jhalakati and Pirojpur have the largest acreage of hog plum cultivation but it is constantly increasing. At least 20,000 people are directly involved in the business, which may be valued at around Tk 100 crore.
Monirul Islam, deputy director of the DAE in Jhalakati, said 6,752 tonnes of the fruit was produced on 638 hectares of land in the region last year. This year though, the hog plum production target has been set at 6,888 tonnes from 541 hectares.
Dr Nazrul Islam Shikder, deputy director of the DAE in Pirojpur, said this year's target is 10,911 tonnes from 509 hectares of land while it was 8,745 tonnes from 441 hectares last year.