Foreign JV to build 50MW solar power plant
Project cost about Tk 1,328cr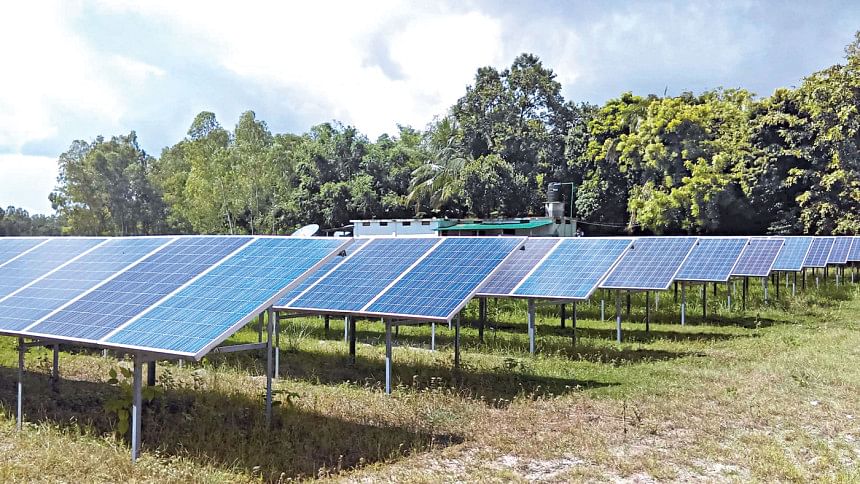 Two foreign companies yesterday got the government nod to set up a 50-megawatt solar power plant in Khulna's Terokhada upazila.
The cabinet committee on government purchase approved the joint venture, under which Business Research International Corporation Inc (BRIC),  a Panamanian registered company, and Singapore-based Hero Future Energies Asia Pte Ltd will establish the solar power project.
The government will buy each kilowatt hour (kWh) of electricity produced at the plant for Tk 8.20 for 20 years. The project is estimated to cost Tk 1,328 crore.
Asked why they chose a company from Panama, a country that has history of allowing creation of shell companies that hide their real owners, to set up a power plant in Bangladesh, Finance Minister AHM Mustafa Kamal said: "No, it's a Singaporean company, no Panamanian company is here."
But when journalists insisted that there is a Panamanian company in  the joint venture alongside a Singaporean one, Kamal instantly called Nasrul Hamid, the state minister for power, over the phone.
After their conversation, Kamal told journalists that Hamid will inform him about the company after knowing about it himself.
The Panama Papers leaks had put some well-known political and corporate leaders under the spotlight after their names popped up in connection with offshore entities bearing roots in Bangladesh.
The first leak of the International Consortium of Investigative Journalists (ICIJ), published in 2013, contained the names of 32 Bangladeshis.
In 2016, the ICIJ named three new companies, 14 new addresses and 24 individuals with links to Bangladesh on its second list of leaks.
Amid the gas crisis, the government approved a proposal to buy another 33.60 lakh Metric Million British thermal units (MMBtus) of liquefied natural gas (LNG) from the spot market to meet the growing demand for the super-chilled fuel.
Vitol Asia Pte of Singapore will supply the fuel with each MMBtu costing $29.89.
The committee also approved a proposal of the Directorate General of Food to purchase 50,000 tonnes of wheat from M/S Agrocorp International Pte Ltd of Singapore for Tk 179.53 core.
The price of per tonne wheat was set at $421.19.