Transport strike: Few industries using own vehicles to unload goods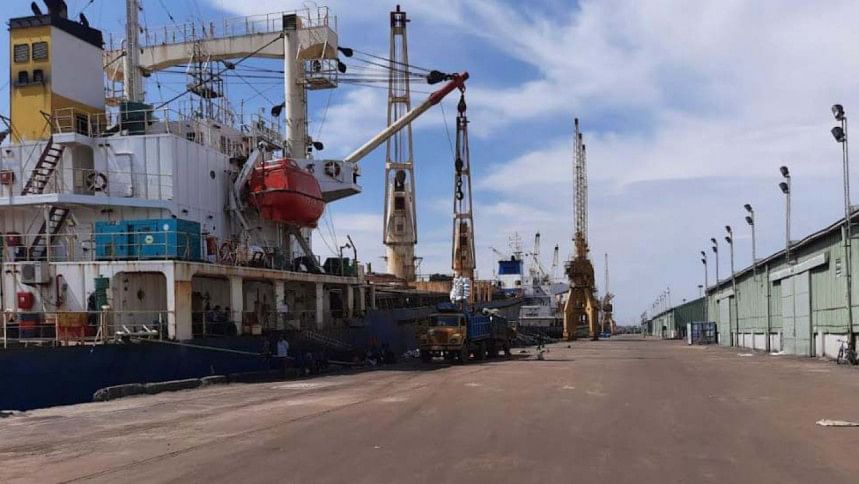 Most of the operations at Chittagong port remain suspended for the second consecutive day today, as a faction of owners and workers of goods transport are observing a countrywide 72-hour work abstention since yesterday.
Two vessels -- MV AS Sicilia and MV Sahare -- which were scheduled to leave the port this morning, deferred their departure as expected number of export containers bound for the first vessel could not reach the port while the latter could not finish unloading its import containers on board due to lack of transport.
Chittagong Port Authority (CPA) Secretary Md Omar Faruk admitted that this is the first time in last few years that any vessel failed to depart the port on time due to strike, reports our staff correspondent.
Bangladesh Covered-Van, Truck, Prime Mover Goods Transportation Owners Association and Bangladesh Truck Drivers Workers Federation jointly enforced the countrywide work abstention to meet their 15-point demands, including cancellation of the decision of hiking advance income tax (AIT) imposed on the vehicle owners and removal of complications in issuing driving license for heavy vehicles.
Delivery of open cargoes and containers from the port remains almost suspended as no goods transport like trucks, covered vans and prime movers entered the port since yesterday morning.
However, a few industrial groups managed to send some of their own trucks to the port and thus, unloading of imported raw materials like cement clinkers and scraps and others from the bulk was going on at limited scale, informed the CPA secretary.
But, loading and unloading of containers from vessels at jetties remain suspended for the second day, he said.
Container transport between the port and 18 private inland container depots also remain halted today as the container carrying prime-movers are not operating.