BB updates SME terms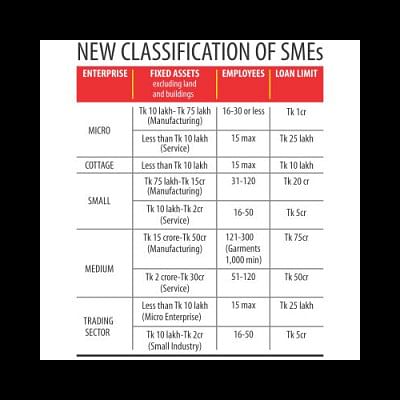 Bangladesh Bank (BB) has updated its definition of micro, cottage, small and medium enterprises in line with the National Industrial Policy 2016 and set a limit to the amount of credit they can avail.
Moreover, banks must set aside for SMEs 20 percent of the loans they give out in 2017 and raise it to 25 percent by 2021. Of that for SMEs, at least 50 percent has to be kept for cottage, micro and small enterprises, said a circular published on Thursday.
"Overall, priority should be given to lending to small enterprises compared to medium enterprises," the BB said.
BB's January 2016 circular had called for a minimum 30 percent SME lending to manufacturing sector, 15 percent for service sector and a maximum 55 percent for trading.
"But it is being observed that many banks and financial institutions are not lending to SMEs up to expected level," said the circular.
Now the instruction is to increase lending to manufacturing SMEs to at least 40 percent by 2021, service SMEs to at least 25 percent and trading SMEs a maximum 35 percent.
At least 10 percent of the lending will have to go to women SME entrepreneurs. This rate will have to be raised to 15 percent by 2021. Bankers have welcomed the new regulations.
Selim RF Hussain, managing director of Brac Bank, said the changes are positive and aligned with the government's broader industrial policy, reflecting the transformational changes that have taken place in the economy in the last seven-eight years. 
"The definitions of micro, small and medium are clearer and better than what they were," he told The Daily Star.
He pointed at some new exposure requirements of the new regulations. "It will take a few years for various banks to increase their SME lending to 20 percent of their total portfolio."  
"Brac Bank is already following the regulations as we are SME-focused. But it will be difficult for other banks to achieve. Hopefully, the central bank will provide adequate time to them as they won't be able to do it overnight," he said.
Mehbub Benazir, head of SME of Eastern Bank Ltd, said under the new regulations, banks would not be able to reach their SME lending target through concentration in just one sector.
"They have to work in all sectors, which is better for all," he said, adding that the increase in credit limit would also help banks make more investment.