StanChart coming up with new strategy for Bangladesh
Standard Chartered Bank is preparing its new strategy to carry on its growth momentum in the country, which it deems one of its core markets, said the chief executive of its Bangladesh operations.
The Bangladesh franchise had formulated a strategy in 2010 that has served its purpose, said Naser Ezaz Bijoy, who took its helm in November last year, becoming the third Bangladeshi to do so.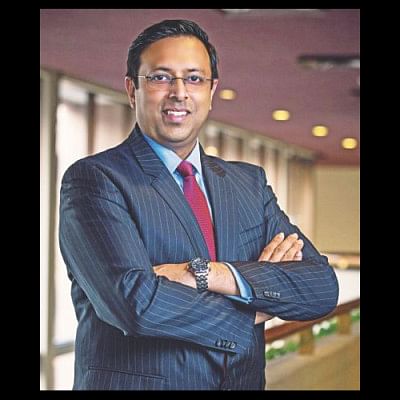 "We are revising our strategy and it will be finalised within the next month or so. I don't think the next five years will be the same as the previous five years," he told The Daily Star in an interview last week. 
The strategy would be all-encompassing, with equal focus on corporate and institutional banking, commercial banking and retail banking.
"We think that we are well-positioned to realise the potential of the country," said Bijoy, who has been with the British lender for 25 years, serving in various roles in the Middle East, Asia and Africa.
Bangladesh is an important market for SCB, so the country office receives more commitment and support from the headquarters in London.
"We are very committed to this market. In fact, major markets such as Bangladesh are like a home market for us."
Corporate and institutional banking generates half of the revenues for the bank in Bangladesh, commercial banking about 20 percent and retail banking 30 percent.
Bijoy, who holds an MBA from the Institute of Business Administration, feels SCB's competitive advantage in Bangladesh lies in long-term project financing.
For instance, as of 2016, SCB has been involved in financing of 20 percent of power generation in Bangladesh. It has arranged all aircraft financing for state-run Biman Bangladesh Airlines.
Subsequently, the bank's resources can come in handy in Bangladesh's much-needed infrastructure financing.
The 48-year-old though backed the Bangladesh Bank move to advise banks to avoid giving long-term loans to corporate borrowers and instead work as mediators to raise funds from the capital market for projects.
"What the central bank has suggested is perfect and it should be the practice. However, a congenial environment has to be put in place to do that and the policy framework has to be supportive as well."
He went on to call for incentivising investment in the bond market initially in order to popularise the market.
About the BB's much talked about move to lower the banks' loans-deposit ratio ceiling, he said the central bank opted for a practical approach: instead of lowering the ceiling in a big way, it cut the rate by a small margin.
Bijoy said the bank thinks it can do a lot in the retail banking segment.
He said there was a time when the bank's retail banking segment was underinvested. It, however, has invested in the segment in the last three years. At present, SCB has 24 branches in Bangladesh.
The bank, however, is giving more priority to enhancing the online banking experience for its customers such that they need to visit a bricks-and-mortar branch less and less.
Challenges for banks would be greater this year because of liquidity and currency situation, Bijoy said.
"Banks will have to be more innovative to grow their business without depending entirely on loans."
He said the taka has depreciated against the US dollar because of the rise in commodity prices, slowdown in remittance flow, rising imports against slowing exports, and a natural adverse impact from a host of interventions from the regulator.
The major focus for all banks would be deposits this year.
"Banks would not be able to lend more if they can't attract deposits and banks would have to look to incentivise deposits," he said, adding that the cost of deposits will also go up.
Governance standards have to be strengthened and there is no alternative to it, he said, adding that governance can help banks keep both financial crimes and non-performing loans under control.
Banks have to take the issue of financial crime control seriously and invest to beef up security measures, he said.
SCB organises summits outside of Bangladesh to promote the country as an investment destination. It also shares with top regulators the feedbacks from investors.
Investors face challenges when it comes to getting land, access to adequate energy, and foreign exchange regulations.
When the foreign exchange regulations were framed they served the purpose. "Now, the time has come to relax the regulations on current accounts."
About the Bangladesh market as a whole, he said there are definitely challenges in the market.
"But there are raw opportunities. Risk-reward is favourable in the market if you understand the market. You have to have patience, understanding, and clear risk management and strategy."
The bank has opened a lounge at the Hazrat Shahjalal International Airport meeting a longstanding demand of clients and set up a booth in the Mongla Export Processing Zone to help exporters.
Bijoy said Khulna would be a growth market for the banking sector once the Padma bridge opens to the public.
The bank has also set up a financial crime control academy with support from the central bank. It recently teamed up with non-government organisation Friendship to sponsor 400 cataract surgeries for underprivileged people in coastal areas.
"There are a lot more in the pipeline."