Two-day festival in remembrance of Mannan Hira begins at Shilpakala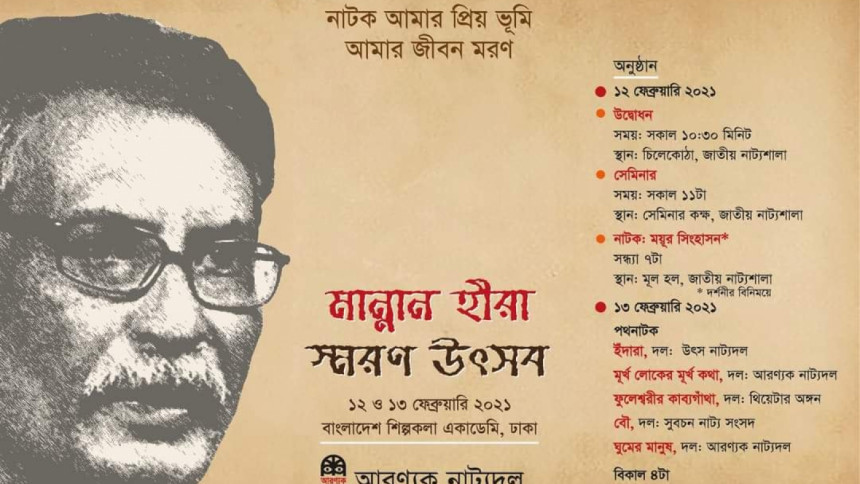 In memory of noted playwright and Bangla Academy winner Mannan Hira, a two-day theatre festival, organised by Aranyak Natyadal, began at Bangladesh Shilpakala Academy (BSA) from today.
The event was inaugurated by renowned playwrights Ataur Rahman and Nasiruddin Yousuff Bachchu. Mannan Hira was an eminent member of Aryanak Natyadal. He had contributed immensely to the theatre arena in his lifetime.
In order to commemorate him, his successful and popular play, "Mayur Singhasan", written for the Dhaka Theatre, was staged at the National Theatre Hall of BSA today. The play is directed by Shah Alam Dulal.
Tomorrow (February 13) five more of his street plays will be staged in the open courtyard next to the Nandan Mancha of BSA. The plays include "Idara" which will be performed by Utsa.
"Murkho Loker Murkho Kotha" will be performed by Aryanak Natyadal. Fuleshwari's "Kavyagantha" will be performed by Fuleshwari. The play "Bou" will be performed by Subchan Natya Sangsad and additionally, Aryanak Natyadal will stage "Ghumer Manush".
Meanwhile, a seminar on the plays written by Mannan Hira was also today. Dr Ratan Siddiqui gave the keynote address.
"Mannan Hira and I shared the stage for many years and he had dedicated his whole life to Aranyak," said Mamunur Rashid. "Sadly, he left us too soon, but he will always remain in our hearts. This festival is our effort to honour him."
Translated by Mormee Mahtab