The powerful Manipuri dance duo
Celebrated dancer and choreographer Tamanna Rahman started her journey with Manipuri dance from early childhood. Under the tutelage of Guru Kalavati Devi, Padmashri Darshana Jhaveri, and Guru Bipin Singh in India among others, Tamanna went on to become one of the leading Manipuri dancers in Bangladesh. She founded the institute, Nrityam, in 1998 and was appointed as a lecturer of the Department of Dance at Dhaka University in 2015. Known for her grace and modesty, she has been teaching and inspiring generations of dancers for years.
In a candid chat with The Daily Star, Tamanna, along with her student Manomi Tanjana Orthy, share their views on dance, and more.
"Orthy is a dedicated dancer," shares Tamanna. "She has an education in dance, and she took it up as her profession as well. She is willing to face challenges and make sacrifices for her craft."
When Orthy was in the sixth grade, she began learning Manipuri dance from Tamanna. Now, she is an established dancer and teacher herself. Orthy currently teaches at Nrityam, Bangladesh Shishu Academy, Shopno Bikash Kala Kendra Academy, and Excel Academy. She graduated from Rabindra Bharati University, after completing both her bachelor's and master's  in Manipuri dance.
"I can depend on Orthy for any production, choreography, music editing, or technological aspect," expresses Tamanna. "At the same time, she is building her career bit by bit, and she is involved with me in various productions and compositions."
"I've been observing Tamanna Di since my childhood days. She was my inspiration to pursue dance as a full-time career," shares Orthy. "She even allowed me to conduct classes when I was a student, she taught me how to teach others and it has been a valuable life lesson. After I came back from Rabindra Bharati University, she eagerly learned the newest forms of dance from me. As a student, that is an indescribable feeling and it gives me a sense of achievement."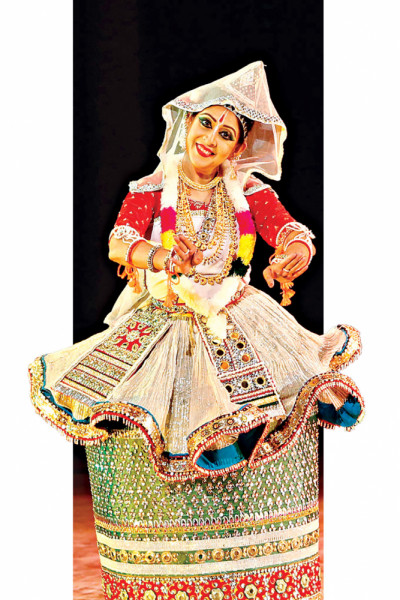 "When we were students, we had a lot of free time, we could dedicate a large amount of time to our dance lessons," she adds. "Unfortunately, the young generation of students now don't have the time and energy to do so. They are too involved with academic activities, even outside of school. It is getting harder for them to dive deep into the methods of any art form."
Additionally, Tamanna said that there is a lack of knowledge of literature, patience, and hard work among students nowadays. Yet, she believes that the young generation of dancers has the capability to carry the torch forward, rising above complex challenges and negativity to become true artistes. Tamanna is consistently inspired by her young students, as a teacher.
Moreover, Orthy shared that the young generation can use technology to their benefit, for learning and spreading knowledge on classical dance forms.  "More people are now getting the chance to study various forms of dance, which is helping them to strengthen their roots.  They will pass on their learnings to their students, which gives me hope for a bright future," she concludes.