Sheikh Afzal Hossain's 'Swajanghati Rekha' underway at Kala Kendra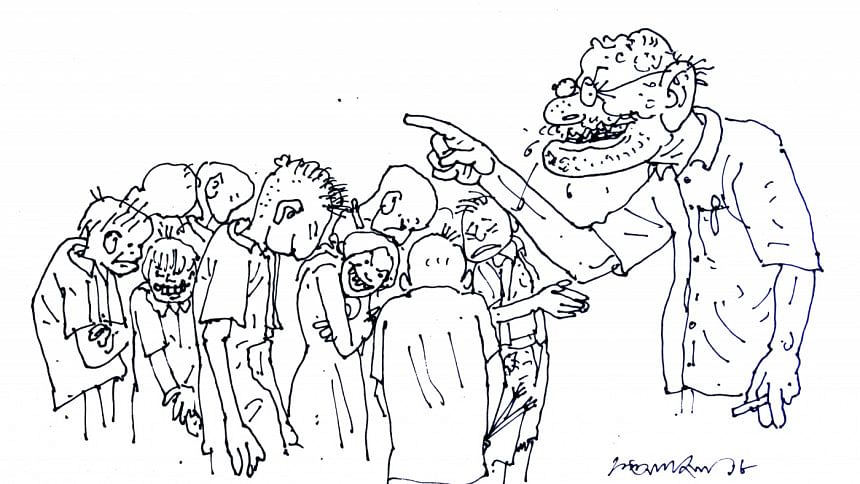 Under the title of Swajanghati Rekha, an exclusive solo art exhibition is underway at Kala Kendra, Iqbal Road, Dhaka. Eminent artists Professor Rafiqun Nabi and Professor Shishir Bhattacharjee inaugurated the exhibition on February 21.
Artists are brilliant at generating creative ideas. The way they talk, interact, create, recreate and make fun of each other, even amongst themselves -- are diverse in expressions, and delightful to experience. To relish in the other aspects of his fellows, renowned artist Sheikh Afzal Hossain has created a number of caricatures over the years. The exhibition is a great treat to the art lovers, who now have the opportunity to comprehend the lighter side of the renowned artists.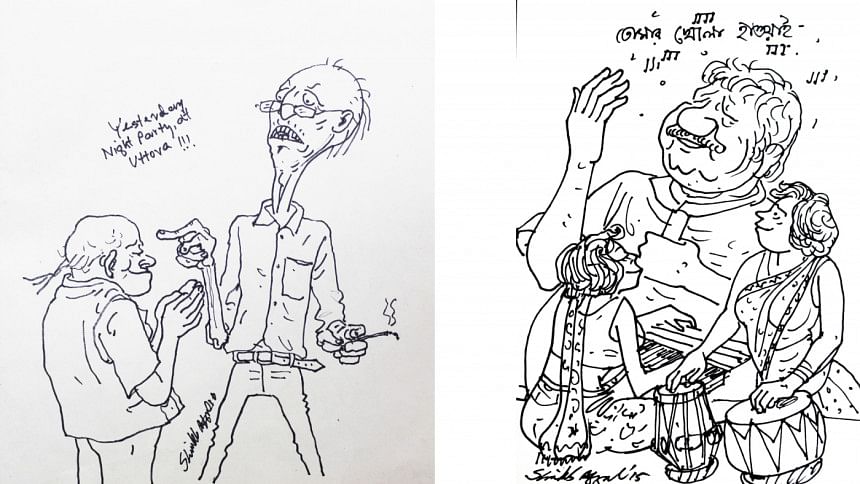 Sheikh Afzal Hossain is a Professor at the Department of Drawing and Painting, Faculty of Fine Art (FFA), University of Dhaka. He is a cheerful person, who avidly portrays cartoons and caricatures of his colleagues.
When he was a final year student at FFA, Sheikh Afzal started a newspaper called Byango. Besides, he used to draw cartoons for many daily and weekly newspapers. "When I joined the Institute of Fine Arts, DU, as a teacher, I would draw cartoons of my colleagues to provoke them," said Sheikh Afzal Hossain. "I also took the challenge of drawing cartoons of renowned artists Mohammad Eunus and Rafiqun Nabi at that time."
"To provoke diverse senses of rasa, Sheikh Afzal Hossain has taken the media to depict hilarious and even brain-teasing cartoons, shedding light on the humourous aspects of his colleagues, friends and fellow artists," shared the curator of the show, Wakilur Rahman.
The exhibition captures various unexpectedly funny moments and joyous experiences of Afzal Hossain, with artists Rafiqun Nabi, Shahid Kabir, Shishir Bhattacharjee, Nisar Hossain, Ahmed Shamsuddoha, Mostafizul Haque, Jamal Ahmed and Mohammad Iqbal, among others.
Opening daily from 4:30 pm to 8:30 pm, the show will run until March 17.