Preema Donna: The Bold and the Beautiful
Retrospective exhibition with book launch at BNM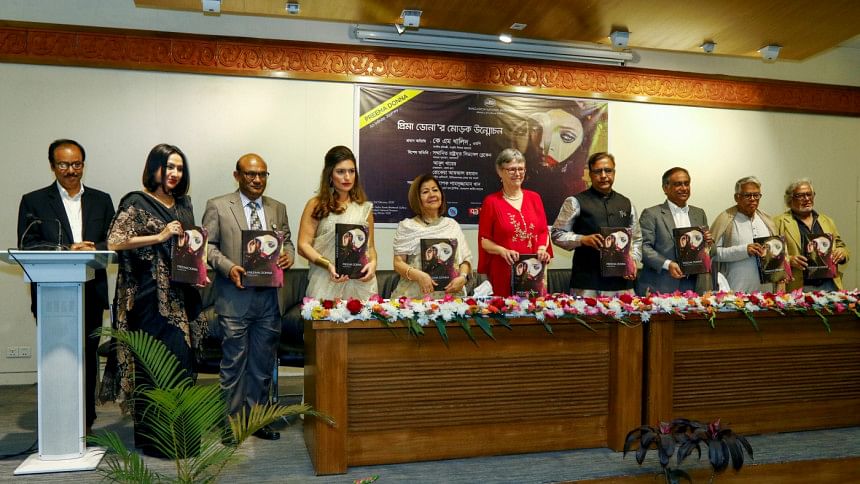 Renowned artist Nazia Andaleeb Preema's 22nd solo exhibition, Preema Donna, is underway at Nalini Kanta Bhattasali Gallery of Bangladesh National Museum (BNM). State Minister for Cultural Affairs K M Khalid, as the chief guest, inaugurated the retrospective exhibition featuring Preema's works, ranging from paintings to live art performances, on February 2. A launching ceremony for Preema's book, Preema Donna – An Infinite Journey, was also organised. Rokia Afzal Rahman, Chairperson of Mediaworld Ltd, Abul Khair, Chairman of Bengal Foundation, Sidsel Bleken, Ambassador of Norway to Bangladesh, internationally acclaimed artist Monirul Islam, Professor Nazrul Islam, Former Chairman of the University Grants Commission, among others, attended the event as special guests.
"I have known Preema for years. She is a bold woman who has established herself in the field of art through ceaseless practices, experiments and exhibitions, garnering recognition worldwide," said Rokia Afzal Rahman.
Sidsel Bleken described Preema as a powerful artist and feminist. "She is a strong voice for women. The veils in her artworks emphasise the contexts to protest, interpret and improvise society, in a contemporary way," said the Ambassador.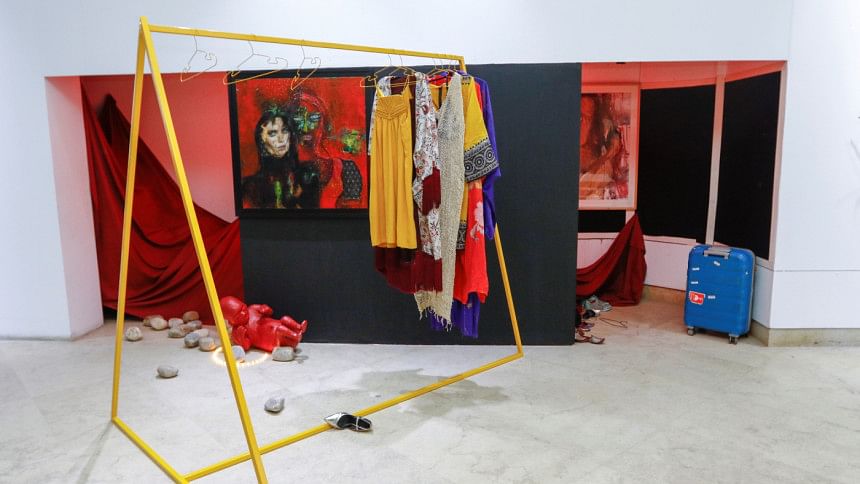 Abul Khair said that Preema's sensitive performances and assertions as an artist are remarkable. 
"Preema has dedicated herself to empowering women. She addresses contemporary social issues, especially violence against women, in her paintings," said K M Khalid. 
The artist regularly travels around the world to showcase her works. "Her paintings evoke both images and abstracts, which have attribute a powerful quality to her works," added Monirul Islam. 
Preema's work has been recognised worldwide for its innovative approach and distinct technique. Her paintings, performances and installations reveal a personal narrative that showcases her experiences. Her works depict the subtle emotions of women.
Her book, Preema Donna – An Infinite Journey, consists of five chapters: Conflict, Courage, Wonder, Vision and Connection. It also features her artistic philosophies and new media ventures, which index her journey through visual interpretations. The book is published and produced by Cosmos Books, supported by Bangladesh Brand Forum. Preema's artworks embody lyrical overtones, while her illustrations demonstrate the virtuosity of blending tradition with contemporary media.
"I believe that art is feeble. I create my own contexts by breaking and entering into different dimensions of it. So, this exhibition has paintings, installations and performances, which represent my own freedom of existence," said Preema, who is currently the Director and Creative Editor of Bangladesh Brand Forum, Founder of Bangladesh Creative Forum and President of Women in Leadership. The exhibition, jointly curated by Zeenat Ikramullah and Mohammad Wahiduzzaman, will conclude on February 15.