Portrait of a Cover Artist ABU HASAN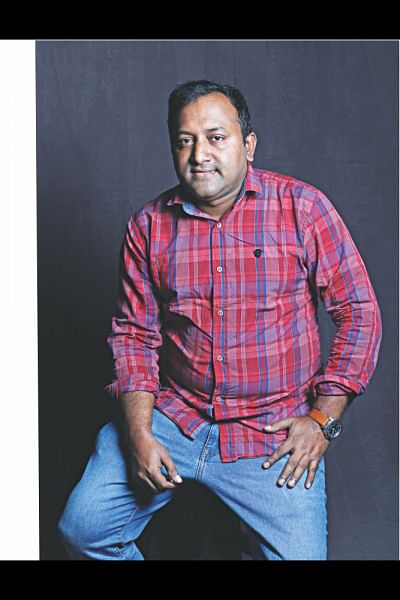 Passionate about painting, Abu Hasan started his career as an artist in 2002 with Prothom Alo in Chattogram. He later moved to Dhaka and continued working with the same organisation as a cartoonist and illustrator. Based on his artistic prowess, he soon gained recognition amongst his peers and was advised to pursue a higher education in his field. Equipped with a scholarship, he completed his Bachelor of Fine Arts in Drawing and Painting from University of Development Alternative (UODA) and joined Bonik Barta, a Bangla daily, for which he later designed the official logo. Having served as the chief artist at Amader Shomoy, Abu Hasan is currently working as the art editor of Sarabangla.net, where he mostly creates the editorial cartoons.
He started his journey with the Ekushey Grantha Mela in 2005 with noted book publisher, Ityadi Grontho Prokash and soon made a name for himself amongst the community.  At this year's Boi Mela, Abu Hasan has contributed to 6 children's books including cover designs and inner illustrations, and 20 covers for various novels and poetry books. Some of the books are Jokhon Jekhane Jemon, Gopal Bharer Mojar Golpo and Khuku Holo Pori, among others.
"In terms of honorarium, the transaction is not as healthy as it should be. People often think that our work is as simple as the stroke of a brush. Hence, they often take it for granted," mentions Abu Hasan. "This mindset needs to be modified, and that can take place through the improvement of the relationship between the artists and publishers." However, with the number of contemporary publishers on the rise, it seems that improvements are starting to take shape.
Abu Hasan's talent is not limited within the boundaries of art only, as he is also know for displaying fine skills when it comes to the designing of  stalls at the Boi Mela as well. He is the man behind the design at this year's pavilion of Ityadi Grontho Prokash.