International Art Festival 2020 to set off at Nilsagor, Nilphamari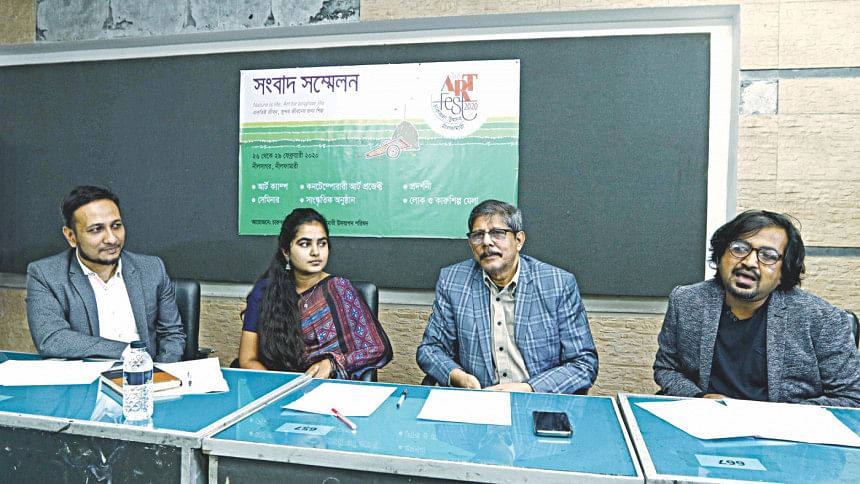 The 3rd International Art Festival 2020 will set off at Nilsagor, Nilphamari on February 26. The prime purpose of the annual four-day (February 26-29) event is to diffuse the flow of art to the remote countryside of Bangladesh.
A press conference was held in this regard at the Department of Graphic Design, Faculty of Fine Art (FFA), University of Dhaka (DU) on February 19. Professor Mohammad Eunus, the convener, Md Harun-Ar-Rashid Tutul, the curator, Rashedul Islam Rana, the joint convener and Dinar Sultana Putul, the co-curator of the festival were present, as they elaborated on the diverse aspects of the grand art event.
"Alongside pledging a contemporary art scenario, renowned artists -- from both home and abroad, will share their experiences to the local school students, in order to enhance their views on art, culture and creative expressions," said the convener Mohammad Eunus, also a Professor at the Department of Graphic Design, FFA, DU.
"The festival aims to decentralise art practice, and to inspire artists to indulge in creating art beyond the chaotic city life," said the curator Harun-Ar-Rashid Tutul, also an Assistant Professor at the Department of Graphic Design, FFA, DU. "Set in a natural environment, the festival will include an international art camp, art exhibitions, curated contemporary art projects, artists' talk, seminar, cultural programme, folk art and craft fair, camp fire and sightseeing." 
KM Khalid, MP, State Minister of Cultural Affairs, will grace the opening ceremony of the festival as the chief Guest on February 27. Eminent artist Professor Rafiqun Nabi and eminent art connoisseur Abul Khair, also the Chairman of Bengal Foundation, will jointly inaugurate the international art festival at 11 am on the same day. Hafijur Rahman Choudhury, Deputy Commissioner, Nilphamari, Md Ashraf Hossain, Superintendent of Police, Nilphamari, will be present as special guests. Eminent cultural personality Asaduzzaman Noor, MP, also an adviser of the festival organising committee, will preside over the programme.
Over 500 artists from around the world, including Bangladesh's renowned artists -- Rafiqun Nabi, Monirul Islam, Syed Abul Barq Alvi, Farida Zaman, Ranjit Das, Afzal Hossain , Mohammad Eunus, Jamal Ahmed, Mostafizul Haque, Rokeya Sultana, Ahmed Shamsuddoha, Nisar Hossain, Sheikh Afzal, Shishir Bhattacharjee, Torun Ghosh, Mohammad Iqbal, Md. Anisuzzaman, Shameem Subrana, Mustapha Khalid Palash, Susanto Adhikari, Reza Asad Al Huda Anupom, Anukul Mojumder, Nazia Andaleeb Preema, Bishwajit Goswami and Sourav Chowdhury -- will participate in the festival.
Several Bangladeshi contemporary artists and art organisations will produce and display contemporary art projects, while around 50 promising artists from various art educational institutes of Bangladesh will work with 200 local school students of Nilphamari.