International Art Fest 2020 Nilphamari underway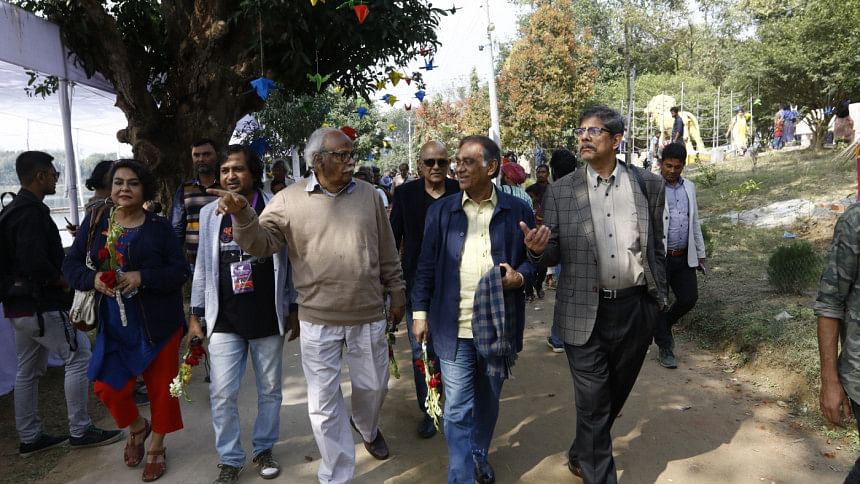 The International Art Fest 2020 Nilphamari, an event which celebrates different artistic expressions, opened yesterday. The grand festival, held this year at Nilsagor, Nilphamari, features artists representing five different generations of Bangladesh, India, USA, Nepal and Myanmar. Organised by the Art Festival 2020 Nilphamari Organising Committee, with active support from Vision 2021 Nilphamari and Art Bangla, the event, under the tagline, 'Nature is life, Art for brighter life' has been arranged in the northern district of Bangladesh to decentralise the heritage of Bangladeshi art and culture. Nilsagor has welcomed participants to work on their artistic projects in a beautiful and natural environment throughout the festival. Promising artists from all around Bangladesh have paired with local school students to work on different forms of art. Several contemporary artists, along with five art organisations are also participating in the event.
State Minister for Cultural Affairs K M Khalid attended the inaugural ceremony of the festival as the chief guest. Eminent artist Rafiqun Nabi and Bengal Foundation Chairman Shilper Sadhak Abul Khair jointly inaugurated the event. Nilphamari DC and SP and Upazila Chairman were present as special guests. Former Cultural Affairs Minister Asaduzzaman Noor, also the chief adviser of the festival organising committee, presided over the programme.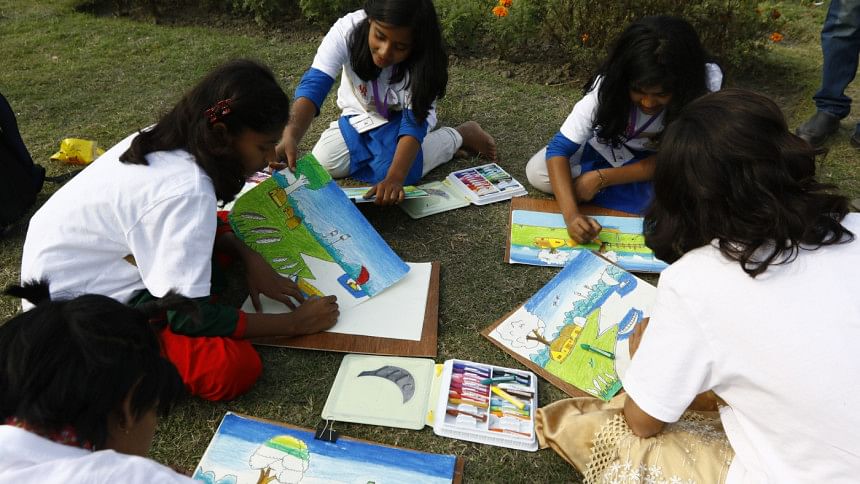 Director General of Bengal Foundation, Luva Nahid Choudhury, Engineer Mainul Abedin and art critic Moinuddin Khaled have attended the event. Renowned artist Professor Mohammad Eunus is the convener, while Harun-ar-Rashid Tutul, an Assistant Professor of the Department of Graphic Design, FFA, DU, is the curator of the festival. Md Wadood Rahman is the member-secretary of the festival organising committee.  
Renowned artists, including Rafiqun Nabi, Monirul Islam, Abul Barq Alvi, Nisar Hossain, Mohammad Eunus, Afzal Hossain, Jamal Ahmed, Rokeya Sultana, Shameem Subrana, Ahmed Shamsuddoha, Sheikh Afzal Hossain, Mustapha Khalid Palash, Muniruzzaman, Mohammad Iqbal, Ranjit Das, Reza Asad-Al Huda Anupam, Nazia Andaleeb Preema, Bishwajit Goswami and Sourav Chowdhury are participating in the festival. They are creating artworks that represent Bangladesh's natural, artistic and cultural heritage. Furthermore, foreign artists are working with local artists on different creative themes.
The festival includes an international art camp, two international exhibitions (one to be held at Nilsagor on February 29, and another at Zainul Gallery in Dhaka next April), a folk art and craft fair, seminars, cultural programmes, camp fire and sightseeing. Various cultural performances, including Baul Gaan, Bhandi Khela, Bieer Geet, Horikirtton, Lathi Khela are being hosted at the Dighee Stage, Matia Stage and Mela Stage across several venues at the festival, which concludes on February 29.