Group exhibition 'Bangladesh' marking birth centenary of Bangabandhu
Contemporary art gallery Shilpangan has arranged a group painting exhibition, titled 'Bangladesh', marking the birth centenary of the Father of the Nation Bangabandhu Shiekh Mujibur Rahman. The exhibition showcases watercolour paintings by four promising artists who have rendered the bucolic beauty of Bangladesh into canvas.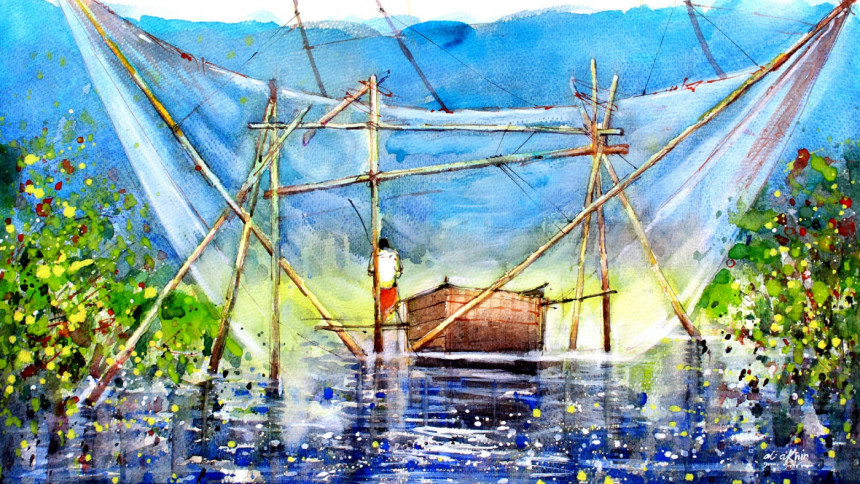 The four participating artists -- Al Akhir Sarker, Kamruzzoha, Masud Ahmed and Palash Datta – have produced beautiful works going for outdoor works across the country. Aesthetic composition, balanced use of colours, keeping white space on paper and an illusion of graceful wash are the predominant features of the displayed works. 
From the lush green vegetation to the blossoming mustard field, to the unique beauty of the deer and dense mangrove forest of the Sundarbans, to the serpentine beauty of the hilly rivers of the Chattogram Hill Tracts – are being showcased at the gallery. It is a great tribute to Bangladesh and Bangabandhu, while displaying the diverse natural and cultural strength of our beloved motherland.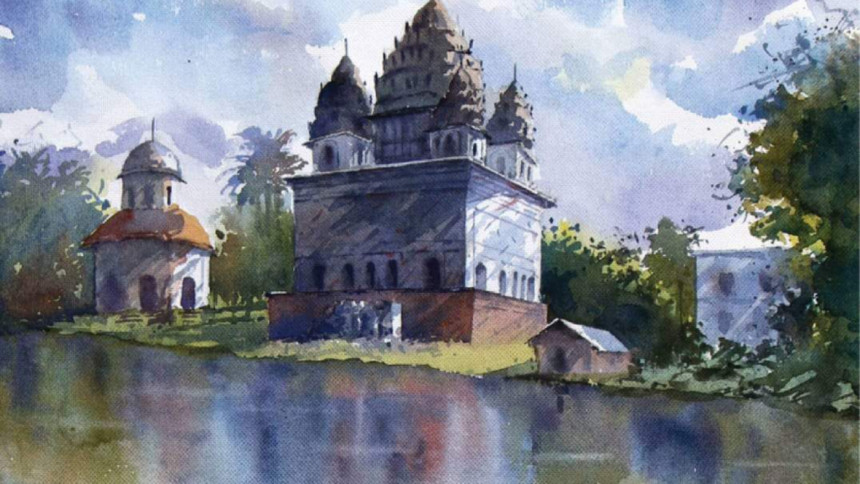 Al Akhir Sarker's Banglar Bondhu delineates a fisherman fishing on the river with net and basket, a common sight of riverine Bangladesh. It simultaneously represents the greenery of the country. Jibon Sriti by Akhir depicts two men fishing on a pond with hooks, against the backdrop of a paddy field.
Poddo Pukur by Kamruzzoha is one of the most aesthetically soothing paintings at the exhibition. The piece portrays a beautiful red lotus in a pond of Sylhet. A peaceful shade of blue, together with the illusion of wash technique and precise white space, enhances the mystique quality of the painting.
Puthiar Rajbari by Masud Ahmed offers a beautiful game of light and shade, in his painting. The artist's colour pallet soulfully depicts the epic of both architectural and archaeological heritage of Bangladesh. Clouds, trees, and the Rajbari remind the art lovers of the glorious past of this part of the world.
Gitimoy Sritimoy by Palash Datta showcases a silhouette human figure riding his bi-cycle, against the backdrop of the soft glow of the twilight. The grave silence of the setting sun together with the bold black shadow, makes the art piece an outstanding one.
State Minister for Information Dr Md Murad Hassan inaugurated the exhibition as chief guest on March 12. Renowned artist Afrozaa Jamil Konka and noted journalist Munni Saha attended the opening ceremony as special guests. The exhibition, dedicating to Bangabandhu Sheikh Mujibur Rahman, is open for all daily until April 1.