Fostering a sense of liberated creativity
'Three Worlds' underway at Shilpangan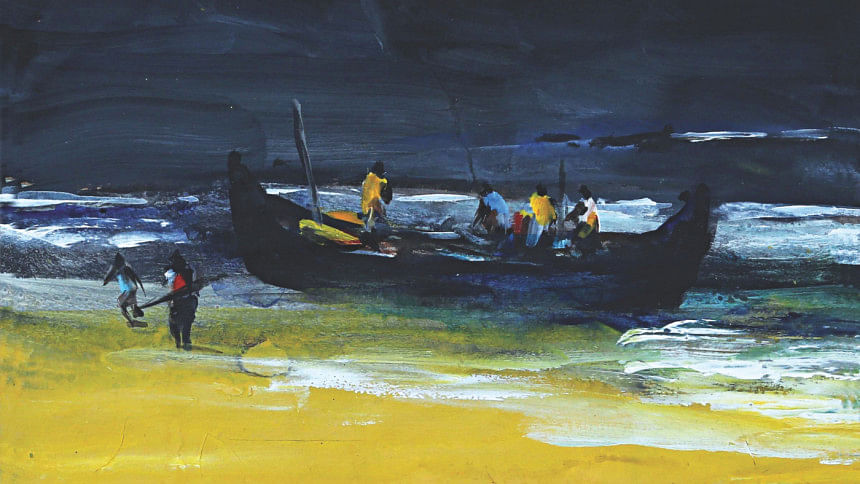 A group art exhibition, titled Tribhuban (Three Worlds), is underway at Shilpangan Gallery in Lalmatia, Dhaka. Featuring works of three noted artists -- Karu Titas, Bipul Shah and Mahmudur Rahman Dipon, the exhibition shows off vast landscapes, seizing the contemporary time and experience and a lyrical depicting abstract imagery. Their creative efforts seem to foster a sense of liberated creativity, as a result of being in close proximity to nature.     
The beautiful landscapes and natural beauty of Bangladesh recurrently serve as a muse for Karu Titas. In his untiring quest to portray the natural grace and conventional lifestyle of Bangladeshi people, he frequently travels around the country to garner inspirations for his artistic pursuits. "Bangladesh attracts me a lot. I roam around different places, where I discover different skies, light, greenery and people – my works revolve around them," he says. 
Bhongurotay Poth Chola is a prominent series that Bipul Shah has been continuing for years. "We see the existence of life in the breakage of things. To bring the mundane and waste materials to life, I have tried to represent both the aesthetic aspects of the works and the insightful feature of our fragile and grey time," mentions the artist.  The compositional balance of Bipul's works are something to behold. Alhough they represent a monochromic use of colours at the background, his presentation of diverse objects like traditional instrument dotara, post box, a rickshaw crushed under a building and owl in an abandoned house are worthwhile to see.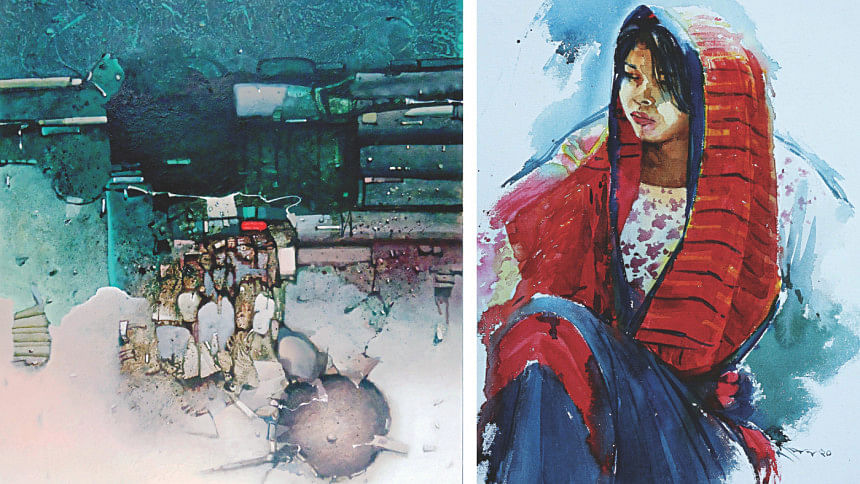 Mahmudur Rahman Dipon's works evoke geometric forms. Apart from that, he lets his vibrant colour pallet flow freely. The natural contour lines and abstract forms represent poetic expressions. Dipon has also displayed a female portrait from the hills, whereas Wall and Vacuum is a series that he has fondly portrayed for the exhibit. The pastel works also embody geometric shapes and patterns. A kaleidoscopic vision of cityscape coupled with a shaky treatment of light and shade are prominent features of his works.
The opening ceremony of the exhibition took place on January 31. Eminent educationist Professor Syed Manzoorul Islam inaugurated the exhibition as chief guest, while celebrated cultural activist Shampa Reza and prominent artist Tarun Ghosh were present as special guests. Internationally renowned artist Monirul Islam attended the event as honourable guest. The show, opening daily from 3 pm to 8 pm, will conclude on February 11.