Films based on the Father of the Nation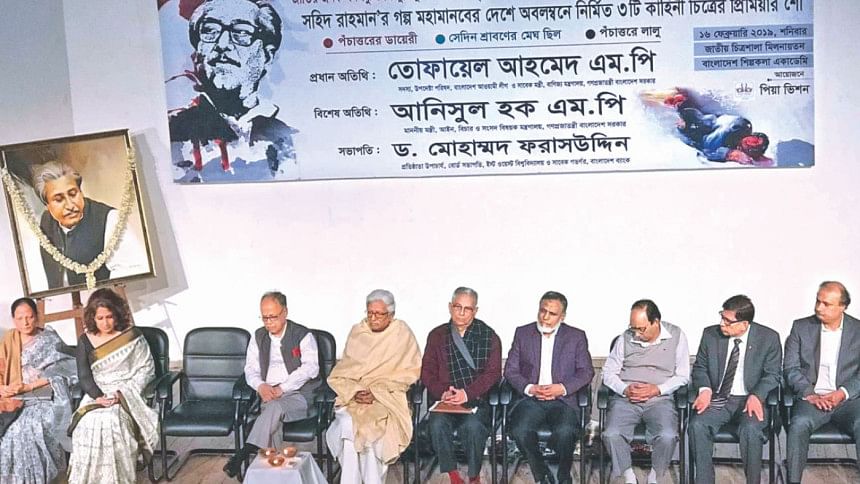 Based on the narrative 'Mohamanober Deshe' by Sahid Rahman, a set of three films premiered at the auditorium of the National Art Gallery of Bangladesh Shilpakala Academy recently. A resident of Canada, Sahid Rahman's admiration for Bangabandhu often brings him back home, where he diligently works towards portraying the catastrophic consequences faced by the nation after the demise of Bangabandhu Sheikh Mujibur Rahman. Organised by Piya Vision, the films titled 'Pochattorer Diary', 'Shedin Sraboner Megh Chilo' and 'Pochattorer Lalu', were all based on the events surrounding the murder of the Father of the Nation. 
Former Commerce Minister Tofail Ahmed was the chief guest at the premiere and Law Minister Anisul Huq was the special guest. Former Bangladesh Bank Governor, Mohammed Farashuddin, presided over the event. Several renowned guests from various fields were also present at the occasion, including the likes of Language Movement veteran Kamal Lohani, Ekattor TV Chief Editor and Managing Director Mozammel Babu, freedom fighter Mahmudur Rahman Belayet, journalist Samia Rahman and many others. The guests emphasised on the importance of the facts regarding the murder of Bangabandhu, and the necessity for the youth to comprehend them. It was also proposed that the films should be screed across the nation, so that every citizen can be attentive of the chronicles surrounding the tragedy of Sheikh Mujibur Rahman and his family.