For the love of Tagore and Nazrul
Star Melodies' grand musical event quench aficionados' thirst
"Ek Chokhe Churulia, Ek Chokhe Jorasanko, Ek Chokh Buje Theko Na Bangalee – Du'Chokh Diyei Dekho", wrote contemporary singer-songwriter Shayan, in a song that perhaps best captures the seeming barrier between fans of Rabindranath Tagore and Kazi Nazrul Islam, the two biggest powerhouses of Bangla literature and music. With their birth anniversaries spaced less than a month (Baishakh 25 and Jaishtha 11 of the Bangla calendar), Star Melodies dissolved that barrier in a grand event, celebrating the music of Tagore and Nazrul together. The event, held at the AS Mahmud Seminar Hall of The Daily Star on May 23 was also unique in its selection of songs – made by eight luminaries in their own fields. Professor Emeritus Anisuzzaman; Chhayanaut founder Dr. Sanjida Khatun; cultural icon Kamal Lohani; eminent poet Asad Chowdhury; noted art patron Bengal Foundation Chairman Abul Khair; thespian Mamunur Rashid; renowned auteur Mosihuddin Shaker and educationist Niloufer Manzur (founder of Sunbeams school) named their favourite love songs of the two bards, that were sung by Tapan Mahmud, Rezwana Chowdhury Bannya, Ferdous Ara, Adity Mohsin, Nasima Shaheen and Tanveer Alam Shawjeeb.
With audiences swelling beyond capacity, an adjacent hall room had to be allocated for people to enjoy the event on a projection screen, and the anticipation soared so high that attendees were reluctant to leave their seats when refreshments were offered.
Soon after Sadya Afreen Mallick, eminent Nazrul exponent and Star Arts and Entertainment Editor, had declared the musical soiree open, four artistes -- Monira Parveen Happy, Arunima, Shahinur and Mitul of Nrityanchal danced to the songs "Probhato Bina Tabo Bajey" (Nazrul song based on Kathak choreography) and "Dhwanilo Rey" (Tagore song set on Gaudiya choreography), directed by Shameem Ara Nipa.
Sadya Afreen Mallick also invited the guests to speak, interspersed between the performances. Mahfuz Anam, editor and publisher of The Daily Star, underlined the organisation's commitment to the country's culture, humourously observing he would have planned of a bigger auditorium at The Daily Star Centre if he'd foreseen the interest of music aficionadosin attending Star Melodies events.
Tapan Mahmud set off the soiree with "Mon-e Robey Kina Robey Amarey" followed by a romantic song "Amaro Porano Jaha Chaye". Ferdous Ara first rendered "Prothomo Prodip Jwalo", based on raga Patdwip and later, offered a melancholic song "Shawono Raat-e Jodi".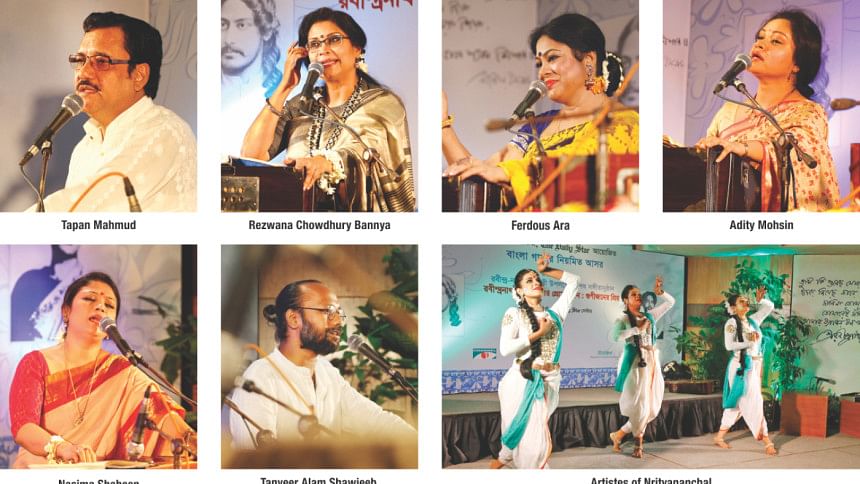 Rezwana Chowdhury Bannya started off her part with a prem parjaya song "Tomaye Gaan Shonabo". The celebrated singer immersed in the heart-rending melody of the song "Aji Bijon Ghor-e". Nasima Shaheen initially presented the songs -- "Amar Aponar Cheye Apon Je Jon" and "Abar Bhalobhashar Shadh Jagey" highlighting the depth of the lyrics and soothing melodies of the numbers.
Professor Anisuzzaman observed that Tagore's love songs were not confined to the Prem Parjaya, but even his songs of Puja Parjaya and others also ooze the essence of love.
Abul Khair, the mastermind behind the biggest classical music festival in the world for three years being held in Dhaka, was inevitably asked of his plans regarding Tagore and Nazrul songs, and he did not disappoint -- revealing plans of a 15-day festival of Bangla culture, without giving much detail.
Adity Mohsin's offering of the songs "Din Shesher Ranga Mukul" and "Hridoyer E Kul O Kul" delighted the audience immensely while Tanveer Alam Shawjeeb's performance of the songs "Bhoriya Poran Shunitechhi Gaan", a Bhairavi-based Nazrul song, and an evergreen song "Mor Priya Hobey Esho Rani" was captivating.
Tapan Mahmud's melodic treat to the song "Ei Kotha'ti Mon-e Rekho" left a lasting impression on audience's minds and the artiste was instantly requested by Mahfuz Anam to render another song "Tumi Sondhyaro Meghomala". Mahmud also mentioned that the number was his favourite as well and he achieved the first prize rendering the song in the erstwhile East Pakistan Rabindra Sangeet Competition. Ferdous Ara improvised on the Bhairavi raga while rendering "Mo'r Ghumo Ghorey Ele Monohor". Niloufer Manzur highlighted the importance of sowing the seeds of our culture into the minds of children, for their healthy and fulfilling psychological growth, and spoke about how her school has continued that endeavour to draw kids towards music and arts.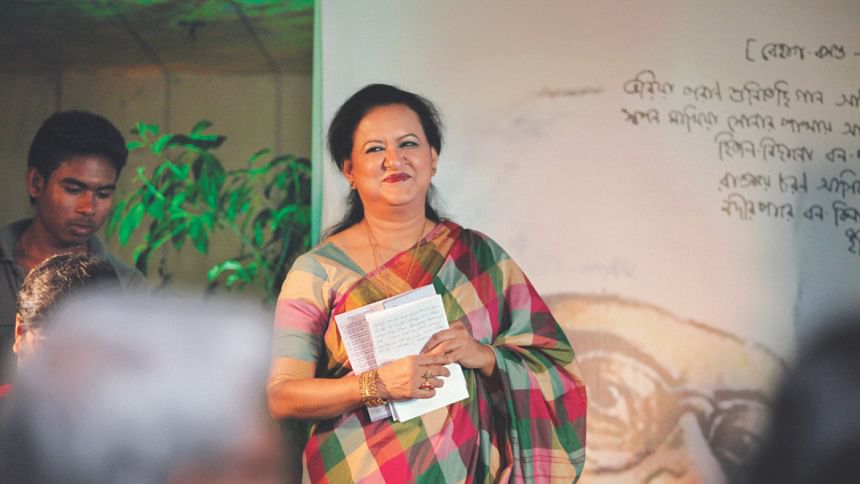 When filmmaker Mosihuddin Shaker was asked about what could be done to preserve the legacies of Tagore and Nazrul, he said state-level initiatives are a call of the time to make documentaries on the two stalwarts, so that future generations can learn about them at greater depths.
Rezwana Chowdhury Bannya thoroughly mesmerised the music lovers with her performance of the song "Bhalobeshey Sokhi". The audience wanted more renditions from her and she presented "Chhinno Patar Sajai Toroni" and "Probhu Amaro Priyo Amaro" on request from music connoisseurs.
Nasima Shaheen earned accolade with her repertoire of "Mo'r Prothom Moner Mukul"; Adity Mohsin marveled all with her performance of a baitalik song "Aji Jhorer Raat-e" and Tanveer Alam Shawjeeb performed "Porodeshi Megh". Shawjeeb was held to perform another song "Gangey Joar" on request from Sadya Afreen Mallick.
As soul-touching as the music was, it was the overall ambiance of the event that left every attendee smiling at the end of the evening. Not only did anybody seem to mind a bit that it went on for longer than scheduled, but it was almost as if there was a touch of longing for more.
Simantic Creative concern planned and coordinated the event, which was held in association with Eastern Bank Limited. Selim SH Chowdhury designed the set and lights, while media partner Channel i recorded the programme (which was telecast on May 25).