Labik Kamal Gaurob's songwriting workshop concludes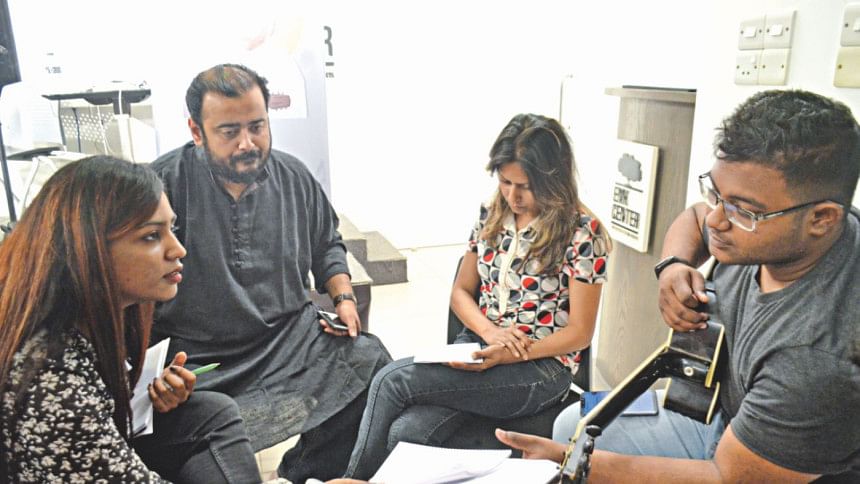 The second instalment of the series titled 'Artistic Arsenal' was conducted recently at EMK Center. It is an initiative by Bengal Creative Hub and EMK Center to connect those who are willing to hone their crafts, under creative professionals. The stimulating workshop, which comprised of young musicians, was conducted by renowned singer, songwriter and musician Labik Kamal Gaurob.
"Often, due to the lack of networking, many young talents cannot showcase their work. In our case, no matter where you are, through registration, our platform intends to bring the community closer and nurture their creativity," mentioned  the managing director of Bengal Creative Hub, Eeshita Azad. "Also, any employer seeking a particular creative professional can easily discover them through our platform and vice versa."
During the three-hour intensive workshop, Gaurob provided the enthusiastic participants with the technical know-how about songwriting and composing techniques. Panel discussions and live performances were also conducted during the event. Divided into small groups, the participants were presented with the task of composing and tuning a song, with Pohela Boishakh as the theme.
"Throughout my fifteen-year musical career, I have experienced various parts of the music creating process. I am happy that this workshop gave me the opportunity to share my experience with budding musicians," expressed Gaurob. "Songwriting is not just an emotional process. There is a technical part to it as well. Our aim is to make sure that the participants comprehend the specifications often required when making a song."
With participants who have pursued music as education, and many others, who are willing to take it up professionally, the workshop reflected a rather positive energy. Their willingness to learn and improve their talent was nothing short of promising.