Chirkutt sings for NUSRAT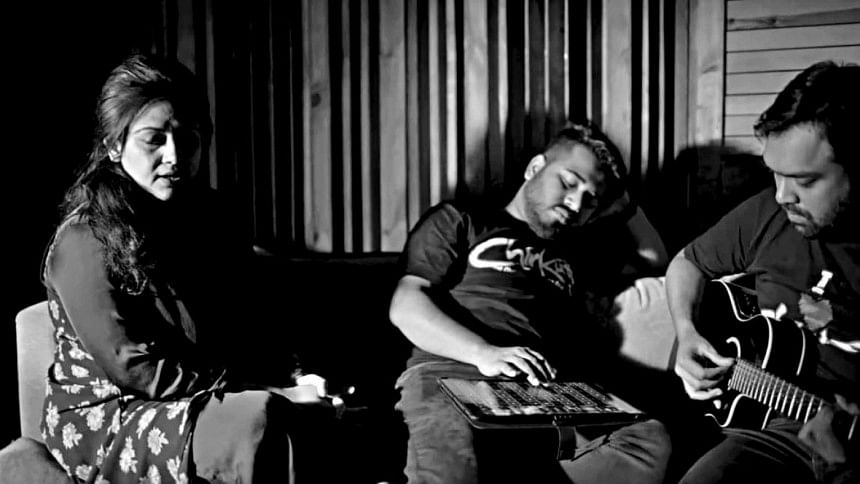 At a time when the festivity of Boishakh ushers in the exuberant colours of our culture, Chirkutt's latest music video juxtaposed with the usual practice. While many might have celebrated the Bangla New Year with joy and laughter, others were etched with the gloom of disgrace regarding the horrific tragedy that Nusrat Jahan Rafi succumbed to.
The 18-year-old Sonagazi madrasa student was set ablaze on April 6 and suffered 75 percent burns to her body. She passed away on April 10. As a tribute to Nusrat, Chirkutt released a music video recently, titled, Manush.
"The song was composed earlier, but the new rendition of the music, was out of the band's desire to address the urgent issue in our own manner," explains Shumi, the lead vocalist, who also penned and tuned the song. The music video was shot overnight at Chirkutt's studio by Maruf Raihan under the banner of Corpovisuals.
The black and white imagery, paired with the minimalistic use of instruments and adorned with the melodic vocals by Shumi, strike the chords of melancholy with bittersweet precision. "The message in Manush mirrors the fact that many a time, those who are oppressed, continue to fall victim to the heinous act, often until their demise," expresses Shumi. "We want everyone to be aware of such wrongdoings and help eradicate them."
Given the pace at which the song is garnering appreciation across social media, it seems that Chirkutt's promising efforts will stand as a testament in solidarity with the voice for the voiceless.