Pothe Pothe: Travelogues showcases a journey at Chobi Mela X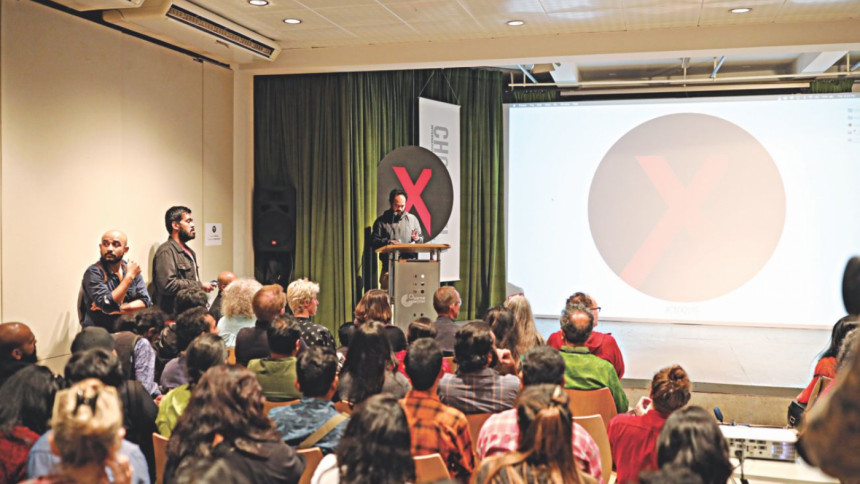 As part of the list of events scheduled for Chobi Mela X, a programme titled, 'Pothe Pothe: Travelogues', curated by Sarker Protick and Munem Wasif, was held on February 28 at Goethe-Institut Bangladesh. It commenced with a warm greeting by the Festival Director, Shahidul Alam, followed by a welcome speech by the Director of the institute, Kirsten Hackenbroch.
The curators compiled the works of Tanvir Mokammel, Ronny Sen, Oliver McGarvey, Arfun Ahmed, Dhrub Malhotra, Kartik Subramanian, Hadi Uddin, Kanu Gandhi, Max Pam, Sarker Protick and the Nepal Picture Library, into a visual that was projected on a screen. While the video clips generally had their own audio, relevant music and sounds, mostly arranged by Sarker Protick, also accompanied the still photographs that were displayed. 
'Pothe Pothe' took the audience in the packed auditorium, into a journey of its own. From Mahatma Gandhi's march to Noakhali to the nomadic landscapes travelled on a Royal Enfield, along with the hippies of Nepal and much more, the rich assortment of depictions were a means of adventure and insight at the same time. The travelogue told the many stories of collective experiences that transcended borders to create new horizons.
The end of the screening was followed by an artist talk by British photographer, Vanessa Winship. She discussed her book, She Dances on Jackson, where she portrays her travels across the United States in search of the American dream.