Egiya Jawar Nei Mana - Seven Spectacular Screenings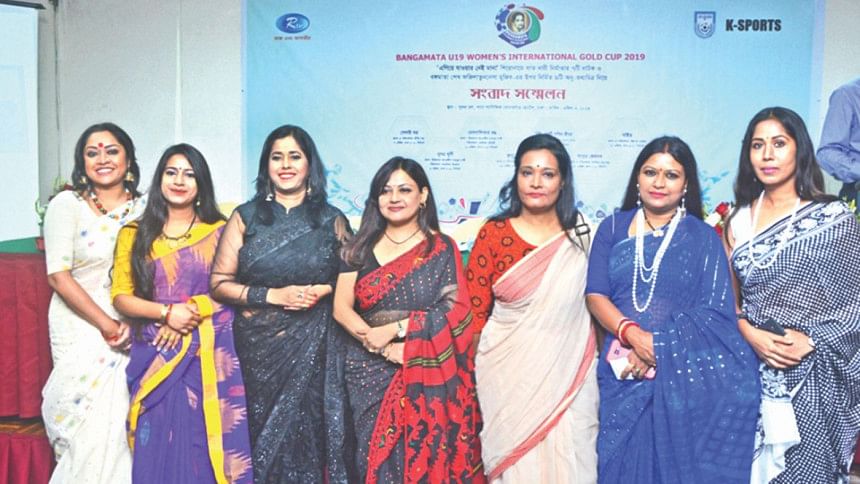 The Bangamata U 19 Women's International Gold Cup 2019 is an international football tournament arranged for the first time in Bangladesh, exclusively for women. It is scheduled to kick off from April 22. In the spirit of the competition, a private TV channel, in association with K-Sports, produced seven tele-fictions, directed by seven women, under the banner of 'Egiya Jawar Nei Mana'. Each story revolves around the silent battles women have to fight, to lead their lives. Renowned actors like Ferdousi Majumdar, Nusrat Imrose Tisha, Azizul Hakim, Aparna Ghosh, Mishu Sabbir, Zakia Bari Mamo, Sadia Jahan Prova and many others, will be seen in various roles in the tele-fictions.
During a tête-à-tête with The Daily Star, the directors discussed their individual ventures while giving us a sneak peek into their scripts.
Preety Dutta, director and script writer of 'Shelai Ghor,'
Shelai Ghor weaves together the struggles of a woman, who upon giving birth to an autistic child, is abandoned by her husband, as he blames her for the condition of the infant. Without proper shelter, she finds it troublesome to attend her work with the baby and at one point gets fired. After much effort, she is able to buy a used sewing machine to earn a living. From there onwards, she is able to prosper in her work and become independent.
Fahmida Irfan, director of 'Dhushor Ghurni'
In this tele-fiction, the protagonist develops a relationship with her colleague. Despite their affection for each other, her lover is reluctant to get married, but initially they tie the knot secretly. Her enthusiasm at work impresses the boss and she is later assigned the responsibility to plan a promotional campaign for a special project. This raises her husband's suspicion and out of envy, he steals her idea and betrays her. From there on, things take a turn for the worse.
Chayanika Chowdhury, director of  'Meghbalikar Rong'
The story of this tele-fiction revolves around an urban elite family, headed by a woman with two sons and a daughter.  Despite the matriarchy, the women in the family are not allowed to study or work, as they believe that the abundance of wealth will suffice. However, when the young son's wife decides to pursue her education, she is met with an iron fist.
Sraboni Ferdous, director and script writer of 'Kushumer Shawpno'
Kushumer Shawpno, tells the story of a young woman who play football. Her passion for the sport draws much criticism in a patriarchal society and she is frowned upon. Kushum, the titular character, kicks aside the all the negativity and carries on to become a respected football player in the national team.
Naznin Hasan Chumki, director and script writer of 'Piu, Ekti Pakhir Jibon'
As the plot unfolds, the protagonist decides to quit working at a social organisation, as she can no longer deal with the trauma regarding a surge in child abuse cases. However, her brother demands that she continue with her work, as their combined earnings help bear the family's living expenses. She later struggles to open a centre for training women to ride scooters. With no support from her family, she is unable to manage a loan or the property to start her venture. But her strong will power promises a brighter future.
Matia Banu Shuku, director and script writer of 'Shawpner Meghdol'
Shawpner Meghdol is a story of a woman, who had devotion for art, but could not pursue it as a career due to her early marriage. Later in her life, she tries to help her daughter, who has a passion for photography. However, the father does not pay much attention to her dreams and demands she focuses on her studies instead.
Zeenat Hakim, director and script writer of 'Guide'
As the name suggests, the lead character in this tele-fiction is a tour guide. A traveler, who falls for her, later learns about her past, in the form of flashbacks. In her past relationship, her fiancé to-be opposed her occupation, as he found it embarrassing for a woman to be a guide. On the other hand, this new traveler respects the work that she does and earns her trust.