IN MEMORIAM
DITI - A DHALLYWOOD TRAILBLAZER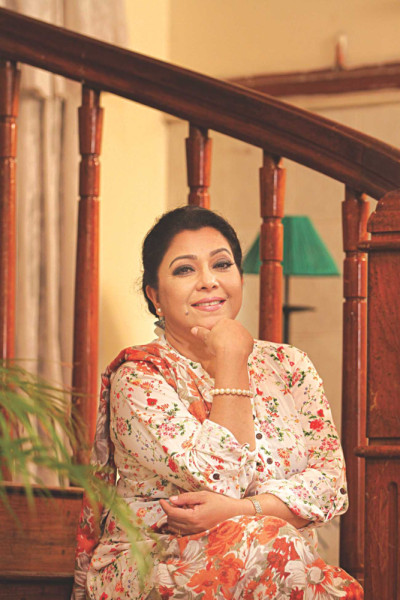 From a simple small town girl with dreams of becoming a singer, she became one of the biggest film stars of her era. And much like her well played action heroine roles in the '90s, Parveen Sultana Diti was a fearless fighter for most of her life, until the battle with brain cancer got too big on her on this day last year, just 11 days shy of her 51st birthday. One of the most recognisable faces of Bangladeshi cinema, she left behind countless unforgettable moments on the silver screen, and an army of ardent fans.
Born on March 31, 1965 in Sonargaon, Diti aspired to become a singer, and was even awarded at a national competition by the Shishu Academy. While singing for Bangladesh Television, she first drew the attention of actor Al Mansur, who cast her in the TV drama "Laili Majnu" opposite Manas Bandopadhyay.
Despite her family being somewhat unsupportive, she worked in another TV play "Imitation", before taking part in a talent hunt "Notun Mukher Sondhane" by the BFDC in 1984, and winning it, alongside Sohel Chowdhury.
Her first  film was Udayan Chowdhury's "Daak Diye Jai" (opposite Afzal Hossain) that  never saw the light of day, and Ajmal Huda Mithu's "Ami-e Ostad" marked her debut on the big screen.
But it was her story with Sohel Chowdhury that deserves a film adaptation in itself. After winning the talent hunt, the two were cast in Amjad Hossain's "Hiramoti", an adaptation of famous Punjabi tragic romance "Heer-Ranjha". The picturesque locations of Sylhet and Jaflong where the film was shot created a spark between the two, and Diti eloped to marry Sohel. The duo went on to co-star in a few other films, most notably "Chirodiner Sathi".
While Diti's career saw a steep rise, the moody Sohel Chowdhury failed to find similar success. They had two kids together, Lamia and Shafayet Chowdhury, but eventually, the two parted ways in the mid-'90s.
Sohel Chowdhury was tragically shot dead in the capital in December 1998. Diti took her children's responsibilities on her shoulders, and managed a career and a family with success. She later married Iliyas Kanchan, one of her most successful on-screen pairs, but that bond too didn't last long.
Subhash Dutta's 1987 film "Swami-Stree", opposite Alamgir, brought Diti a National Film Award. She went on to become one of the most in-demand heroines of Dhallywood in the years to come.
Diti enthralled audiences with action roles in "Hangama", "Khuner Bodla" and "Lady Inspector", and her acting range was on display in memorable films like "Usila", "Premer Protidan", "Beporoa", "Garial Bhai", "Chorom Aghat" and "Shesh Upohar". 
Diti left the country for personal reasons, and her children settled in Canada for studies, and when she came back, she became choosier about her films, and even did some TV plays.
"Noy Nombor Bipod Shongket", "Akash Chhowa Bhalobasha", "Jonakir Alo" and "Purno Doirgho Prem Kahini" were her notable works in her second stint. Wajed Ali's "Sweetheart", released a month before her demise. Her last work on the big screen, "Ei Golpe Bhalobasha Nei", came out this January.
Diti's musical career never got the chance to take off because of her film stardom, but she recorded her first album "Tomaro Chokhe" in early '90s, and her second, "Phire Jeno Ashi", in 2011. She also did playback in a few films.
In her last years, brain cancer took a toll on her, and she spent long periods of time in hospitals in Chennai and Dhaka. In between, she worked in TV dramas "Life in a Metro" and "Meghe Dhaka Shohor".
That endearing smile may never grace the big or small screens, but the 200 -plus films she was a part of will keep her ever so present in every heart she touched. As she rests in eternal peace, Diti deserves to know what an impact she made in filmdom. Let's all hope she does.