Shakib Khan 'Elo Re'!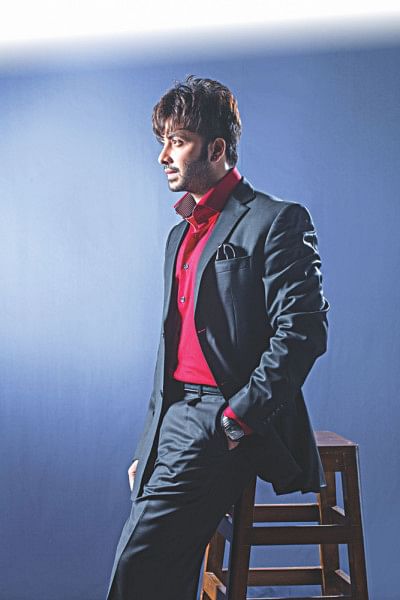 Shakib Khan is considered one of the busiest actors of the Bangladeshi film industry today. With three global film releases this Eid, it is no surprise that he has been crowned as the "Dhaliwood King" by fans and critics alike. Further to this, his film 'Bhaijaan Elo Re' just released in Kolkata, West Bengal and in Northeast India's Assam. The much loved actor opens up about his accomplishments, his fans and more in a conversation with The Daily Star.
What can you tell us about Bhaijaan Elo Re?
SK: As a Bangladeshi actor, I feel blessed to have a film release in Kolkata, West Bengal, and parts of Assam. I recently went on a trip to Kolkata. It made me really happy to see posters of Bhaijaan Elo Re all over the city. I have just been informed that the audience is full of praise for the film.
You have been able to reach the Indian audience with Bhaijaan Elo Re. How do you feel?
SK: It feels great to know that the Indian audience is being able to enjoy my film. I am a Bangladeshi actor first and foremost, so to be able to entertain audiences of another nation is a significant achievement for me.
What would you say is the reason behind the success of Bhaijaan Elo Re?
SK: I would give the credit to the script of the film. Bhaijaan Elo Re has a fantastic story.
Some of your films have released in Dhaka recently. How are these films doing now?
SK: The films Chitaganga Poya Noakhali Maiya and Superhero are doing quite well. I have been to the Cinemas myself. I saw hugely encouraging reactions from the cinemagoers. I feel very happy.
Do you often go to the Cinemas to watch your own films in Dhaka?
SK: I do. Whenever I have a film release during Eid, I quietly go to the Cinemas to check out how the fans are reacting.
Do you have any special message for your fans?
SK: I would request my fans to please go and watch my films at the Cinemas and not support any form of piracy. It is because of them that I have been able to flourish in this industry.
Lastly, how was your Eid?
SK: Most of the time, I keep busy shooting around the clock, but I have had a great and relaxing Eid this year.