"Taste of Light and Darkness-2" at AFD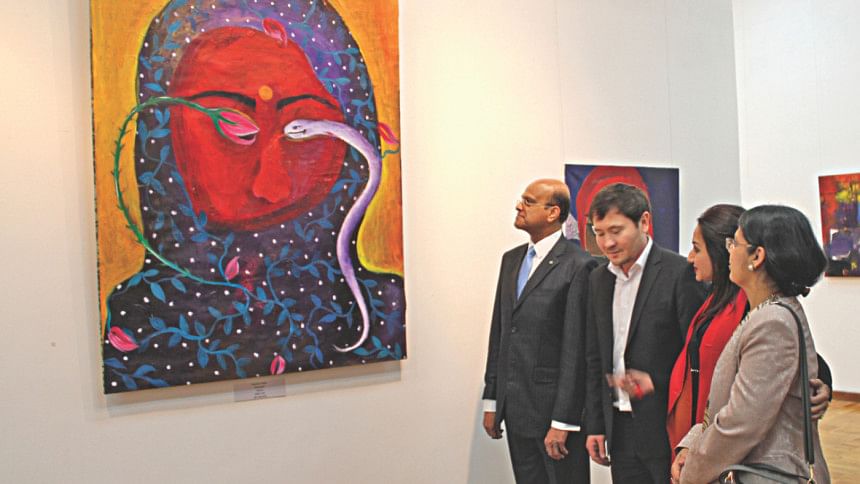 A group art exhibition titled "Taste of Light Darkness- 2" began on February 26 and ends on March 8 at La galerie, Alliance Française de Dhaka in the capital. Sultan Ishtiaque, one of the participants, says that he has played with light and shadow and concentrated on colour, environment and changing seasons. He brings in a shipyard from various angles.
Other artists taking part in the exhibit are ASM Rashidul Alam, Md. Al-Akhir Sarker, Md. Azmol Hosen and S Fida Hossain.
Sultan says, "I'm attracted to the beauty of nature and want to portray it on canvas. As a child I was influenced by the paintings of famous masters. I was raised in the city and consequently I was familiar with the metropolis and its people."
"Surrounded by traffic jam in the capital, amidst unplanned urbanisation, I observed life, nature, flora and fauna. I selected my subjects and delved into them deeply. I studied the deceased labourers in Rana Plaza, their bloodstained bodies under bricks. I have used pencil, oil, watercolour and acrylic," he adds.
S Fida Hussain says he presents a human perspective. The soul cannot be defined and this is what he wishes to portray. "Silent exploration is the eternal beauty of my work. We are bound to lead our daily, mechanical life. It's a mysterious journey the existence of which is hard to discover, I analyse myself as an existing existence," he expressed.
Md. Al-Akhir Sarker says, "I want to dig out my inner feelings. At the same time I want to bring the feelings, religion, behaviour, thoughts, and dreams of the entire Bengali character. They are unpredictable but thoughtful. But like a poet I feel its existence like moss and flowers. I want to hear the undiscovered story of a woman. My art holds up this sensitivity of the modern Bengali."
His pictures are blue, green and black in colour.
ASM Rashidul Alam says, "My inner feeling is a unique one. While drawing randomly it had different taste and colours. My thoughts appear heavenly pure for me. My childhood is far gone but the instinct has makes continue my journey, through art, which has slightly changed. The characters are depicted through my canvases. So often I am amazed by love, affection and bliss which elevate my childhood memories once again."
This group show showcases an expansive portrayal of ordinary people's day to day life.
The artists have used nature of contrasting elements: light and shade to unfold the exquisite undertones of nature, which they found ephemeral, and ended up with overtones. The artists saw the acceptance of light and darkness as the primordial instinct of human nature.