Their grievances need immediate redress
TEACHERS from the university to the primary levels have been agitating for over a month. In the background of the World Teachers' Day that was observed yesterday, we feel sorry to see the way teachers at public schools, colleges and universities are treated in the country.
Continue reading...
Coordinated efforts of security agencies crucial
It is of concern that little palpable headway has been made in the investigations of the killings of Italian aid worker Cesare Tavella and Japanese national Kunio Hoshi that took place within a span of five days.
Continue reading...
Letters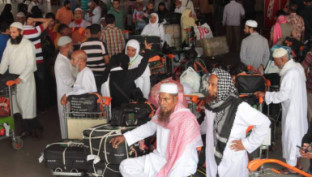 During Hajj, Hazrat Shahjalal International Airport of Dhaka becomes overly congested, both inside and outside.
Continue reading...