Opinion
Getting out of the Hell
FARIHA HABIB PROVA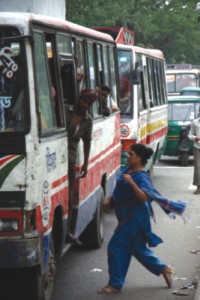 Even before the first rooster crows to declare the arrival of dawn, Suhani, who works at a private company, wakes up and prepares breakfast and lunch for her two children. She wakes the children up, and makes them dress in all white--their school uniform.
Without any further ado, she braces herself for the battle that lies ahead of her. As soon as they are done with the breakfast, the trio, hand in hand, starts off for the school where both the children study.
The school is a few miles away from where they live and for their weekday commute to the school Suhani and her children solely rely on the bus, getting into which is as difficult as winning a lottery.
"No one on the bus leaves seats for women nowadays," Suhani says, "there are buses which have a few seats booked for women. But not everyone respects that."
Men sometimes sit in the reserved seats for women. Because seats are few on the bus, during most of their journey, Suhani and her two daughters have to stand, sandwiched between male commuters.
Even though Suhani denies facing any kind of harassment, many female commuters have not been so lucky. "Passing a sexually suggestive comment or ogling at a female passenger is rampant," says Mili, a student of a private university.
Even the ticket checkers and conductors consider women passengers a burden. Rafik Miah, who works as a helper in a bus on the Rupnagar-Gulistan route says he does not like to have women passengers, as the bus has to be slowed down, or, in worst cases, has to be stopped for them to get into, or out of the vehicle.
Then, there is the horrendous traffic of the city, which, during the summer, turns a bus into a tinderbox. "It is horrible to be inside the bus, stuck in traffic, in this heat," Suhani says.
To make matters worse, most of the bus drivers do not have the licence to drive a large vehicle. Some are barely in their teens. "A few days ago," she says "on numerous occasions I have come across drivers who are under-aged. It is generally perceived that a license can be obtained by bribing the authorities."
However, the trials and tribulation that commuters, especially the female ones, go through is taking its toll. "I never make it to work on time. I am sick and tired of giving the same excuses to my boss. Everyday when I enter the office, I always get scared that he will call me to tell me that I'm fired,' Suhani says.
It is sad that, of all the modes of transportation, the public bus has remained the safest for the people belonging to the middle class. "I have heard stories of people getting mugged in the evening while the cab they hired was stuck in a bad traffic," Mili says.
Mili believes walking home has never been a good option for women in the city. "Most of the footpaths and footbridges are unclean. And to make it worse, there are idlers who are always waiting in an alleyway to make an indecent comment when they see a woman pass by," she says, "Even the most innocent-looking ones ogle at women.
Not only that, there are many people who just stand on the footbridges and gossip, creating congestion. And there are beggars, who keep pestering people. "I have heard that this week the government has decided to put a stop to jaywalking, but what is the point of taking such a step without clearing the footpaths and footbridges for the general people, who would rather walk home than make a risky and humiliating journey home?" Suhani says.
In this cruel city, there are hundreds of people who do not have the means to buy two meals a day, and there are some who buy cars for every member of their family, which worsens the congestion on the street. There are a few buses solely for working women on different routes of the city. More buses exclusively for women can be an option.
But both Suhani and Mili believe that the key is the change in the age-old notions that have been plaguing the minds of the citizens. "We have to change the way we think; more 'women-only' buses can save us from getting molested on the bus, but what about those who have to walk home?" Mili asks, "Before everything else, we need to re-programme our brains, otherwise there is no getting out of this hell."
Copyright (R) thedailystar.net 2010