Interview
Defying Conventional Inclinations
FAYZA HAQ
Rooster, welded iron sculpture, 2009.
Sitting in sculptor Towfiqur Rahman's unique flat it is easy to see his dedication to his passion. The eye-catching creations in metal, clay, the gorgeous "Lakshmi Shora" and brilliant sketches shows the sincerity with which this artist works and his thirst to create something new and enchanting
With experience in studying art in China Towfique combines the ideas, feelings, spirit of the east with the west. looking vision of the education in the Faculty of Fine Arts, Dhaka University.
"I studied in China with adequate guidance" says Towfiqur. "Along with this I had my western oriented thoughts and feelings, which I had acquired through my curriculum in was in my syllabus back in Charukala.
"I want to say something about the circumstances under which sculptures of the modern times work. After the World War 11 the thoughts and vision behind sculpture has not progressed in the manner in which they should have done. Due to capitalism the development of art moved on to another route. What we do today follows a pattern of neo-colonialism path, which in point of view, is not quite correct. Economy is a vital factor in the direction of art, commerce and industry. Education can be adequate if this path has the correct balance. We have neither the correct path of education nor the correct balance of economy. Is this truly art? Of what use is this art?"
Towfique says that in the western countries this is balanced due to their robust economies which widens the scope of art and its patronage.
"Our education is limited and basically we have no regular patronage to depend on" comments Towfique. "In my point of view, our patrons are not educated enough . They are usually industrialists and big business magnates, who may not have their foundation of classical art and literature. Garment industry owners are Bangladesh's best patrons, as I see the art market.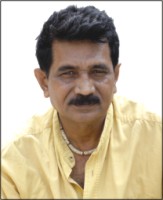 Towfiqur Rahman
Towfique relates that when I was studying in China, or visiting galleries in Europe or the US he would recall the artists of the 60s , many of them going to Europe through scholarships , such as Aminul Islam , Rashid Chowdhury and Novera Ahmed. When they returned he believes, these artists failed to struggle in the direction of our art, and its motifs.
"They created a coterie of their own, bearing the ides of the western countries" says Towfique. "In the field of Abstract Painting , we see Mohammed Kibria, with few to appreciate him, such was the state of education. Adequate art criticism was missing: Only art appreciation flourished even in the 21st century in Dhaka, I believe. This is due to economic factors. Artists need money. For this they need appreciation. Critiques too realise this quite well.
Keeping all this in mind, the question arises as to how can we best encourage the development of fine arts?
"To put it simply, I move to a place where fine arts is not properly understood and do welding of my metal work, with my own aim and vision in mind, in our industrial pocket in Tejgaon. I work alone and love the heat and claustrophobia. Like Jackson Pollock, who invited the heat and rush and crowds of New York city the whole day noting the interaction of the people there and the heat of the city, before he got down to assimilate his painting at night.
So who does he want to attract with his work?
Towfique says that he enjoys the relationship between the heat and the iron, while it is being welded and tries in his own way to retain the common man's vision and demand: "I try to reflect the feelings and views of the neglected man. I don't worry about who is going to be my patron. My aim is to created a language of my own, which will express the views, feelings an beliefs of the man on the street. It's true that apparition is important. The man who comes to see my works may not be able to buy them. But at least it catches his attention. This gives me encouragement. The fact that viewers come, that gives my journey through life a fillip. My struggle before the exhibition is the real measure of my progress.
Towfique's next venture is to display his drawings as he wanted to work on surfaces. Not being a student of print-making, he does not use the conventional techniques "I'm not doing the prints the conventional way, but in my own way".
"It's language, so to put, it is of my own creation, holding on to the electric welding rod" says the articulate artist. "I made drawing with the rod. There was fire coming out on the surface, there were sparks. Through this an image emerged. This was on a galvanized sheet. I tried to keep all this under my control. After corroding this, I got an impression on paper sheets. I mean to make my prints mono-coloured ultimately. I use hand-made local paper for my prints. The paper is recycled "genji" (stretch cotton) material. When I have my exhibition, hopefully, now after two years, people will judge my progress through the journey of art. I want my work to synchronize with our economy."
According to Towfique Zainul Abedin, Quamrul Hasan, and SM Sultan are the masters who have truly worked towards the development of art and are few and far between. They were the ones to document many important events in Bengal such as famine and floods. Hungry children with extended bellies, along with hungry gathering crows of Zainul Abedin's black and white sketches can never be forgotten says Towfique.

L-R: Buddha, intaglio welded-Print on paper, 2010. Feeding, Intaglio
welded-Print on paper, 2010.
"Poverty exists even in the corners of Dhaka streets," says Towfique. "The flower sellers and 'tokais' barely eke out an existence. The stress on folk motifs, which Quamrul Hasan created, is vital, and is still seen in many an art piece of consequence. Traditional concepts should be kept in mind, despite our aim for progress. SM Sultan travelled the world. Yet he didn't even settle in Dhaka. He moved on to Norail , Jessore, to paint with locally made paints , which he produced himself. After the triumvirate, we see only imitations and adaptations. We don't find this stress on individualism in the painters who came after them. Influences are there but the colonial hangover, as I see it, to please capitalistic buyers, I stress on, is lamentable."
Copyright (R) thedailystar.net 2010