READING FOR PLEASURE
BSK's new endeavour with English language
Morshed Ali Khan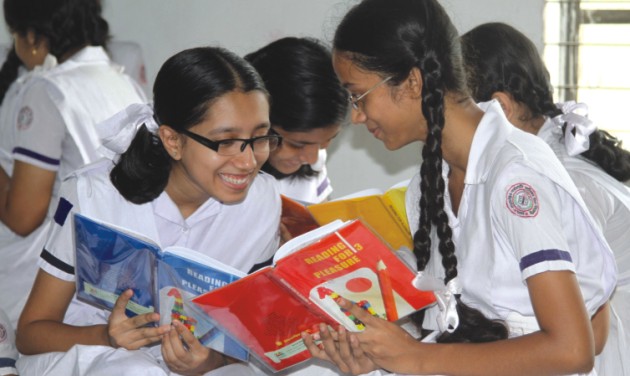 For the last 31 years the Biswa Shahitya Kendro (BSK) has been trying to promote reading books for pleasure. Its mobile libraries in the city and in 45 district towns remind one of the olden days when many Bengalis accommodated small libraries at home and encouraged reading books in the neighbourhood.
But intense competition in classrooms and lack of qualified teachers in our schools have ceased this innocent joy of cildhood-reading a book just for the pleasure of it.
BSK's long endeavour to encourage young people to read books is probably paying off. Over the last 31 years the BSK has distributed hundreds of thousands of Bengali books in the country's schools and encouraged children from different grades to read them. This year BSK has extended its programme into reading specially designed English books.
"Over the years English language has been grossly neglected in the country," says Abdullah Abu Sayeed, Chairman of the BSK and also the author and editor of the new English books, "this negligence has left a huge impact on society in terms of international communication," he added. Because of good communication skills in English Sri Lanka, for instance, earns double the amount in foreign currency with one third number of migrant workers than Bangladesh, says Sayeed.
The BSK's new English books for children and anyone willing to learn the language are unique in its character. Every story in these books is simple and interesting. Pronunciation and meaning of every new word is simultaneously explained in Bengali. These books are specially designed so that one can read and understand without any help.
Currently BSK's book reading programme covers about two lakh members in 1700 secondary schools and 100 colleges. The programme will be extended to an additional 4,500 secondary schools in 121 Upazilas covering about half a million students. Each student becomes a member of the book club in the school for Tk 10 and borrows a book and returns it after a week. Each student is facilitated to read a total of twenty books, 16 in Bengali and four in English during a period of 24 weeks. At the end of every term the BSK evaluates the reading programme through a simple written test and rewards the best book readers.
The BKS runs the English book-reading programme under a government-funded project called Secondary Education Quality and Access Enhancement Project or SEQAEP.
Sayeed, also a Magsaysay award winner, says the new books could be helpful for a wide range of groups willing to learn English in the simplest way.
"An aspiring migrant worker, for instance, could find the books helpful for learning English," he comments.
Copyright (R) thedailystar.net 2010