Cover Story
From the TEENAGER'S Point of View
Being a teenager means coping with a whole range of things – changing hormones, overload of studies, parental control and peer pressure. It also means trying to learn who they are and what they want to be, how to interact with others especially members of the opposite sex and getting ready for their journey into adulthood. But what is the world of teenagers really like and what are they really thinking?
Tamanna Khan and Shudeepto Ariquzzaman
Photos: Zahedul I Khan
O-Level candidate Hasan's mornings usually start at 6 am as he has to wade through eight kilometres of Dhaka's impossible traffic to reach his school in Dhanmondi. After five and a half hours of school, he has to attend on average two to three coaching classes a day, returning home around 10:30 pm. "After school, most of the time I have to change my dress in my car. At times, I freshen up at my friend's place and sometimes I miss lunch," says 16-year-old Hasan. A major part of his waking hours is spent on school or school-related work. Whether it is Proma, the 17-year-old Bengali medium college freshman, or her coeval madrasa student Noman and his 14-year-old sister Samia, coaching classes and ten to twelve hours of education, appears to be an inseparable part of teen life, equivalent to eating and sleeping.
Even remote villages like Arannyapasha in Mymensingh could not escape from the private tuition culture, forcing Lima, now 16 and working as a household-help in Dhaka, to leave her free primary education at school. "I did not have a private tutor and when I could not perform at class, our teachers use to beat us a lot, so I dropped out," reflects Lima. Now her mornings start at 6 am but unlike Hasan, she spends every hour of the week and month within the four walls of her employer's apartment, doing house chores till midnight with occasional breaks in the afternoons.
Life for 15-year-old Dina revolves round the slum of Rayerbazar, doing chores like cooking, washing and taking care of her younger siblings. "I had thought that I would at least complete my matriculation (secondary school certificate) and work in an office like my father," she says, "But my grandparents took me to the village and without my consent married me away to a distant cousin." While Dina still dreams of completing her education, Shohag working as a canteen boy at a newspaper office has no interest in studies. He appears quite content with his life – waking up at 10 am, running up and down the stairs, carrying tea and snacks, taking two-hours break at midday, and then again working till 11 pm.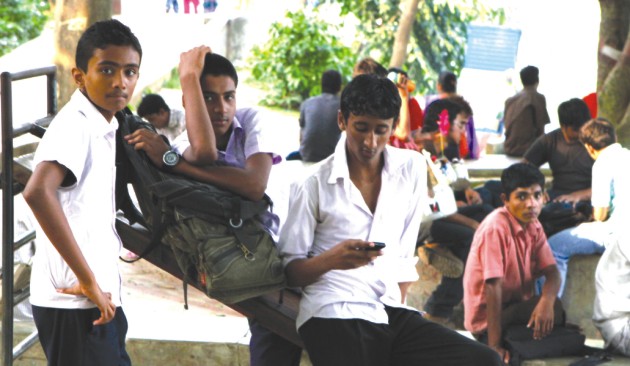 Sometimes the only way to get a break is by bunking classes.
In spite of their busy schedules be it for education or earning bread, these teenagers do manage to add fun to their itinerary. Between his classes Hasan finds time to play music, play basketball at Abahani court, or hang out at his friend's place. Unlike Hasan, Asmi has no choice but to spend time on the phone or internet because she cannot go outside to play or hang out with friends. "If people see girls outside, they think they are from a bad family or they don't get parental guidance," says Asmi. Even though her school has a debating club, Asmi is not a member as her parents won't allow her to attend debating sessions other school hours.
For these teenagers, with their day hours lost entirely to school and coaching classes, spending late hours at social networking sites like facebook is the only interface that links them to the rest of the world. When it comes to making friends at social networking sites, fourteen-year-olds like Marisa and Lyra do not mind adding strangers as long as they are interesting. "My parents are not at home the entire day so they tell me to stay at home," says Lyra who ends up watching TV, playing computer games, reading books or spending time on the net and browsing facebook. Although, sixteen-year-old Sabrina, who has left school to prepare for her O-Levels, uses facebook, she prefers to keep it limited within her friends. "There are a lot of people who do not use the privacy setting in facebook but I do because I do not want unknown people to learn something about me," she says.
Not all teenaged girls cocooned in homes are hooked to the net. Proma, who does not own a mobile phone or Internet connection at home, spends her free time watching movies at her personal computer or TV, listening to music and reading books. She is allowed to hang out with her friends but only with her parent's permission. Yet she has accepted the fact that her families' rules and regulations are different from her friend Uli's who has more freedom than she does. Proma's acceptance of the rules set by her parents comes from her being the first child amongst three other siblings. "This is a huge pressure for me. My parents often tell me that whatever you do, your other siblings will learn from you."

Opportunities for sports are restricted to a privileged few.
14-year-old Lina, a student of English medium and living in the Hatirpool area for the last 12 years, is luckier than many of her counterparts as her parents allow her to play with her brother and his friends in the compound of the neighbourhood. She says, "My parents do not object, as my brother is always there." The crying need for playing grounds is high among the youngsters of Dhaka. Referring to the Abahani complex, they complain that the government is making plans to destroy fields and build multiplexes in a bid to make Dhaka more urban. In other cases, some fields become the private property of powerful goons. "I cannot go inside the playing field at Dhanmondi-4 near Rifle Square, unless I have a pass, or political power or pay 10-20 taka bribe," says Talukdar, a teenager living in Dhanmondi. Sunny, a student of a free school who lives in Hazaribagh, also cannot always play in the field of his neighbourhood. He says that sometimes, there are older boys in the neighbourhood who prevent him and his friends from playing. "They curse us in abusive language and drive us off the field. At worse, they use violence."
Shockingly, violence and crime amongst teenagers are no longer limited to trivial bullying. Many teenagers are getting into activities like mugging and the reason is more often substance abuse or for the thrill of it rather than poverty. Hasan's classmate Khan says, "A lot of the time even we think if we go and take a mobile, it's going be very exciting." He thinks that this gangster attitude is heavily influenced by western movies where they show people with guns being considered as being "cool". "Even a few girls fall for those guys because they find it trendy," says Khan.
Some teenagers are forced to take up hazardous jobs to earn a living.
Joarder, another English medium student, explains, "In my school, I used to notice three groups – the studious ones, the gangsters and those who tend to maintain both the options. I myself was in the last group, but I realised that this is the ripe period to prove something, and I concentrated more on my studies rather than trivial matters." He says generally there are two reasons for fighting to break out in the school years – the girlfriend factor and seniority. "Two guys like the same girl, and a fight breaks out, and their respective friend circles get involved," he explains the basic dynamics of teenage brawls.
Talukdar blames the misuse of political power by children of political leaders as well as those teens who mix with political cadres. Take seventeen-year-old Ronny, graduating from an elite school in Dhaka, with straight As. His tendency to be violent started from his last year of school. While mixing with local goons, Ronny came to know people who were activists of a powerful student wing of a political party in Bangladesh. "One day I was persuaded to join the party, not that I have any political affiliation but merely for the power it would give me," he says. Although he had by then taken up drinking and smoking, he soon found the company he was keeping, disturbing. Now he spends more time alone and has become more and more dependent on drugs. Ronny says, "Senior friends sometimes treat me to phensydyl which is getting more expensive and difficult to get these days. They want me to consume Yaba which is more available, but because of advice from a real friend, I have and will abstain from it. The advantage of phensydyl over whiskey is that it does not smell and people at my house do not suspect I am having something. But I would have preferred if I could have done it myself and not in the company of those stupid big brothers, but then they pay for the stuff."
Ronny's school friends no longer keep in touch with him, and his girlfriend, who went abroad for studies, rarely calls him. "I have tried to hide this life of politics and violence but I suspect someone from school must have told her," he says.
When it comes to reporting crimes and violence, most teenagers would rather not. Dina considers complaining of domestic violence to police as the last resort. "If my husband beats me, first I will try to make him understand that it is not right. If he does not listen, I will talk to his family and then to my parents. If nothing works, only then I will go to police," she says. Even educated Lina says, "Bangladeshi police are not conscious, if I take any complaints, the police will only make fun of me." Asmi complains that even though the government is emphasising on women's rights nothing is being done about the eve-teasing issue; no one is being arrested. Uli asks, "If boys do not change their mentality, what can the police do?
Although Noman considers the choice of attire to be a personal matter, his friend Hridoy thinks that if girls wear salwar-kameez or borkha instead of T-shirt and jeans, then eve-teasing would have been reduced. Asmi on the other hand says, "Even when I am not wearing western clothes, I get the same stares and behaviour. Even if I am wearing western it should not matter because I am in a democratic country." Although Proma herself does not wear hijab, she thinks it somehow protects girls, as boys often get confused whether it is an elderly or a younger woman inside and refrain from making comments. Lima and Dina, both of whom are familiar with the borkha and not hijab, do not mind putting it on when walking on the road, but would rather not during festivals or functions.


L-R: Teenagers hanging out in front of coaching classes. Many take up smoking due to peer pressure.
Girls are often not allowed to go out like their male counterparts.
In contrast to Hridoy's eve-teasing prevention techniques, Proma says, "Witnesses should get hold of the eve-teaser immediately and make him say sorry to the girl in public." Uli adds, "He should be made to hold his ears and do sit-ups in public." Khan and Talukdar opine that the female relatives of political leaders who support these local cadres and goons should be harassed to make them understand how the victims feel.
When it comes to politics, most educated teens appear nonchalant; Dina, Lima and Shohag only want a voter ID card, irrespective of who they vote. Election to Lima means fun as it allows her to go out with the bhabis (sister-in-laws) of her village to the voting centre. While Sheikh Hasina, to Dina and Lima is "desher raja" (chief of the country), who is responsible for price escalation, Shohag supports Awami League as his friends support BNP. Among the educated teens interviewed, only Noman maintains strong opinion against political parties like Jamaat-e-Islami, "It is not an Islamic party at all. They do not believe in our sovereignty. On the one hand they speak of the Almighty but on the other, their activities do not match their Islamic identity." While the views about religious political parties are not quite positive, teens like Hasan see no reason why the concept of secularism has to be integrated in the constitution. "In a country where 75 percent people do not even know the meaning of secularism, how can they enforce it on the people?" he asks.
Interestingly, whether the teens practice their religion on a regular basis or not most of them consider it to be an important part of their life. While praying forms a regular routine for Noman and Samia, Proma and Uli pray a little extra before examinations and Dina loves the calm effect of praying. Lina, Marisa and Lyra feel that religious choice should be a personal matter not something that their parents should impose upon them. Lyra opines, "Just because I cannot say my prayers, does not mean I am a bad person."
About elders, most teens complain that teachers and school staff often do not approve of the friendship between boys and girls and automatically suspect that they are having an affair, which in our country, is strongly frowned upon. Even when teens do actually get into a relationship, in their opinion, parents and teachers often fail to handle the situation properly. Hasan tells how he has been affected by a mishandled breakup. "I went into a relationship because I wanted someone with whom I could share my thoughts and feelings." He complains there was no one to make him understand the effect such a relationship would have on his studies. "In my case when the teachers came to know of my relationship with a girl, instead of helping me they put me in another section. They blamed false things on me and took me away from my friends. I was alone. It was done as a form of punishment." He says that instead the teachers should have talked to him, "There should be a guidance counsellor in every school."
Although many of the teens interviewed goes through infatuation or receives proposals from others, most think that relationships should not be taken seriously at their age as it hampers their studies. However, Asmi thinks, " It is necessary to be in a relationship at this age to know that may come up if you have one in future." Shohag, who likes talking to a girl in his mobile, wants to keep it limited to that, as he is afraid his parents may not approve of such a relationship. Lima, too after a major heartbreak, wants to leave the choice of a life-partner on her parents. However, most of the educated teens from affluent families support love marriage as oppose to arranged, but opine teenage is not the time to get into any serious, long-term commitment.

L-R: Many teens do not get the chance to go to schools. While some teens are overburdened with studies,
other are carrying the burden of life itself.
While in a relationship, some teenagers consider embracing, holding hands and kissing harmless, conversely girls prefer not to get into an intimate physical relationship because of the potential danger it might lead to in the form of disrupting their reputation. It seems that recent incidents of pornography in the websites and mobile phone have influenced them largely. Interestingly, most teens admit that they have learnt about physical relationship either from porn movies, websites, friends, or from married relatives but never from their parents.
Hasan believes, "Sex education does not help at all." According to him, people who get into physical relationship, know very well the dangers involved, what they don't know is the emotional impact it brings and that is what sex education should emphasize. Whilst debate about sex education continues in private schools, Dina, who had been to a NGO school, received awareness about reproductive health and sexually transmitted disease from her teachers and thinks that it has helped her to be more aware.
While the teens like Khan, Lyra, Sabrina, Proma and Uli complain that their parents often put unnecessary pressure on them regarding their studies, often comparing them to their siblings and setting equal standards for all, Noman, Dina, Shohag and Lima defend their parents saying whatever their parents decide for them is for their own good. Interestingly, even the first group want their parents to remain informed about their activities. For example, Proma does not mind talking over the phone in front of her parents or Sabrina thinks that her parent should know where she is going. They all believe that to some extent their parents should exercise some control on their lives.
Prominent novelist and psychiatrist, Anwara Syed Haq says, "Actually it is the parents who are studying, children are just carrying out the instructions of the parents. Intense pressure can lead adolescents astray and they try to get pleasure in a short-cut way through facebook and mobile." She also says that media is also responsible for increasing the commercial competition among schools as they judge their performance by printing pictures of students of a particular so-called good school. She also blames the media for producing copycats of suicide and stalking. She says we have failed to provide our children with an alternative lifestyle that will keep them busy with activities other than education. The reason she says that teenagers are resorting to violence is they are following what they are seeing. She says there is no way to protect our children from the bad influence of a deteriorating society, "All I can say to the boys and girls is that just make sure that you don't let the filth of the ground you tread upon soil your feet."
opyright (R) thedailystar.net 2010