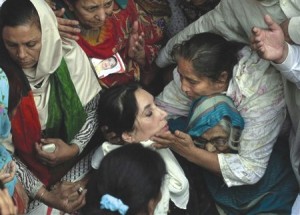 Pakistani politician Benazir Bhutto was killed by unknown assassins during a rally near Islamabad.
Dr Masooda Jalal was a victim of chauvinism of the most extreme kind during the Taliban rule in Afghanistan. She was the only female candidate to run for the Afghanistan presidential election in 2004, during the Emergency of Loya Jirga. Throughout her campaign, she was harassed and threatened by her opponents and various other extremist groups. She lost the presidential election but was appointed Minister of Women. Her policy amendment proposals were turned down and her opponents went on insulting her. When she was finally making some progress, she was released from her post and a campaign was launched to depict an incompetent image of her.
It was much worse for Janaki Devi. A semi-literate and married woman of the Purnia district of Bihar, Janaki was murdered in her house on May 26, 2006 as she refused to withdraw her candidacy from the local panchayet election. Or Nasrin Kauser for that matter of Pakistan, who was attacked by some of the opposition party men while going to examine the voter's list in her constituency. The attackers smashed her head with a heavy log but Nasrin was advised by her friends to 'keep silent' as a woman. Although she was elected as a council member, her husband and family still taunt her every minute for not standing up to their domestic expectations. She does not have any funds to spend on her community and the community members do not support her either.
Two thirds of the world's poor people live in South Asia amidst political corruption, criminalisation, conflict and militarisation despite having one of the world's largest democracies. There have been many forms of governments in South Asia, including democracy, socialism, military and monarchical rules. But recent intrusion of the politics of money and muscle and gangsterism has promoted a 'culture of violence', alienating the marginalised and deprived most of all, women, Dalits, and the ethnic, tribal, religious and linguistic minorities in South Asia. This culture especially isolates female professionals from actively participating in politics. These were the kind of issues highlighted at the `South Asian Regional Conference on Violence against Women in Politics' styled as 'Redefining Democracy: Promoting Gender Responsive Politics' held in Colombo from October 2 to 4, 2010. The conference was jointly organised by South Asian Partnership International (SAP) in Kathmandu and its other country offices in Afghanistan, Bangladesh, Nepal, Sri Lanka, Pakistan, India and other allied institutions. This regional conference has been held over the last three or four years in different South Asian countries including Nepal, Bangladesh, Pakistan or Sri Lanka. Women politicians and parliamentarians, journalists and development activists, professors and academicians have joined the Colombo Conference this year much like the previous years.
Naina Sahni, a political activist, was killed by her husband Sushil Sharma, a former Youth Congress leader, in 1995.
The good number of rather vibrant discussions pointed to the fact that the entire South Asian region has had a prolonged history of women struggling for independence and political transformation. It is South Asia that saw the world's first woman Prime Minister Sirimavo Bandaranaike in 1960. Since then, leaders like Indira Gandhi, Benazir Bhutto, Sheikh Hasina, Begum Khaleda Zia and Pratibha Patil have set examples for future generations. Despite this reality, political decision-making has always been a man's domain. Representation of women at national level in South Asia ranges from the highest of 33.2 percent in Nepal to 5.8 percent in Sri Lanka. Afghanistan ranks second with 27.7 percent women representation in national politics. Representation of women in Pakistan, Bangladesh and India is 22.5 percent, 18.6 percent and 10.9 percent respectively. In Bhutan and Maldives women members of parliament constitute only 8 percent and 6 percent of the total representatives respectively.
In fact, what constitutes 'Violence Against Women in Politics' (VAWIP) includes discrimination, intimidation, and character assassination of the female politicians and threats.
Sheher Banoo Khan, a journalist from the widely esteemed newspaper 'Dawn' of Pakistan with her 17 years' working experience, observed on the second day of the conference, "If Benazir Bhutto's appeal to the female electorate was the simple outcome of her biological identity, why was the same camaraderie not extended to Mai Jori, a peasant woman contesting the provincial by-elections against an influential tribal, held at the beginning of 2010 in Jafferabad, Balochistan, a conservative area of Pakistan? Ignored by most of the media Mai Jori became a subject of partial attention when she used donkey cart as vehicle to start her election campaign."
Indian female journalist Ammu Joseph explained in her paper how the news media of a country like the USA lays more emphasis on Hillary Clinton or Sarah Palin's wardrobe than their political stance or speech. Ammu also cited the macabre 'Tandoor murder case' whereby Naina Sahni, wife of former Youth Congress leader Sushil Sharma was killed by her husband and his three allies in 1995. Her remains were discovered from a tandoor (clay oven) in the Baghiya restaurant of New Delhi but the Indian Supreme Court passed a stay order on the capital punishment awarded to Sushil Sharma in May 2007. Naina's ambition for politics led her to get involved and married with Sushil as she did not have any political connection or influential sugar daddies. The price ultimately amounted to her very life.
Women in Bangladesh have been taking part in politics actively since the British colonial regime. Mamtaj Begum, a school headmistress from Narayanganj, was sacked by her school authority and divorced by her husband in 1952 because of her participation in the language movement, resulting in her untimely death. Ila Mitra, the communist leader for the rights of the Santal sharecroppers, had to undergo brutal physical and sexual torture in the then Pakistani prison in Rajshahi in 1950. Abduction of young and indigenous leader Kalpana Chakma or the death of Ivy Rahman and severe injuries of a handful of female political activists during the August 21 grenade attack in 2005 represent certain aspects of violence against women in politics in Bangladesh.
The regional conference was concluded on October 4 through adoption of Colombo Declaration to end all sorts of 'violence against women in politics' and through the sensitisation of the legislature- police, administration, and the judiciary; and mass media, department of education, religious leaders and corporate sector on the issue.