Voicebox

"I don't explode bombs; I rather train others how to make bombs and grenades."
MIZAN
explosive expert of banned Jamaat-ul-Mujahideen Bangladesh. "I am on a path to justice and truth, you too should follow the lead," he told reporters last week after his arrest.
"Those who carry out suicide attacks in the name of jihad would never go to heaven."
Maulana MUHAMMAD SALAHUDDIN AHMED
professor and Khatib of Baitul Mukarram National Mosque.
"All military operations have come to a stop."
Lieutenant General SARATH FONSEKA
army chief, Sri Lanka
"Now the entire country is declared rid of terrorism. Dead bodies of terrorists are scattered over the last ditch," he has also said.
"It was a matter of a few thousand crores of taka. Where did the money come from? Who paid to whom?"
KAMALUDDIN
public prosecutor
about the Chttagong arms haul case.
He has also said, "Involvement of an embassy was mentioned in the confessions. If the identity of the embassy is uncovered, our investigation will almost come to an end."
"Only the investigators know about the findings of the probe and I think the newspaper reports were based on speculations."
FARUK KHAN
commerce minister and coordinator of the enquiry committees formed to investigate the BDR massacre.
"The reports would make recommendations on restructuring BDR, its new name, uniform, laws and motto…the government wants to modernise the BDR through required changes so that it can work as a modern force in line with the present necessity," he has added.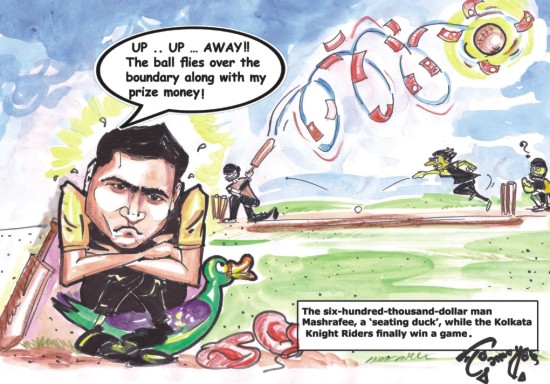 Copyright (R) thedailystar.net 2009