Special Feature
Nazrul Jayanti
Bringing Back the Revolution
Elita Karim
Photo: Zahedul I Khan, nazrul institute, 'Nazrul Pandulipi'
Moha Bidrohi'r anoklantho,
Ami shey din hobo shantho
Jobe uthbirith'er krondolorol
Akashe bathashe gumi donibena
- lines from 'Bidrohi' by Kazi Nazrul Islam at the age of 22.
The image of Kazi Nazrul Islam has always been that of a revolutionary intellectual influencing the people around with his strong words and uniting them with the fire of his patritotism. Moreover, to many Nazrul also came across as a lover, infatuated with anything and everything beautiful around him. To others, he was just an eccentric, passionate poet, with exceptional ability to express his heart and soul through his words. Nazrul was someone who inspired and instilled self-confidence and belief in oneself.

Nazrul's music and poetry bring about a feeling of revolution and unity amongst people belonging to different religions.
On May 25, the national poet of Bangladesh will be remembered by all on the occasion of his 110th birth anniversary. Like every year, various organisations in and around the country will congregate to sing his songs and recite his poetry. However, there is a growing fear amongst many a Nazrul lover today, of losing the great poet amidst the entire hustle-bustle of city life. Many even fear that there might just come a time when Nazrul's songs, poetry and Nazrul himself will be forgotten in the era of popular music with commercial lyrics and music reality shows on television, where winners are created through an SMS voting system.
The legendary Nazrul and Adhunik singer Feroza Begum had the opportunity to actually meet Kazi Nazrul Islam in person. "When I was very young, I had the opportunity to sing in front of him," says Feroza Begum. "He also taught me a few songs. 'This girl is going to become a very famous singer one day," he would tell the others around him. He would often pray for me, blessing me with a world full of success! I don't know if I have been able to live up to his dreams, but I have tried my best to sing with honesty and passion."
Nazrul is, undoubtedly, known for his music and poetry, which still bring about a feeling of revolution and unity amongst people belonging to different religions two of the major elements amongst many that drove him to write. Prominent singer Sujit Mustafa, however, feels that the generation today is simply not inspired enough by Nazrul's songs and poetry anymore. "In fact, music lovers today have no idea or knowledge about Nazrul and the conditions that had driven him to write in those days," says Mustafa. Mustafa, who is also the Joint Secretary of Nazrul Sangit Shilpi Parishad, says that nobody bothers to actually study the works of Kazi Nazrul Islam or Rabindranath Tagore. "There are many who sign up for courses in academies and institutions in the country only for a certificate," he says. "The handful of boys and girls who actually carry the passion for learning and love for music ares not enough to create a generation of young people who will truly appreciate the maestros (Tagore and Nazrul) or the art of music." Obviously, he adds, one cannot stop different genres of music, including the commercial kind coming into the scene. "It is a universal concept one cannot and should not obstruct these developments or changes. But this does not mean that we should ignore our tradition and neglect our identity."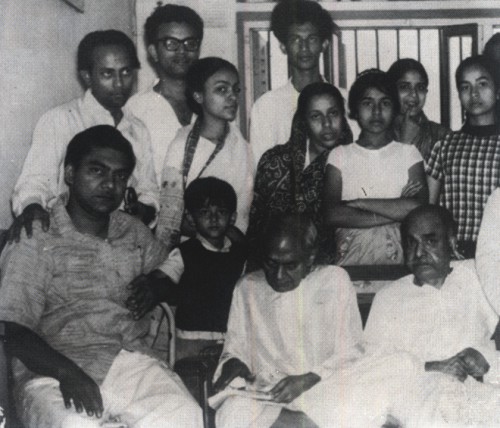 Kazi Nazrul Islam with his family.
"It was in the 60s when Nazrul songs would get slightly distorted," says prominent Nazrul Sangeet singer Sadya Afreen Mallick. "Even then Nazrul songs were very popular amongst music listeners and even youngsters back then. However, because of the growing distortion, a massive gap has been created in Nazrul songs, which not only made a negative impact on the popularity of Nazrul songs, but also the swaralipi (notations) and tunes of the songs." Mallick believes that Nazrul songs can be made popular amongst the general public once again, including the youngsters. "But to fill up the gap, we would have to back track and work practically from the beginning." Mallick believes that youngsters will definitely accept Nazrul songs once they are popularised again. "Today's generation has accepted Lalon Geeti so beautifully," she justifies. "It is up to us to
reinstate the position of Nazrul songs for the young generation to try it out for themselves." To make that happen, Mallick is undertaking an exclusive project where prominent artists who had started their career with Nazrul songs will be brought together and record popular Nazrul melodies; they include Kanak Champa, Shakila Zafar, Subir Nandi, Farida Parveen, Abida Sultana and many more.
To know more about our national poet, one cans visit the Nazrul Academy or the Nazrul
A documentation on Nazrul's work
- Nazrul Sangeet Nirdeshika.
Institute which was established in the mid-60s in Dhaka, in memory of the national poet. The academy was mainly established to highlight the role of Nazrul as a forerunner of the Bengali Muslim renaissance and to understand the elements of modern and progressive ideologies and relate them to the ideology of the then Pakistan. The academy also wanted to develop through Muslim traditions. One of the major projects that the academy wanted to undertake was to collect and compile the works of Nazrul, not to mention materials related to his life as well. Not only did the academy involve itself in collecting Nazrul songs and notations for compilation, compositions and publication, it also encouraged the study, practice and dissemination of his songs, make documentaries and produce new recordings. The academy also wanted to translate Nazrul's works so that they could be projected at home and abroad. The academy, now, is also running a music school where all artists who sing Nazrul songs are involved.
Sujit Mustafa believes that the institutions and academies dedicated to preserving and documenting the works of Nazrul could do much more to spread Nazrul's message. "But I also blame the people in this country," he says. "Vocal training classes in these institutions and academies are of no use if music lovers and listeners do not take the effort to participate and make use of these facilities."
Feroza Begum, however, blasted the authorities of these establishments: 'They have been practically dead for a long time. They don't even answer their land line phone!What exactly are they doing? This is a question that I have been asking for a long time. There is a lot of funding involved here. Where is the money actually going? There is also not a proper hall room. The current one is so depressing. How can performances take place in such an auditorium?" Feroza Begum says that even the school is not operating in a proper way. "Many students are misguided because not all teachers are able enough to teach Nazrul songs. The students also end up singing in a wrong scale all together." In a nutshell, Begum says that the establishments are not doing what they were expected to do -- preserving the spirit and memory of Nazrul, not to mention teaching and training students Nazrul's compositions.
According to the activities listed by the Nazrul Institute in their handbook, however, plenty is being done to preserve Nazrul's works. The institute has training courses on Nazrul songs, recitation courses, a library, museum, an auditorium and much more which can be utilised by those who want to know and learn more about the revolutionary poet. Moreover, for the very first time, in cooperation with the Bangladesh Tourism Corporation, the institute has initiated a programme called the Nazrul Tourism, with a view to providing opportunities for the tourists who would like to see places and establishments connected to the memory of the national poet.
Nazrul poses for a painter.

The gallery inside Nazrul Institute.
According to the institute authorities, there are youngsters who come to the institute to learn about the poet and also study his music. Rashid Haider, the Executive Director of the Nazrul Institute says that nobody can stop experiments and modifications in music. "Nazrul sangeet will never die or be obsolete," he says. "Just like the rest of the world, adhunik (modern) styles of melodies, including band music, are very popular in Bangladesh. But the tunes and lyrics created by maestros like Tagore and Nazrul are eternal and their originality will always survive experiments." Haider adds that one of the elements that defines the works of both Tagore and Nazrul as genius, are their bani or lyrics. "Their creativity mesmerised everyone and continues to do so." On the occasion of his 110th birth anniversary, the Nazrul Institute will be bringing out a book on the national poet Nazrul Sangeet Nirdeshika by Dr. Brokhomhan Thakur. This book will have a documentation of all of Nazrul's works including the accounts of artists specialising in Nazrul songs, when they were recorded and by whom.
Nazrul with his friends.

Nazrul during a visit to Chittagong in the 20s.
Nazrul is not forgotten and will always be present through his powerful poetry and mesmerising compositions. However, what we need in the country right now is another revolution like the one Nazrul initiated and that had once created a spark decades ago. Maybe it's the absence of this spark within us that leaves us in such a confused state even decades after winning independence. Clearly, we are missing that voice that will inspire us to stand up once again and fight for what is right, something that is easily found in the magic of Nazrul's music and lyrics.
Copyright (R) thedailystar.net 2009