Human Rights
Facing The Acid Test
Mahbuba Zannat
Photos: Syed Zakir Hossain

Peyara Begum, now a 35-year-old woman, fell victim to acid violence by her son's teacher ten years ago following refusal of his offer of love.
The poor woman had to sell all her property to continue the expensive treatment but finally Peyara overcame the odds and returned to normal life with the help of her supportive and loving husband.
"The social situation for an acid survivor was tougher ten years ago. I didn't get anyone to stand beside me at that time-- no legal support, no assistance for treatment, nothing. I tried to commit suicide several times," said Peyara who had to go through plastic surgery 15 times as her whole face, head and upper parts of the body were charred and distorted.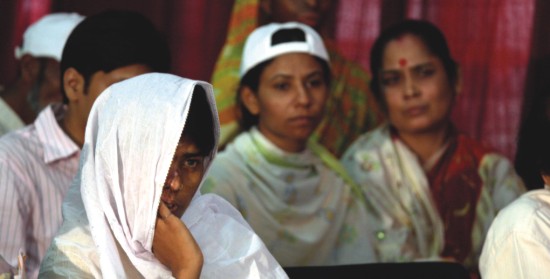 A Pakistani acid survivour at the conference.
However, the situation has changed quite a bit in recent years and there are organisations working to provide legal support to punish the perpetrators and financial support for treatment and rehabilitation of the victims. Due to massive campaign against acid violence, enactment of laws to control acid crime and acid selling and active programmes of the rights organisations, acid violence has been reduced in the country in recent years though it still occurs.
According to a report by Acid Survivors Foundation (ASF), 42 people fell victim to acid violence from January to April 2008. That number is down to 20 this year.
"Acid violence was increasing by 40 percent every year from 1999 to 2002. If we could not take necessary actions to stop the violence, it would reach alarming proportions by 2008. But the actual figure was 178," said Executive Director of ASF Monira Rahman to The Daily Star.
According to the report, the number of persons attacked with acid came down to 187 in 2007 from 234 in 2000 and 349 in 2001. In 2006, the total number of acid victims was 221, the ASF report stated.
Incidents of acid violence rose sharply in the 90s and started to decline in the decade that followed. Peyara was fortunate enough to be among the few acid victims in the country who could fight the legal battle and the perpetrator was imprisoned for 14 years. But most of the victims of acid violence are yet to get justice in spite of stringent laws existing in the country. According to the police headquarters, 1,428 cases were filed with acid crime control tribunals from 2002 to 2007. Two hundred and fifty-four accused have so far been convicted in only 190 of the cases. Of them, 11 were sentenced to death and 89 got life sentences. Three hundred and twenty-nine accused were acquitted on all charges.
But no government or NGO officials could say how many of the death sentences were carried out or how many of the other convicts are doing their time in jail. "We're don't know how many of the criminals are being punished. The cases were filed with different courts: we don't have any nationwide figures," Humayun Kabir, additional inspector general (crime 3) of police, told The Daily Star.

Advocate Salma Ali of Bangladesh National Women Lawyers' Association (BNWLA) said, "The low rate of convictions gets in the way of keeping individuals from committing the heinous crime."
As the criminals are often influential people, they pile pressure on the victims' families to withdraw cases. At the same time, police cannot gather evidence properly as relatives get busy with treating the victims and make delay in filing cases, destroying vital evidence.
The situation of the acid victims is even worse in Pakistan due to the absence of proper laws to try the criminal though there is a regulation on selling acid. "The ASF Pakistan has been working since 2006 and identified some 149 victims of acid violence. But it does not mean that acid violence is modest in Pakistan, rather in Panjab and some other provinces acid violence is frequent," said Samina Afzal Naz of ASF Pakistan adding that cotton cultivation is prominent there and Hydrocloric acid is used in processing cotton seeds.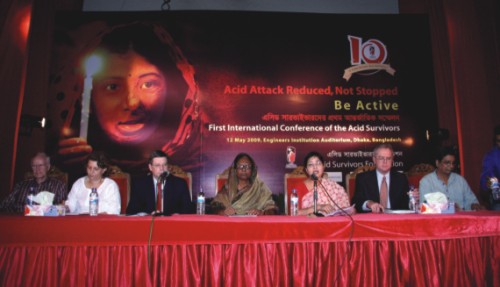 The conference was a call to the world to unite against this heinous crime.
Samina was talking to The Daily Star at the International Conference of Acid Survivors in Dhaka on May 12. She also talked about Zenny (not her real name) who was standing beside her covering the head and half of the face with a scarf. Zenny fell victim to acid attack twice by the same perpetrator when she was 13 years old. But due to lack of stringent law and social barriers, Zenny's parents were forced to come to a compromise instead of punishing the culprit for this heinous crime.
The International Conference was also attended by Thong Kham of Cambodia and Regina of Uganda -- all shared their experiences as to how they fell victim of acid attack and how they survived with the distorted faces and limbs. Overcoming all odds they are now trying to unite in order to mobilise public opinion against acid violence and to help rehabilitate other acid victims.
"After the acid attack I used to be afraid of all men and even did not came out from my home for a long time," recalled Thong Kham, "the man who threw acid on me actually tried to throw acid to the girl who was standing beside me. I am suffering for nothing and the man is yet to be tried. But I have started my life in a new way and with the help of ASF Cambodia I have started a restaurant.I know I will be successful one day," she added.

A candlelight vigil for survivours.
If only Thong Kham's confidence could spread to the other acid survivors across the globe it would become a potent weapon to help people rebuild their shattered lives. With the support of people from all walks of life, acid violence can be eliminated from the world forever.
Mahbuba Zannat is a reporter of The Daily Star and winner of this year's UNESCO -- Bangladesh Journalism Award.
Copyright (R) thedailystar.net 2009