Literature
V I S I O N E M E
Our own Academic or
Subaltern Gaze

Abdus Selim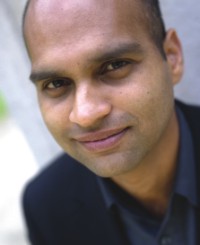 Aravinda Adiga
Recently I went to Delhi to attend a conference of the Asia Pacific regions of the United Nations Associations. On my way back at Delhi airport I discovered a book on display in one of the beguiling bookshops befitting an international airport -- in fact, to me, all international airport shops (with the exception at ZIA) are mesmeric. You are always enticed to step into them even if you do not buy anything. I did the same and leafed through a book as the title somehow rang a bell deep in my memory -- The White Tiger. I heard or read about the book somewhere, perhaps in a magazine or in a newspaper that announced its 2008 Man Booker Prize. The writer of the book, an Indian from Madras, is Aravinda Adiga, not a well-known personality in the world of writers, as it happened to be his first novel. Coincidentally enough during the same trip I bought two books of plays (used ones of course) by Doris Lessing, the British Nobel Prize winner in literature in 2007, one of which is called Play with a Tiger. Moreover, this lady too was on the shortlist for the first Man (why not Woman?) Booker International Prize in 2005, but never made it. Doris wrote her play in 1958, while Aravinda's novel was written in 2008, 50 years after, and it is quite amazing to see how these two writers belonging to two different worlds -- the first and the third -- used the same tiger symbol in their works.
Though I was about to buy the book (Adiga's that is), the price was too exorbitant just as all other items at the airport shops are, I pondered over it for a while and decided against it, for I had an intuitive feeling that the pirated version of the same book sold by the wayside hawkers in Dhaka would cost me only one-fourth the price I would pay there -- and I was absolutely right.
After only two weeks as I was stopped by a red traffic light on my way to my workplace, two youths came and displayed in their uniquely attractive way a number of cellophane wrapped books that included Aravinda's The White Tiger. All knowledgeable persons will agree with me that in such situations, bargaining is a must. Though I am not a bargaining type, I could buy it at a price that made me happy as I instantly compared it with the price that I was going to pay at the Delhi airport for the same book. But I was happier reading the book not because it was a pleasant one, but because I had decided not to buy the book at the airport at the price printed on the back cover, for to me it was not worth it.
Before I explain why I think the book is not good value for money that I would have paid at Delhi, I must say I had read a review on the novel in The Daily Star about a month before I bought it and the reviewer had nothing but good things to say about the book and its writer. It was one of the main reasons for buying the book from the street hawker.
As I said my reading of the novel was not enjoyable at all and thus it took me almost a month to finish this 321-page book. In the meantime got hold of another book containing extremely enlightening essays written by my friend and onetime colleague Dr. Azfar Hussain. The book is titled The Wor(l)d in Question. Though Azfar is a wonderful person to spend time with and we had had innumerable subaltern tea sessions (that was what he used to call it) by the wayside tea stalls when he was in Dhaka, his essays are not easy reading either. But at that time as I had been reading both Aravinda and Azfar in turn (I do that often and I am sure a good number of readers do the same too) I suddenly came up with a link between what Azfar said about visioneme and the theme of Aravinda's novel. According to Azfar visioneme brings together at least nine kinds of "gazes", and in Aravinda's novel at least one of the two such "gazes" -- either his own academic gaze or subaltern gaze seems to have acted as the prime catalyst -- consciously or unconsciously.
The book unfolds the story of an ultra-poor person (the protagonist) in the first person wherein he describes how it is to be born and raised in a community that he calls Darkness, where one does not have any name and record of birth date, both of which are done by his primary school teacher; how corrupt and double-faced the politicians of India are, especially the communists; how bogus the concept of parliamentary democracy is; how the rich of India who according to him belong to Light, survive on immorality and dishonesty and how for their self-interest love is exploited by the state mechanism; how the police force or for that matter law-enforcing agencies go on asking for bribes lured by their never-ending greed, and most of all how a White Tiger -- an extraordinarily otherwise-talented man like him goes at the top of entrepreneurship by murdering his innocent master for a handsome cash, runs away to another city, and lives there undetected as one of the many representatives of Indian booming economy assuming the very name of the murdered man.
Here I would like to draw a contrastive analysis between Doris and Aravinda in their use of Tiger symbol. While Doris Lessing in her Play with a Tiger dramatises the difficulties of having high ideals and trying to live by them with as little compromise as possible -- which according to her is like playing with a tiger, Aravinda in his The White Tiger on the other hand unfolds a story through a man who is a rare species being as white as a guiltless creature, though for his survival ultimately compromises with the corrupt way of life typical of a third world country. I must admit Aravinda Adiga has extraordinary strength in his rhetoric, but the secret of his winning the Man Booker Prize lies in what Azfar has mentioned in his article Regimes of Visual Colonialism: Reading National Geographic. While elaborating on his concept of academic gaze and subaltern gaze he says that academically when one becomes sarcastic about one's own society and country and tries to give explanation of the same from one's subaltern impressions in black and white one actually washes one's own dirty linen in front of the imperialists who from their colonial point of view love to see exactly the things that has been done by Aravinda, a third world country creative writer or academician. That is how perhaps Aravinda Adiga has impressed the authorities of the Man Booker Prize. I am afraid these days most Indian writers in English language are pampered and patronised by the western publishers, readers and award giving institutions just because they expertly divulge the dark side of the third world countries.
Abdus Selim is an Assistant Professor at North South University and a has translated many plays.
Copyright (R) thedailystar.net 2009