Endeavour
The Little Things that Matter

Elita Karim
Even after the strict implementation of the compliance law in 2006, ensuring the working conditions of the manufacturing unit from social, political and economic points of view, there was still a lot left to desire for scores of workers in the Ready Made Garment (RMG) sector. In several factories, even today, minimum labour standards like wages, working hours, over time, safety in the workplace, job security, right to form trade union, ensuring non-violation of human rights and social benefits are still merely concepts on paper. In an industry comprising of over 4,000 factories of which 90% are SMEs and which also play a big role in creating economic opportunities for women, internal factory policies like production bonus, cash incentives, working conditions, maternity leave, medical facilities, arrangement for food including safe drinking water, a place to pray, transportation, festival bonus and much more are enough to unleash a fresh surge of labour unrest.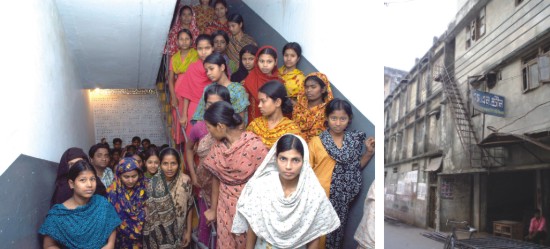 There are still quite a number of RMG factories in the city, which do not follow the compliance law.
In November 2007, a Human Resource Restructuring (HRR) programme was piloted simultaneously in five factories on a cost-sharing basis, where a yearlong training programme was planned for mid-level managers and workers. The International Finance Corporation's South Asia Enterprise Development Facility (IFC-SEDF) in Bangladesh is currently working in the RMG sector to preserve and increase jobs while stimulating growth and improving working and environmental conditions. In partnership with two leading brands, Gap and H&M, along with the five leading RMG factories, they developed the curriculum for the HRR programme. A leading local consulting firm DCGCI (Development Consultant and Global Compliance Initiative) was awarded the contract for conducting the programme. "The HRR programme initiated a process to bring about sustainable improvement in the workers- management relationship," says Nayeem Emran, Task Manager, IFC-SEDF.
The Human Resource Restructuring programme has established a
common platform for mid-level managers and workers.
Upon interaction with key industry stakeholders, IFC-SEDF identified that other than wages, one of the other most critical causes of labour unrest is the communication breakdown between the mid-level managers and workers. For instance, for 25-year-old Laisu Rehman who now works at FS Sweaters as a Linking Operator, says, "I used to work in another factory where I had to miss several days of classes and exams only because I had no idea if I could take leave." He continues, "Besides, I was not sure who to approach and how to go about applying for study leave, since the senior officers never seemed to have time to spare. It would have been a long process, which is why I let go of it and lagged behind in my classes." Similarly, 23-year-old Maleka Khatun had to quit her job as an Operator at a garment's factory, when the authorities would not extend her maternity leave. "I had to take a leave around the sixth month because of a medical complication," she explains. "I needed a little more time off after my baby was born, since I had nobody to take care of my child. Moreover, I was weak for a couple of months as well. The factory where I worked in did not have a day-care centre either. Hence, I was forced to quit." Both Laisu's and Maleka's problems were made out to be trivial issues, which were 'taken care of' by the respective factory authorities in their very own ways. However, the authorities fail to notice that even today, thousands of such trivialities eventually add up and may create future labour unrest
The HRR training programme has been envisioned to ultimately lead to better compliance, improved management-worker communication and middle management/supervisor awareness and more effective grievance reporting and handling resolution mechanisms. This will ultimately empower the workers to have a sense of ownership and prevent communication breakdowns from turning into a full-blown crisis. The training programmes included sessions, which brought together the workers and the mid-level managers on a single platform. At the FS Sweaters, one of the mid-level managers says that most of the time, a worker is unable to differentiate between taking a leave, quitting a job and being dismissed. "There is paid leave and unpaid leave, medical leave and earned leave," explains the manager. "Most workers here are not educated and hence do not understand the differences. When one is dismissed, if conditions apply, he or she will get a particular amount from the factory upon dismissal. However, that does not apply if a worker quits. Several sessions were held to explain such policies to the workers at the training sessions." The HRR training programme also developed manuals, guidelines and materials for the Project Working Group (PWG) and Training of the Trainer (TOT) groups. These groups consisted of mid-level managers who were taught to train the workers, helpers and operators at least a few times a year on their respective factory grounds.
The HRR training programme did not only bring into light the several petty confusions amongst the workers and operators that ultimately lead to unrests on the streets, the programme instilled a sense of responsibility in the workers. Anjana Shaha has been working with FS Sweaters Limited in Gazipur since 2002. Starting out as a simple helper, today the 47-year-old is an FQC supervisor and is responsible for at least thirty workers, both male and female. "We have several groups, referred to as blocks in our factory," says Anjana. "We have around 5000 workers in our factory, who are grouped into 30 or more and categorised under a block. Each block has one supervisor." Probably one of the very few female supervisors in the industry, Anjana explains the role of the supervisor in each block. At FS Sweaters, she says, grouping of workers under blocks has helped keep track of and solve workers' problems. "Working together gives rise to hundreds of small issues between workers themselves," explains Anjana. "Each supervisor has to solve these issues so that the daily work schedule in our own blocks is not hampered. Moreover, we also keep in mind that the factory as a whole runs on a particular schedule and has to meet deadlines. As supervisors we need to see to it that in spite of our little issues, the productivity of the factory is not weighed down in any way."
The HRR training programme has successfully worked in establishing a common platform for mid-level managers and workers. However, there are still quite a number of small garment factories in parts of Dhaka, which do not follow the compliance law. Even though more than 500-2000 workers work in each of these factories, the authorities do not provide even the basics, such as proper working conditions, not to mention emergency escapes. In fact, these ghastly factories go unnoticed completely. The RMG sector in Bangladesh plays a vital role in the country, both economic and social. The only way to increase productivity in this sector and eliminate labour unrests on the streets is to bring about changes not only in the well-known establishments but also in the small garment factories.
Copyright (R) thedailystar.net 2008