Impressions
A Walk Down Chandrima

Syed Nadim Noah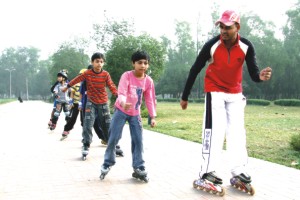 Look out for the formidable roller scaters at Chandrima.
It was 5:30 am, a Friday morning. I rubbed my eyes while staring at the dark sky of dawn. I fumbled with blood shot, sleepy eyes, searching for my cell phone, which was vigorously ringing to the alarm I had set the previous day. It has been a long time since I woke this early in the morning, but amidst my numbness I knew that today was special and I could not miss it for the world. My dad's persistence and my lazy routine that I had recently acquired, pushed me further to go on a morning walk. I quickly got up and soon without wasting any time, made my way to the Chandrima Uddyan.
The cold breeze gave me the shivers as I jogged along Bijoy Sarani, the path behind Sangshad Bhaban. Within moments I could see other fellow joggers, running without a care for the world, quite unlike the usual times when people stare at you for no reason at all. I struggled to keep up with the senior joggers, who were almost double my age, and this made me realise how unfit I was and what I had missed all this time. As I went further, more people accumulated, quite like the gathering of Gazelles as they migrate to new locations. The empty streets of Dhaka, the pollution free air and the morning dew on the leaves, was quite unreal and made me ponder how beautiful Dhaka really is. In my view, I could notice the magnificent structures of Zia Uddyan and the artistic bridge that is built in front of it grow large with every step I took. The sun by this time, started peering from its hideout, making the glistening grass shine even more. It was unbelievable - the number of people at this place. From age 10 to 80, Chandrima was buzzing with activity. Everyone was engaged in numerous activities, be it roller-skating or strenuous exercises or karate along with the slow, silent and peaceful walks of the elderly.
I roamed around the place, familiarising myself. I gradually learned about the various groups. The first thing that caught my attention was a big banner which read, "Bhorer Shishir Fitness Club." I peeked over the banner and could see a large number of people, rich, poor, male and female, exercising their hearts out, and an instructor leading them. I headed to the instructor whoexplained that it was a charitable organisation with the sole motive of informing people of the importance of exercise and helping them to practice it every morning from 6:00 to 8:00am. As I headed further towards the epicentre, I noticed several groups doing karate. Without wasting time, I made my way towards the young men kicking violently upwards into the sky. Composed of mostly teenagers, the karate groups trained its members in self defense tactics.
Frightened by a sudden grating sound approaching from behind I moved away just in time to avoid a collision with a kid, who zoomed passed on his roller skates. As I walked circles around the lake, I met two elderly members. There was an old man beside a tree, doing such strenuous stretching exercises that they would put modern gym goers to shame. On the other side, walking stiffly and steadily on the footpath was another elderly man. The gentleman walking beside the road was Sheikh Anwar Ahmed, who was 72 years old and claimed to be walking for over 50 years now. He also mentioned that he came walking all the way from Mohammadpur to Chandrima and back again every morning. The man beside the tree was Anwar Hossain, an octogenarian who had been walking from 1981 and hails from Nakhalpara. Although the two gentlemen had no similar features, they did share the same objective and reason for being part of the morning walkers. Sadly both of them had diabetes and thus, every morning at 5:30am after saying Fazr prayers, they head out to stroll for two hours and then come back on time again to take their insulin shots. That particular day coincidentally happened to be, November 14, "World Diabetes Day."
Heading home I stumbled across a lot of street vendors doing brisk business with the joggers. However, they weren't selling just old consumable goods, but had adorned their tiny shops with medical instruments. Some were measuring weight and height, while others opted for blood pressure and sugar level. As I inquired about their business, I concluded that none of them had any sort of training, but was relived to know that they use disposable syringes for taking blood. How safe it really is, is of course questionable.
Refreshed and rejuvenated by this wonderful interlude, I promised myself that I would include this early morning ritual adopted by hundreds of these Chandrima goers, as part of my daily routine. There is nothing more exhilarating than breathing in the fresh air of the early hours and getting one's blood circulation going. For Dhaka's citizens, so bogged down by hectic schedules and choking pollution, a jaunt down Chandrima every morning, could very well be the reprieve they have been waiting for.
Copyright (R) thedailystar.net 2008