Art

Kibria
Through the eyes of another artist

Fayza Haq
Javed Jalil, an artist well known in Bangladesh and overseas for his mystifying paintings and drawings, is also a long time art critic and written on art in The New Age and Holiday. His latest endeavour is a book on Mohammad Kibria -- an icon of the visual art world in Dhaka. The tome, containing innumerable illustrations, launched recently has been published by the Society of Promotion of Bangladesh Art.
He has had seven solo exhibitions and workshop at Dhaka ("Shilpangan", "Alliance" and "Art Club" -- spanning a decade), Los Angeles, Kolkata and Mumbai). Asked as to what made him go into fine arts, he says that he was studying Literature and Philosophy at Los Angeles when he turned to painting and sketching as he felt a reason for his raison d'etre, looking into himself. He found solace in the solitary world of painting and reading on art history. In writing on Mohammed Kibria he combined both his interests.
"The interesting part is that this write- up could have been done by so many other writers, specially ones who are famous and have been writing for a long time. When I spoke to Kibria, he liked me in return and we connected. Since the book was more visually connected, I couldn't write more, which I would have liked to. The interviews took some time as Kibria is an introverted man. My original write-up was longer, about ten thousand words. This book contains about six thousand words." The text is accompanied by numerous pictures of Kibria's work- both in colour and black and white.
"I found Kibria a man of few words to share with others. It took me a lot of evenings, which ran on to nearly four months. Also, at his age, he is physically sick and not given to too much of parley."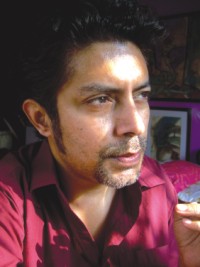 Javed Jalil
Asked to give some of his comments on Kibria, Javed Jalil says," It was very difficult to get out the personal elements of his life. In the first version I did include a lot of himself as an individual to be admired, but somehow a fair amount of this got deleted. As I said before, this was a visual book and the editor wanted the accompanying write-up to be limited."
Going over his observations in the book, Javed Jalil says," In the intro I stressed on the earlier parts of his life in Kolkata and how he got involved in painting and how he taught art to children; and at the end I dwelt on his later meditative creations, how loneliness attracted him and how he was afraid of death, the Liberation War with Pakistani forces. Later on I went into the analysis of the paintings; his solitary journeys on the streets and pebbled pathways and how he transforms his experiences into art. For him his paintings are not an expression of feelings or anything else. It is a state of mind or a thought. It is more like absolute salvation. His paintings are like thought itself."
Collage, explains Jalil, has helped Kibria, as he puts it himself, to express himself, as when he got sick during his later years in life. Collage was a way to combine his thoughts and feelings to delineate his mental frame of mind. Thus collage became and internal part of his creation. Even in his paintings and print-making there is a placing of patches of his collective thoughts. Kibria is not an individual who has a lot of things to tell the world. "He is an artist who is into the 'process of creating art ' itself. At the same time he is in the process with living with the elements of life, and what life has to offer rather than how 'art can express a certain thought.' He speaks through his paintings. He doesn't speak through his paintings very objectively."
In his subjective world, adds Jalil, the act of print-making or painting is an expression for him. He doesn't want to say anything directly. Kibria, incidentally, turns 80 in January 2009. This is a contrast to many middle-aged artists of Bangladesh, who have been known to indulge in "addas" even before 1971.
It was an article on Biren Shome that attracted Eltham Kabir, who heads the Society for Promotion of Bangladesh Art, who requested him to write the book. This was a breakthrough for Javed Jalil, "There are a lot of senior writers who could have been selected in my place,' he says.
It took him two years to complete the book: The editing and the process of judging the art work to be included in the book took 18 months. The author only wishes that he could have said more, which he did in his origin draft, which included more thoughts and words.
.Copyright (R) thedailystar.net 2008