Remembrance

A Thank You Would Do

Julie Clothier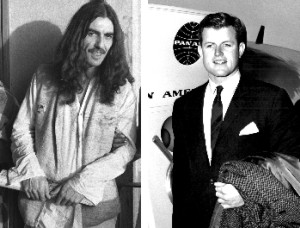 George Harrison and Edward Kennedy
A Bangladeshi lawyer who wants his country to officially recognise George Harrison and Ted Kennedy for highlighting its 1971 struggle for independence has taken his battle to the country's high court.
Masood Sobhan says it is a "disgrace" that the former Beatle and the US senator were never formally thanked by Bangladesh for publicising its suffering as it fought for independence from Pakistan.
"It is shameful. It is really a tragedy that we have to go to court to seek recognition for their great contribution to this country," Sobhan told AFP.
"It is a national debt. We should recognise them out of decency, out of moral obligation and out of gratitude."
Sobhan also wants the country to honour former Indian prime minister Indira Gandhi, who allowed many Bangladeshis to take refuge across the border during the war.
The case is expected to be heard before the end of the month.
Harrison famously penned the song "Bangla Desh" and held a benefit concert in New York's Madison Square Garden on August 1, 1971 to raise money for the grindingly poor, war-torn nation.
The Concert for Bangla Desh, which featured appearances by Bob Dylan and Eric Clapton, came about after Indian sitar maestro Ravi Shankar appealed for Harrison to do something to help.
The country was in the middle of a bloody nine-month war before the Pakistani Army surrendered on December 16, 1971.
Although no official figure has been determined, Bangladeshis widely believe some three million people were killed and 200,000 women were raped during the war, which came four months after a devastating cyclone killed half a million people and caused widespread destruction and famine in what was then East Pakistan.
Bangladesh was part of the Indian state of Bengal until the subcontinent was partitioned in 1947, when it became East Pakistan, 2,000 kilometres (1,200 miles) away from its administrative centre of West Pakistan (now Pakistan).
Harrison, who died in 2001 after a battle with lung cancer, never visited Bangladesh.
Sobhan argues Senator Kennedy, who was diagnosed with a malignant brain tumour earlier this year, was equally instrumental in drawing attention to the plight of both those who had fled Bangladesh and those who stayed behind during the war.
"He needs to know in his lifetime that we are grateful for all he did. That invitation needs to come from the state," said Sobhan, adding that it would be up to officials to decide exactly how to recognise Kennedy, Harrison and Gandhi.
Akku Chowdhury, a war veteran who helped create the Liberation War Museum in Dhaka 12 years ago, says Harrison was a true pioneer.
"When George Harrison and his friends held a concert to tell people about this far off place called Bangladesh, the world had never had a concert like that ever," says Chowdhury, who has created a whole room dedicated to The Concert For Bangla Desh at the museum.
"Since then we've had a lot of concerts raising awareness for Africa, but back in 1971 this was the first of its kind."
Masters student Joy Shahriar said that even though Harrison never had any official recognition in Bangladesh, the so-called "quiet Beatle" remains an iconic figure among the country's youth.
Shahriar sells t-shirts with the Beatle's photo emblazoned
across the front for two dollars each.
"We made these t-shirts because there's a lack of official information about what happened during our liberation war," says Shahriar.
"George Harrison helped tell people what was happening here back then and the t-shirts continue to do that today. It's fashionable as well as giving out a message."

Afp, Dhaka
.Copyright (R) thedailystar.net 2008