Travel
Where Clouds Give Way to Roads
Imran H. Khan
How do you take a vacation when you have a regular job or are a student or parents of students? Well, you wait for the Eid holidays. And that's exactly what we did. This Eid, a few friends and I, boldly set off on a journey to India, destination Darjeeling.
When we arrived at our bus stop we were amazed to see that instead of the usual bus waiting to leave for Buribari, the north-most border to India, there were two buses that night. Other deshis obviously had the same idea about travelling. Bus journeys are always exciting since one gets to see so much of the countryside and though we would be travelling by night, the aura of excitement was unmistakable. The bumps itself would be a roller-coaster ride to remember. The trip took nine hours and soon we were in Changrabanda, the Indian side of the border.
I must admit we felt an air of triumph. A holiday abroad, after all, is the end result of long planning and going through all the government (and non-government) formalities. Once the destination is reached you feel a sense of achievement.
There were five of us and we had to share a Tata Sumo with a family of three to Shiliguri. The trip from Changrabanda to Shiliguri took about one hour and forty-five minutes after which we stopped to change cars at Shiliguri. Shiliguri is also called "The City of Hospitality" and stands as a gateway to Eastern India, strategically located between Nepal, Bhutan and Bangladesh. This state also acts as a transit to other tourist destinations like Darjeeling, Kathmandu and Gangtok. After muscling our way through the traffic of Shiliguri, we burst into the crisp and clean open mountainside enroute Darjeeling.
It is 80 km from Shiliguri to Darjeeling and most of it is uphill over treacherous hairpin bends. Thirty km ahead and 4,800 ft above sea level, we passed the hilly huts and habitats of Karseong. The famous 'Toy Train' has a station here and from this train that winds down (or more like up) the road, one can get scenic views of the mighty Kanchanjunga as one gets higher in altitude. The legacy of the Toy Train is about 123 years old. It made its maiden trip in September 1881. Also known as the Darjeeling Himalayan Railway, it huffs and puffs its way back and forth. After his ride on the Toy Train in 1895, Mark Twain is said to have made the following comment, "The most enjoyable day I've spent on earth is of mixed ecstasy of deadly fright and unimaginable joy."
We noticed that our driver smiled at the other drivers we passed. He also happily gave way to them. He would raise his hands now and then in a gesture of salute. I remembered in good old Dhaka drivers raise their hands too, but to make a completely different gesture. We soon realised that since Darjeeling is a small town most of the drivers know one another. Our Tata Sumo dropped us off at near Ghoom Station, the highest station in the world, and the last stop for the Toy Train.
The nice thing about being a Bangladeshi is that no matter where you travel to, at any time of day or night, you have the pleasure of coming across someone from your native land. He (rarely is it a woman) will be engaged in a debate with the authorities or frantically searching for misplaced/lost luggage, have the wrong stamps on his passport or even be in possession of some contraband item. I was not disappointed. On this occasion my countryman got off the Toy Train and immediately started an argument with the driver. Apparently he had lost his ticket. His accent and clothing gave away his identity and his excuses about the incident added more weight to the fact that this was the first time he was travelling. I wondered how we, one of the most hospitable hosts anywhere, could show such different colours when travelling away from our homeland.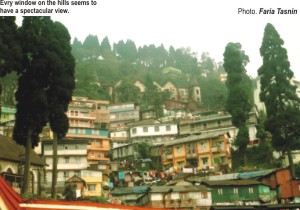 Our first night was in The Darjeeling Club Limited. As there were five of us, we had to take accommodation in the Super Deluxe Room, which cost about Rs. 1500 a room per day. We had the option of using the fireplace, but at an additional cost of Rs. 80. We decided against it. Perhaps that was not the wisest of decisions. We had a totally different opinion the following morning.
Next morning we woke up to the stupendous beauty of Kanchanjunga. It was my first view of the mountain range and I felt a lump in my throat. I also felt very small in front of the mountains that had been there for millions of years. I was lucky to have witnessed that sight since the following day was rather cloudy and the mountains were lost to the mist. We spent most of the day roaming around our hotel room and taking in the foreign air.
That night we went to an Indian eatery where we noticed a Canadian tourist fumbling over the prices of the items on the menu. Satisfied with his order he looked around and soon we had introduced ourselves and a conversation was in full swing. He said he loved travelling and seeing the world and spent his money on that but saved up on cheap accommodation and spent even less on food. He put it beautifully, "seeing is believing" and he needed a lot to quench his thirst. It is said that travelling enriches you and we had learnt an expensive lesson. The next day, we decided to look for a cheaper hotel. Enter Bellview Hotel where the cost of two rooms came to Rs. 1330. We knew at once we would like it here. Once we had moved, we spent some time looking around the city.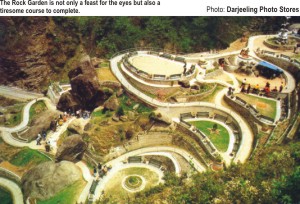 Nehru Road also known as the famous Mall Road was the centre of vitality and colour. A road where no vehicles are allowed to ply, this is the hub of all the population. Going uphill, the shops on the left are all proper shops -- cardigan shops, toy shops, electronic shops, gift shops, photo shops, antique shops and many more while the space on the right are taken up by make shift shanty-shops. Their owners come with a suitcase or a basket and unpack their belongings and then pack it up to leave at night. These shops are usually buzzing with tourists during October, November and December and during the summer time (April, May, June and July). Most of the other time of the year, it's too cold for tourists to visit. The best thing about being in a new place is seeing new people and what a sight it was to see. There were people from all over the world there, Indian, Nepali, American, Canadian, African, European and others whose origin we couldn't guess. Most people around us were in jeans and sweaters. School children smartly dressed in their uniforms also hung around this happening place. Judging from their clothes, it could have been summer. I, on the other hand, had on four layers of clothing, plus a muffler and yet my fingers were numb. It was cold and a chilly wind followed us wherever we went.
The next day we went to visit the Japanese Temple in Charlimont and the Rock Garden. They are about 23 km away from Darjeeling Town about 15 km apart. The Nipponzan Myohoji Buddhist Temple, Japanese Temple in short, is also known as the Peace Pagoda. It is one of the six Shanti Stupas in India established for World Peace by Funi Guru, a close friend of Mahatma Gandhi. Right in front of the Japanese Temple is a 20-foot solid golden statue of Buddha. The Stupa was started in 1972 and the Pagoda opened on 1st November, 1092. The graceful architecture complimented the giant trees guarding the entire surroundings of the Temple. It commands a panoramic view of Darjeeling and the Kanchenjunga range. We stood in awe to take in the scene.
(To be continued…)
Copyright (R) thedailystar.net 2004