Special Feature
Dreams lost to the flames
Shamim Ahsan
About sixty hours since New Bangabazar Hawkers' Market caught fire, there are still faint remnants of the devastating flame. People walking around the area are rather indifferent to it as nothing flammable is left to catch fire. The one and a half acres of land that housed the market has become a dumpyard littered with small pieces of burnt remains. Non-flammable matter (used in the shops) like the shutters, locks, swing machines as well as half-burnt tin pieces, all bent and entangled are testimony of the hours long inferno that hit on that terrible Sunday morning. The fire has been put out and debris and rubble will be cleared away in a few days; but for the two thousand or so men and women who have lost everything they had, the effects of the fiasco will plague them for many years to come. Some will perhaps never recover from the loss.
Forty- plus Fariduddin, one of the fire victims of the New Bangabazr Hawkers market inferno, begins to sob as he tells his story: "I started the business taking a loan of Tk 4 lakh from my younger brother who lives in the Middle East. I could repay the amount, but as winter was approaching, the peak season for our type of business, I thought I should instead invest the amount for winter clothing. I stocked blankets and jackets worth at least Tk 8 lakh right before Eid. All is gone now." After celebrating Eid in Comilla's Chandina he returned Dhaka on Sunday morning and faced his worst nightmare. " I have turned into a beggar. What will I do now? How will I maintain my family?" he cries out. He is not the only person, but one of the many hundreds who have lost everything on that catastrophic fire.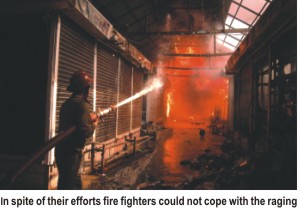 And it all happened in a few hours time. The fire broke out from a shop at Goli No-2 to the south west of the market at some time around 8.45am. Eid had been over only 5 days ago and most of the businessmen had not yet returned. Only a very few had just opened or were in the process of opening their shops when the fire broke out. While the present shopkeepers were busy bundling up their merchandise, the panic stricken security people quickly locked all the five main collapsible gates fearing looting. So, when other shop owners arrived at the scene they couldn't save their goods. By the time the guards opened the gates again to allow the shouting shoppers in almost half of the market was ablaze. The only thing left for them was to watch their shop and merchandise, their only means of livelihood being devoured by the yellowish purple fire.
Keeping in mind the coming winter most of the shops and store rooms on the first floor were crammed with winter clothes like sweaters, jackets, cardigans and blankets. As wool and synthetic fibre, two common components of those articles, are highly flammable the fire spread with fierce speed. The thick black smoke emitting from the fire could be seen from far away places.
The police and Rapid Action Battalion (RAB) members also arrived within less than an hour and cordoned off the surrounding area to make way for the fire fighter vehicles. But, by the time RAB members took position some miscreants looted a number of shops taking advantage of the chaotic situation. Even some of the salvaged merchandise that the shop owners had piled up on the streets were looted. Mithu, owner of Nasima Fashion, managed to get two bundles of clothes and the cash out of his shop, but when he came out with the second bundle the first bundle that he kept on the road was gone. "My cash box was looted by some miscreants right before my eyes. They were pretending as if they came to help me," alleges another businessman named Sharif who owned Modern Garments.
The fire service office is only 3 to 4 minutes' walking distance from the spot. When the fire service people first arrived at the scene in 20 to 30 minutes -- the precise time is difficult to determine as everybody quotes different times -- the fire had already engulfed a large part of the market. The fire fighters readily swung into action and with them several hundred people including the businessmen present there, their staff as well as people from nearby market areas fought the fire along with the fire service people.
But their stock of water was exhausted very soon. Since there was no waterbody close by the vehicles had to go to the pond beside T&T and this pause in pouring water incessantly allowed the fire reinforce itself and ultimately engulf the entire market. More than 100 fire fighters armed with 27 vehicles struggled hard and it wasn't until 5pm (this time is also not beyond doubt) when they finally succeeded to tame the fire. By then every flammable article has been turned into ashes.
Seventy year-old Qari Mohammad Monjur Ahmed, muezzin of the market mosque killed in the fire while some 40 people including 5 firefighters were injured. Though it is impossible to determine the exact loss in terms of money, about 1.700 shops and around 200 warehouses on the first floor had garments worth some 200 crore taka. Cash amounting several crore taka kept in the cash boxes was burnt. More than 1,500 people who either owned shops or did business renting those shops were rendered penniless.
Though some businessmen alleged of the fire-fighters' late arrival and their negligence or inefficiency, fire service people deny such allegation. Market or garments factories have to be built keeping the infrastructural facilities for fire fighting. Again there has to be fire extinguishing equipment in such places and people who work there need to have the basic know how to cope with a fire, points out Selim Newaz Bhuyian, Assistant Director, Dhaka, Bangladesh Fire Service and Civil Defense. "Did New Bangabazar have any of these facilities?" he asks. The alleys in between two rows of shops are so narrow that even two people find it hard to walk side by side. Not only that, there are four to six collapsible gates every few yards in each of the alleys besides the main entrance, all of which were locked, he says.
"Our people had to spend a lot of time to break open those gates before pouring water into the fire," Bhuyian explains. This is not the first time this market caught fire. New Bangabazar was gutted twice before in 1998 and 2000. But unfortunately, no preventive measures have been taken in this market or the other 4 to 5 similar kind of markets that run the risk of catching fire. Many believe DCC, which owns these markets should construct multi-storied building in places of these tin-shed markets, which will not only decrease chances of fire incidents, but also will accommodate more shops.
Some believe it was a short-circuit that caused the fire, but most of the shopkeepers suspect arson behind Sunday's fire in New Bangabazar Hawkers' Market. They have blamed Chowdhury Alam, President of Shop Owners' Association and a Ward Commissioner, who, they suspect, had employed miscreants to set fire to the market. "He had been planning to construct a multi-storied market here and make allotments of shops in exchange of a hefty amount," alleges a shop owner who lost all his goods in the fire and who doesn't want to be named. Many other businessmen also make similar allegations. They also reveal that squabbling over supremacy in the market had been a chronic problem for the last two years since Chowdhury Alam along with his cronies drove away the former committee led by the founding president Khair. They claim that Khair is the real, elected President of the committee.
Chowdhury however denies his involvement in the incident. Vice President of the association and President of BNP, Ward 56, Shamsul Alam Chunnu, who is also known as Chowdhury's 'man' says on Chowdhury's behalf: "Chowdhury didn't want to be the president of the market association, it was the common businessmen who pleaded him to lead them." Chunnu also accuses Khair of various kinds of malpractice. "He tortured the businessmen of this market for years. He made a lot of money through dishonest practices. He used to collect electricity bills from the shopkeepers but instead of paying the bill off he pocketed the money himself." When asked about Chowdhury's plan of constructing a multi-storied building here Chunnu asserts that Chowdhury is doing this for the benefit of the businessmen, not for his own interest. But many of the shop owners apprehend that if a multi-storied building is constructed there there is no guarantee that all those who had shops here originally, will automatically get an allotment.
Though there is no solid proof of arson till now there are some. Informing the fir service office is one such thing. Though it was claimed that the fire brigade was informed immediately and they did arrive on the spot promptly ( a claim Chunnu also endorses), it was later found out that Fire Service wasn't informed by anyone from the market. In fact, at around 9.20 am, after almost 30 to 40 minutes, the fire service office was informed from Motijheel Thana.
The government has already formed a three-member investigation committee headed by NM Abdur Razzak Chowdhury, Director, Operation and Maintenance, Bangladesh Fire Service and Civil Defense, to probe into the fire incident. According to Selim Newaz Bhuiyan, Assistant Director, Dhaka Division, Fire Service and the member secretary of the investigation committee, the committee has already started its work. When asked if they have any proof of arson as alleged Bhuiyan refuses to make any comment except that nothing is being excluded from the list of possible reasons, including arson.
Two days after the fire incident, some shop owners were found standing in front of the four collapsible gates that have been under lock and keys since the fire incident. Inside tables and chairs have been set along the four collapsible gates where some people were seen doing paper work. Chunnu, vice-president of the owners' association, was seen looking over things. The waiting businessmen inform that the association is preparing lists of the affected businessmen one for the affected shop owners and another for the renters. The purpose is to ensure that the real victims get compensation when the promised help from the government comes.
The pavement right in front of the burnt market has been occupied by the fire victims who have sat with whatever merchandise they could save from the fire. For most of these businessmen the immediate concern is when they will be able to start their business once again. "No business for us means no food. We want a space where we can sit and continue our business until a permanent space is arranged," says Habibullah, who lost merchandise of over Tk 2 lakh. Habib is one of the more fortunate ones who could salvage some portion of their merchandise from the fire. Though they have been assured by high profile visitors such as ministers, the mayor as well as ruling party MPs of receiving all sorts of assistance no one is expecting much to happen. Many of the businessmen are also sceptical about the planned multi-storied market. "What are we going to get? Can you assure me that I will get allotment of one shop in that multi-storied market?" Ramzan demands. Ramzan should certainly get one as well as all the other businessmen who have lost their only means of livelihood on that terrible Sunday.
Copyright (R) thedailystar.net 2004