Books

Ways to be Healthier
Sanyat Sattar
Health & Fitness for the Road Warrior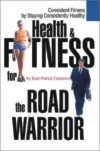 Kurt Patrick Gutierrez
Writers Advantage; March 2003
ISBN: 0595260799
Are you the traveler who is always rushed? Are you feeling stressed, having trouble sleeping, or overeating at pizza stops at the airport? Do you find it difficult to tolerate the discomfort and fatigue of travel? This book is written as a survival guide for travelers who want to get control over their lives by a business executive who logs over 100,000 travel miles a year. This surely is a comprehensive guide for the busy traveler that will show you how to look and feel better.

---
The New Harvard Guide to Women's Health
Karen J. Carlson
Belknap Press; April 2004
ISBN: 0674013433
With the publication in 1996 of The Harvard Guide to Women's Health, women seeking answers to questions about their health had access to the combined expertise of physicians from three of the world's most prestigious medical institutions: Harvard Medical School, Massachusetts General Hospital, and Brigham Women's Hospital. With complete information on women's health concerns, physical and behavioural, this A to Z reference quickly became a definitive resource, praised especially for its coverage of topics not previously considered under the umbrella of women's health. The New Harvard Guide to Women's Health reunites the authors to bring a valued health reference up to date for a new generation.

---
From Hormone Hell to Hormone Well
C.W. Randolph, Jr.
Natural Hormone Institute of America; August 2004
ISBN: 0975427008
With devastating reports coming out about synthetic hormones, Dr. C.W. Randolph, Jr. was urged to write From Hormone Hell to Hormone Well. This book helps women around the world understand how their bodies can be treated effectively by using human-identical natural hormones - the safe way to a healthy life as the body changes.
The book is written for women suffering from the symptoms associated with PMS, perimenopause, menopause, or hysterectomy. With more than 38,000,000 women now hitting the perimenopause or menopausal years, it's important to know that there are safe options for their health. Dr. Randollph also provides insight into a woman's reproductive health as well as male menopause. The book offers safe and effective treatments for the following: weight gain, depression, osteoporosis, mood swings, premature aging, breast health, hot flashes, low sex drive, fluid retention, and fatigue.
Copyright (R) thedailystar.net 2004