Cover Story
The Pictures of
Resistance
Mustafa Zaman
Resistance denotes a whole range of meanings. In Iraq we are witnessing its patriotic colour that is often soaked in blood. On the home front, Drik picture Library Ltd, the institution for promoting documentary photography, is all set to overwhelm us with the artistic manifestations of the same. To quote the words of Shahidul Alam, the man who established Drik and who remains its driving force, "Resistance has been there in different forms and against various established norms -- political organisations, religious zeal, media propaganda and commercialism to name a few." "And throughout this resistance, pioneer photographers have continued their struggles amidst adversities to create an identity for professional photography in Bangladesh," continues Alam. His reference is to the struggle that led to independent Bangladesh and to the people's resistance to oppressive regimes. Chobi Mela III is the third effort by Drik. To lend the biannual event a broader significance it strives to showcase internationally reputed photographers from the world around. It has been designed to encapsulate the spirit of resistance in its myriad forms in a show that will be dispersed in numerous venues in Dhaka.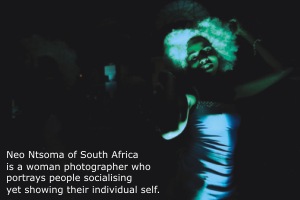 The Chobi Mela III, which has been keeping Alam and his contingent at their busiest, is an international event that was "created to raise awareness of the present state of photography in the region and deconstruct current photographic practices." The last two Chobi Melas tried the same. According to Shahidul Alam, "Every one of the themes of the three Chobi Melas reflects the existing time and political atmosphere."
The first one, held in 2000, had the theme of "Difference". There was also a special segment attached to the festival, which brought into light many unpublished photographs of the 1971 Liberation War of Bangladesh. The segment was aptly titled, "The War We Forgot".
The second Chhobi Mela based itself on the theme of "Exclusion:You are either with us, or against us". As the festival director, Alam shares all the heat that we associate with the theme of the third Chobi Mela. He articulates, "Each pen that fails to write, each shutter that fails to open, each voice that refuses to shout in protest when governmental and corporate power flex its muscle, bears the guilt of compliance. This festival in giving space to the excluded, pays homage to the few who continued to say no."
<>Saying "no" to exploitation through photography. What spurs one to think of such a passive form of resistence? Alam has an unambiguous answer. He states the need for implementation of "mass visual literacy" that can have a bearing in the real issues. On top of that he invites the photographers to "resist the political and social stigma connected with their careers, as photographers are major reformers".
In the Chobi Mela III photographs from all the continents except Australia are to be exhibited. There will be a section that will present the development in the photographic landscape in Bangladesh. A segment of the main exhibition from Bangladesh will comprise the work of three Bangladeshi photographers. They are Abir Abdullah, Naymuzzaman Prince and Shahidul Alam.
Abir Abdullah's engagement with Shakharibazar grew out of his first attempt to document the people and life in this area. It was during his course with Pathshala, the training cell of Drik, that Abdullah had begun his love affair with Shakharibazar. He didn't know that he was to record the recent collapse of a hundred years old building in the area that cost several lives. "I have been photographing Shakharibazar since 1999 as a three-year project titled 'Hindu Religious Festival' assigned by the World Press Photo Foundation as well as part of my course work with Pathshala," explains Abdullah.
During this time he developed a relationship through his camera with the people living in the area of Old Dhaka. The set of 12 photographs that will represent Abdullah in Chobi Mela III reveals his engagement with the people of Old Dhaka. He captures a Shakharibazar at its most vulnerable. The batch of photographs titled "We are born here and will die here" brings into view the Shakharibazar tragedy and reveals the people's struggle to get a grip of their loss frame by frame. "My work is all about the lives of these people. Just as I have captured a son in the tight clasp of his father's arms, both dead while remained imprisoned under the rubble for hours, I have also recorded a newborn being greeted by the family according to the tradition of the area," reveals Abdullah whose interest lies in the study of human integrity. He is fascinated by the resolve of the people of Shakharibazar, whose motto, as Abdullah had found out, is, "We are born here and will die here". "As the people of this area belongs to the religious minority, they are determined to live together even in the worst of situations," Abdullah let us know. Than he hastens to add, "…to them resistance has a different meaning every morning."
Naymuzzaman Prince too specialises in social issues. But he seeks out the patches that mostly remains in the dark, removed from our everyday reading of reality. The outcome of his three year journey that maps a least-known territory may incite unbound pathos. He has been recording the children with leukemia. "Unlike adults, children are not preoccupied with the malady they are afflicted with. Even if it is a terminal disease they would rather enjoy their present than be tormented by what tomorrow has in store," says Prince. "How long and going to live? Such questions don't bother them, this has affected me beyond imagination," Prince exclaims.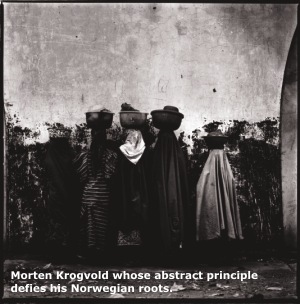 Working with these children has its share of mental agony, as often his subject died or became so ill that Prince himself had go hunting for blood donors. About his effort Prince has one thing to say, "Children in my photographs don't have any other concern but pleasure. They're resisting a critical future, which they can't change."
Shahidul Alam, who holds the opinion that image-makers had always been underrated on the home front, will display his work where he captures the "till now unveiled women members who joined the Naxal Movement. While working on these "politically motivated women who had once dreamt of bringing about a new social order" Alam not only caught them in frame but also extracted the words that put these portraitures in true context. He believes that words and pictures have a deep-rooted relationship and that together they become more effective in creating new interpretations.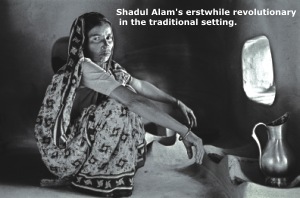 Recalling his experience of photographing the Naxal women, Alam recalls one woman, Lathika, who affected the course of his work. And when Alam was to photograph her she became stiff with discomfort and Alam remembers how she grumbled over her social status. She said, "I once had a great desire to be photographed but then it wasn't possible… at present I would have to take my husband's permission…Is this the freedom I gained by leaving my own household? Is this what we fought for?"
Through his unusual encounter Alam realised that to depict the saga of the revolutionary women he must not abandon the stories behind their faces, stories that the present generation of Bangladeshis have no inkling of.
Alongside showcasing the three photographers from Bangladesh the Chhobi Mela recognises the contribution of pioneers of Bangladesh. It also highlights the efforts of the women photographers in today's world.
Momena Jalil, a journalist who completed the course offered at Pathshala, believes photographers groom themselves so that they can collect another frame, a frame that will outlive them, and press forward their beliefs and dreams. "It is like a natural yearning for reproduction in order to continue living through the next generation," Momena asserts. And Drik, with there Chobi Mela in mind, has arranged for showcasing the works of those photographers who have, in their own personalised way, successfully worked along this line. Big guns like Reza Deghati, Sudharak Olwe, Robart Pledge, Morten Krogvold, Raghu Rai, David H Wells, and many more will show their work. From the younger generation, rising stars like Shadi Ghadirian, Manit Sriwanichapoom, Trisha Ziff, Chris Yap and more will enjoy exposure in Bangladesh for the first time.
Chobi Mela is a platform that tightens the bond between countries, believes Suvendu Chatterjee, the man at the helm of the Kolkata branch of Drik. "As everyone knows Roghu Rai is adverse to exhibitions, but it was Raghu himself who expressed the desire to be a part of the festival. Isn't that an achievement for Chobi Mela and Drik? This international festival has constructed a bridge, particularly between Bangladesh and India," He adds.
The festival consists of 37 Exhibitions of which 10 are mobile. Seven workshops are scheduled to be conducted by leading photographers like Pedro Meyer, Morten Krogvold and Peter Fryer. Moreover Barbara Stauss (Photo editor), Liz Wells, Dick Doughty and Rupert Grey will also be conducting workshops during the festival. Lectures, presentations and film sessions will mark this third Chobi Mela at the Goethe Institut for six consecutive evenings. Fine artists, documentary photographers, and photographers who have produced conceptual work are participating individually and in groups. Films, videos and multimedia presentations that have a direct relevance to the theme of the festival will also be shown in the regular evening screenings. Guest artists who are unable to attend will participate through video conference.
All this calls for a lot of well-co-ordinated steps. At the Drik headquarters, Shalini, the co-ordinator of Chobi Mela III and her coworkers are hopeful to pull off a memorable festival. They have been putting their efforts together towards that end for the last three months. Yet there are critics who believe that Chobi Mela is not accommodating to the photographers of the home front. No one recalls any important show by an important Bangladeshi photographer which Drik ever organised. Many reputed younger generation photographers also complain of Driks being a strict adherent of documentary photography, which puts a heavy premium on the works of photographers who work outside this genre, as they are lagging behind in their effort to draw appreciation. However Shahidul Alam is not against photography as art. But he, with the help of his organisation intends to carry out the mission of freezing the moments of reality for posterity overlooking the worries of whether or not the images fall in the category of art.
As for the recent Chobi Mela, Alam says, "We felt this was the time to 'resist' and many of the photographers have taken on the theme to express their deep resentment to a world order that is clearly unjust." Perhaps in times of war, art should take the back seat.
---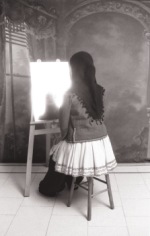 Shadi Ghadirian is an Iranian photographer with a knack for poking fun, that to in a very subtle way, at the censorious atmosphere of her country. She pokes fun at her chosen subjects in an intelligent way. Her images are constructed realities that tend to deconstruct the reality that she is a part of. As a critic who points a finger at the disparities inherent in the social fabric, she does not remain aloof of her subject matter. "By means of photography I can show the world around me -- adoration, inspiration, and complaint. For the time being the most appealing issue to me is women's lives that I'm exposed to. They are images of my life," says Ghadirian. This testimony is enough to sum up this social critic. Ghadirian, a graduate in photography from Azad University in Tehran, is not willing to sever her ties with her own society. She is not an artist writhing in the agony of alienation; being a part of the community she lives in and the persons she meets, she simply cares for revealing the truth. Her models are often her friends and acquaintances. As for her way with her subjects, she simply brought them under a critical light that never compromises her position as the admirer of the image.
Copyright (R) thedailystar.net 2004