New Flicks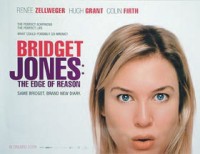 Bridget Jones: The Edge of Reason
Same Bridget. Brand new diary.
Genre: Drama / Comedy / Romance
Director: Beeban Kidron
Distributor: Universal Pictures
Cast: Renée Zellweger, Colin Firth, Hugh Grant, Jacinda Barrett, Jim Broadbent
In this follow-up to the world-wide hit, we find Bridget (Renée Zellweger) where we left her: blissful and besotted in the arms of gorgeous lawyer Mark Darcy (Colin Firth). Mark is accomplished, supportive and tolerant of (nearly) all of Bridget's tiny jealousies; why wouldn't every woman in London, including Mark's new long-legged, drop-dead-gorgeous, I-always-say-the-right-thing-at-all-times intern, want to lure him away from the plumpish, opinionated, sometimes inappropriate Bridget? With the entry of the leggy threat, Bridget's pink clouds begin to turn grey as her attacks of self-doubt sorely test her relationship with Darcy. And just when it seems that the waters couldn't get any more choppy, Bridget's former boss, womanising heartthrob Daniel Cleaver (Hugh Grant) sails into view.
The SpongeBob
SquarePants Movie
A hero will rise.

Genre: Comedy / Animation
Director: Stephen Hilenburg
Distributor: Paramount Pictures
Cast (voice of): Tom Kenny, Rodger Bumpass, Alec Baldwin, Bill Fagerbakke, Carolyn Lawrence
SpongeBob SquarePants is an optimistic, free-spirited sponge that was born in a rectangular shape, much like a kitchen sponge. Living at the bottom of the sea in a pineapple in the community of Bikini Bottom, SpongeBob works as a fry cook at the Krusty Krab diner, where his friends include a Squidward the squid and Patrick the starfish.
Soon, there's trouble brewing in Bikini Bottom. Someone has stolen King Neptune's crown and it looks like Mr. Krab, SpongeBob's boss, is the culprit. Though he's just been passed over for the promotion of his dreams, SpongeBob stands by his boss and along with his best pal Patrick, sets out on a treacherous mission to Shell City to reclaim the crown and save Mr. Krab's life.
Source: IMDB.com / Hollywood.com / YahooMovies
Copyright (R) thedailystar.net 2004