Bulbul Ahmed
Tribute
The Man
Behind the Hero
His quiet, witty words, soft smile and passion for acting won the hearts of not only those who admired the persona of Bulbul Ahmed on screen – be it the film Debdas or the popular drama serial of the 1980s "Ei Shob Din Ratri" – but, perhaps even more so, those who actually knew the man behind it. Co-star in films like Debdas and Bodhu Biday, Sarah Begum Kabori remembers the actor who passed away on July 14, 2010, just months before his 70th birthday.
Kajalie Shehreen Islam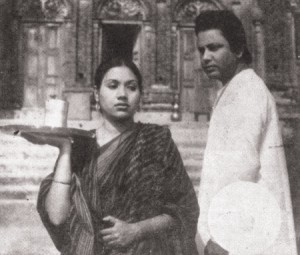 A scene from Debdas.
Sarah Begum Kabori remembers having first met Bulbul Ahmed on the sets of Abdullah Al Mamun's Ongikar (1972). "From our first meeting, I felt he was different from other actors," she says. "He was polite and soft-spoken, and he knew how to appreciate people."
"I remember wearing a green and orange cotton sari and Bulbul Ahmed came up to me and asked me not to mind but that the sari I was wearing was very nice. 'Only the sari? How about me?' I asked him jokingly. And he said, 'Well, that goes without saying.'"
The shootings were spent in song and laughter and it did not feel like they were working together for the first time, says Kabori. "I was very comfortable with him."
Later, the pair starred together in films such as Bodhu Biday, Dui Jibon, Kolmilota and Debdas.
"When the director approached me about the film Bodhu Biday, I didn't know who would be playing the male lead role," says Kabori. "I was having some problems with actor Razzak at the time and was unwilling to work with him. But the director said he knew this and was planning to cast someone different. 'Who do you think would fit the role?' he asked me, and I guessed rightly."
Bulbul Ahmed later won the National Film Award for Best Actor for the film in 1978, as well as those for Shimana Periye (1977) and Shesh Uttor (1980). Films such as Alamgir Kabir's Dheere Bahe Meghna (1973), Shurjokonnya (1975), and Mahanayak (1985) were also highly acclaimed.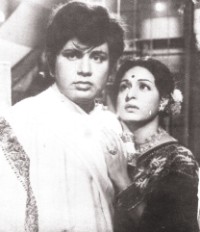 With Shabana in Bodhu Biday.
"We worked like crazy for that film," says Kabori, reminiscing about Bodhu Biday. "We stayed up all night, froze in the cold, got bitten by mosquitoes. I actually got angry and said that it was torture! But Bulbul Ahmed was his usual serene self and just said, 'What can one do, let's just finish the work'. I have seen other actors get angry and even scream and shout on sets, but not Bulbul Ahmed. He had an extraordinary quality of compromising and adapting."
"I still remember shooting that scene in Debdas, where I (Paro) go to see Debdas for the last time before I'm to be married. He is sleeping and I fall on his feet and cry. There was pindrop silence when we shot that scene, everyone was visibly moved. You can feel so deeply and act it out only if you have good co-stars, a good team," says Kabori. "At that moment, I forgot that I was Kabori and he was Bulbul Ahmed, I only felt that I was Paro and he was my Deb Da, whom I loved so dearly."
Though a quiet man, Bulbul Ahmed was very witty, according to Kabori. "I once mentioned how a certain person we knew clearly had double standards, and Bulbul Ahmed said, 'you mean multiple standards!' He was very funny and intelligent and you could hardly outtalk him. He said so himself, that if anyone could outtalk him, it was 'amader nayika, Kabori,' (our heroine, Kabori)."
Kabori and Bulbul Ahmed met several times over the years and shared their thoughts on life, family and their country. "We used to think alike," says Kabori, "we had the same concerns about our country, and he trusted me. He was a deep man. I still remember him telling me that dreams are beautiful to see, but the pain caused when they are shattered is unbearable."
The last time they met was on the set of a talk show, "Amar Nayok" (my hero) hosted by Kabori. "We shot it in the upper floor of this very building," says Kabori, looking around her house and remembering her hero.
While films of the 1970s and 1980s brought Bulbul Ahmed fame, the television dramas of the three decades following brought him into the homes of families as 'Tuni'r Baba' and other characters. For those who knew him in person, it was the little as well as big things that endeared Bulbul Ahmed to them -- his soft-spoken yet witty words, his passion for his profession and his philosophy of life. While his audience will miss their Mahanayok and Debdas, those who knew him, will miss the man who made them heroes.
TABARRUK AHMED BULBUL
* Born on September 15, 1941
* Son of Mosammat Moslema Begum and Mohammad Khalil Ahmed, an amateur stage actor who was his son's first inspiration
* Worked in theatre with group Drama Circle in the 1960s
* Worked as a banker from 1965-75
* Big break in the movies came with Iye Kore Biye (1972)
* Starred in popular television drama serial Humayun Ahmed's "Ei Shob Din Ratri" in the 1980s
* Winner of three National Awards for roles in Shimana Periye (1977), Bodhu Biday (1978), and Shesh Uttor (1980) and a National Award for direction, for Rajlokkhi Srikanto (1987)
Copyright (R) thedailystar.net 2010