Travel
Johannesburg
A Little South of Africa
Nader Rahman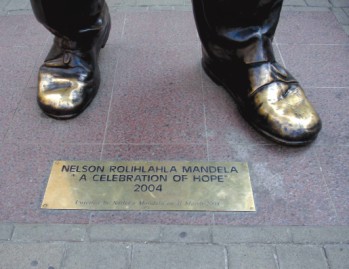 Travelling to any city hosting a Fifa World Cup game is a sure way not to take in the sights and sounds of the area. The focus is all on the football and everything else takes a backseat to the greatest show on earth. This year Johannesburg managed to escape the curse of being the centre of the world's sporting attention by showcasing itself as one of the most vibrant and cosmopolitan cities in the world. "A world class host city" they called themselves and with good reason.
OR Tambo International Airport is probably where the journey begins for most international travellers and as such the airport is clean, fast, well-maintained with good signage. The information booths are useful without being excellent and generally people are friendly and will help out as best they can. In case you need to make a phone call, the pay phones are difficult to use, but there is at least one mobile operator selling ready-to-use sim cards.
One of the World Cup's legacy projects is the newly launched high-speed train service between the airport and the city centre and is a must for any traveller as it is notoriously difficult to get to the city from the airport. What would normally take an hour now only takes 13 minutes with three convenient stops along the way. The main problem with the city for the average traveller is its utter lack of connectivity.
While the Gautrain will drop one off in a central location, there will almost never be a cab around to go from there to your final destination and even if there is, it would probably be best to stay clear of them. Public transportation is as bad as Dhaka and is quite unsafe. Taxis and cabs are available, but unreliable and generally they should be the last option. Undoubtedly the best way to get around the driving-friendly city is to rent a car with a GPS and just make your own plans.
Accommodation in Johannesburg is easy enough to come by as the city is filled with hotels for all budgets. Obviously, in a city with such high crime rates, it is best to be selective about the location, but as long as they are not in Hillsborough or Yeovil one should be okay. Those are two neighbourhoods one should stay clear of at any time of day or night without a large group of people and possibly a tour operator.
The first thing to do is to drive around the city and marvel at its natural beauty, from the rolling hills to the never-ending greenery. Every single tree in Johannesburg was planted by humans and remains the largest man made forested area in the world. A timely lesson that Dhaka could learn from. The next stop should surely be Soweto, the common acronym for the South Western Townships where over half the people of the city live.
Soweto is the only place in the world that can boast a street with two Nobel Prize winners on it. Archbishop Desmond Tutu and Nelson Mandela may have left Vilakazi Street, but it still remains a shrine to their respective contributions to the country they helped shape. Township tours are popular in both Soweto and to a lesser extent Alexandria. They include both walking and cycling excursions yet they do come across as a bit touristy. Tours aside, Soweto now also boasts the breathtaking Soccer City stadium. If there is a game on and even if one is not interested in the game, I would strongly suggest a trip to the stadium. Shaped like a traditional African cooking pot, the gasp-inducing, awe-inspiring structure should be seen and experienced first hand.
After Soweto, one should probably head down to Melrose Arch for a bite to eat and a drink. Melrose Arch is a sprawling shopping centre with a number of alfresco dining options and may be a little up market, but is well worth a visit or two. One can get anything from seafood, to Italian to traditional African food at the Arch and its beautifully relaxed ambience only adds to one's dining pleasure.
From Melrose Arch one should take the Nelson Mandela Bridge downtown to check out Newtown and the Museum Africa. With a massive open square in front of the building, it truly is a majestic sight. The museum inside is adequate without being extensive, and with a number of different exhibitions a year, one is likely to find something of interest all year round there. Its current exhibition on the historical foundations of photography is both interesting and prosaic at the same time. While a few pieces really stand out, the wall of history comes across as more of a show-and-tell project than anything really meaningful or insightful.
A short drive from Newtown is the desi heart of Johannesburg, Fordsburg. Filled with Indian restaurants and grocery stores, one could easily be fooled into thinking it was East London. Interestingly, there is even a solitary Bangladeshi restaurant there for those who miss daal and bhaat. Fordsburg is also famous for the Oriental shopping centre, one of the few places where one can bargain and haggle over one's shopping. A very New Market experience in the centre of Johannesburg.
From Fordsburg, it is a short drive to Melville, the bohemian heart of Johannesburg. With little curio and second hand book shops dotted all over the place along with a number of hip art galleries it is the perfect place to round ones days off. The crowd at Melville a mixture of university students and young professionals and as such is the perfect place to meet and mingle with the locals. With a number of good restaurants, chic clubs and pubs the nights never end early there.
Johannesburg is not the best place in the world to shop, but it can boast the largest mall in the southern hemisphere at Sandton City. Located just beside Nelson Mandela Square (which houses the hugely impressive bronze statue of him) Sandton city is a shoppers' paradise, with everything from independent retailers to high end luxury brands. The only downside being, South Africa is not the cheapest place in the world to shop. The mall at Rosebank is another place to go, if not for the traditional retailers but definitely for the African Crafts Market. It is touristy bordering on kitschy but still worth a visit, even if its for the traditional dances they hold outside the market.
In my very personal opinion, the best Johannesburg tourist destination is the Apartheid Museum. Located right beside Gold Reef city (an amusement park) on the outskirts of town, it offers one a long hard look into what exactly apartheid meant and just how badly it affected those who had to live under its rule. It is both shocking and inspiring and provides a deep, meaningful look into the social heart of South Africa. Currently there is also a temporary exhibition on the life and times of Nelson Mandela which draws just about as many people as the permanent collection, such is the majestic persona of the man they lovingly call Madiba.
Johannesburg may not be the centre of Africa but in a very real way it seems like the heart of the continent. People from all over the continent converge everyday to make a living and a fast buck. It is just like it was 130 years ago when it was first founded. Back then people came looking for gold and diamonds; those precious metals and stones may have disappeared but they have left the city richer in their absence. In the reunification of South Africa, Johannesburg is equivalent to the Berlin Wall and the Brandenburg Gate and as such one cannot help but feel just how special the city and its people are.

Copyright (R) thedailystar.net 2010