Education
Brabourne's Bengali Muslim Women
Holding the Mast of Education
Tamanna Khan
August 14, 1947, the dreamland of the Muslims of the Indian subcontinent materialised into Pakistan. Yet no one, not even Cyril John Radcliffe, who chaired the boundary committees of the two nations, India and Pakistan, could anticipate the impact of some simple lines drawn on paper. Overnight, millions of people received a new identity, discarding the ones they were born with. The Province of Bengal and Punjab were the most affected as these places had a heterogeneous population of Hindus and Muslims. Thousands of Hindu families fled to the new Hindustan, India, while Muslims of India left their home for Pakistan.
During the British period it was the Hindus who first came out of the confines of religion and embraced the English education system, thus securing important positions in the state. The Muslims, because of their conservatism and mistrust of the British, were fewer in number in the educational institutes. As a result, in East Bengal, the Partition created a void in the education system, leading almost to the collapse of the primary and secondary levels of education, especially for the women. Bengali Muslim girls from progressive families had only started to pursue higher education in the mid-twentieth century, as a result most of the schools in East Bengal were run by Hindu teachers. Although the main exodus of Hindus from East Bengal took place in the 1950s, it was nonetheless an aftermath of the Partition. When the new nation Pakistan was going through this underestimated acute crisis of teachers, it was mostly the Brabourne women, coming home from Kolkata, who took charge of education system and led the way.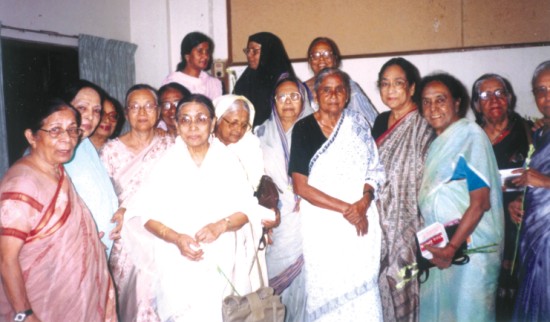 Members of Lady Brabourne's Old Students' Association.
Lady Brabourne College, established in July 1939 at a rented house in Park Circus, Kolkata was the single-handed initiative of Sher-e-Bangla A K Fazlul Huq. Begzadi Mahmuda Nasir, a prominent Brabournian who founded the Central Women's College in Dhaka, relates the story of its birth as told to her by Sher-e- Bangla himself. As the chief and education minister of Bengal in the late 1930s, Fazlul Huq used to get reports about the ill-treatment of Muslim women in the hostel of Bethune, the first women's college in India. Muslim women staying in the college hostel had to take their food in their rooms because of the untouchability issue among the Hindus. The other reputed colleges of Kolkata -- Scottish Church, Victoria, Gokhale Memorial were either coeducation or did not have residential facilities. Therefore, Muslim women from other parts of Bengal could not carry on their studies further. Ruminating on these facts, Fazlul Huq thought of building a higher education institute that would cater to the needs of the Muslim women and thus opening the avenue for their development. He first went to the Governor of Bengal Michael Herbert Rudolf Knatchbull (Lord Brabourne), with his proposition. However, Lord Brabourne rejected the idea saying that a college only for Muslim women would instigate communal feelings. Fazlul Huq nonetheless indicated that Lord Brabourne's nonchalance regarding the repression of Muslim women would once again prove that the British favoured the Hindus over the Muslims. Although discouraged by the Governor, Huq did not give up his mission. He went to Lady Brabourne and requested her to influence the Lord's decision. She assured him of her help and urged him to make all the necessary plans for the college. However, she said that the college could not be exclusively for Muslim women. Thus Lady Brabourne College came into being with 50 percent reserved seats for Muslim women and the rest for Hindus, Parsees, Sikhs, Jains and other ethnic communities. However, the hostel facility was kept exclusively for Muslims. The college soon received the nickname of "Purdah College" (veiled college), as the bus that took the day-scholars to the institution was covered with a veil.
Zubeda Khalil of Lady Brabourne College became the champion in the All Bengal Women's Sports event at Gorer Maath, Kolkata, March 17, 1946.
Latifa Akanda, a Brabournian who served as a Professor at the University of Dhaka reflects on the establishment of Brabourne College, "Parents would not have sent their daughters to the college had this awakening in the Muslim community by creating inspiration towards education, not come in an institutionalised form. As the hostel was there, guardians could send their daughters from remote towns to study in Kolkata."
Helena Khan, well-known writer and educationist, who completed her Bachelor of Arts (BA) from Lady Brabourne College says, "Sher-e-Bangla Fazlul Huq had created this college with the vision that the women who would study here would in future be role models for the next generation of Muslim women."
Sher-e-Bangla's aspiration turned out to be true after the partition of India and Pakistan. The number of educated Muslim girls was limited and the East Pakistan government sought them out to fill up the vacancies in the school. Taking a trip down memory lane, Helena says that in 1948, she and her classmates from East Bengal, came back from Brabourne after appearing in the BA examination under Calcutta University and took admission in Dhaka University. However, before they could start their class, their parents were visited by Mrs. Becker, Inspector of Schools, East Pakistan. She implored to the parents to send their daughters as teachers in the vacant schools of the newly formed nation. " 'They are most eligible ones', Mrs. Becker had said," remembers Helena, " 'we promise that in about two years we shall send your daughters for some training or back to the Masters' course.'"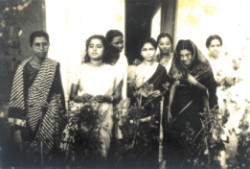 Helena Khan (fourth from right) with other Brabournians in front of the Lady Brabourne College, 1948.
Farrukh Mahal Khan, another Brabournian who worked as a teacher in both East and West Pakistan says, "I never applied for any job, yet I received an interview letter from Momtazuddin Khan, Director of Education, East Pakistan." When the riots continued even after partition, Farrukh like many other Muslim women had come back home and appeared in the BA examination in private. Soon afterwards she received the letter from the Directorate of Education. She thinks someone must have referred her knowing she was a student of Lady Brabourne College.
Begzadi, who started her teaching career in 1951 at Kumudini College also relates a similar incident. "I did not know how I got the job. After completing MA (Masters of Arts) from Dhaka University, I went back to my home in Barisal. There I got a telegram from my department head Miss A.G. Stock bidding me to join the college immediately."
Miss Stock had sent this telegram after a visit to the school and college set up by R.P. Shaha, philanthropist and founder of Kumudini Welfare Trust, says Begzadi.
As accounted by Brabournians, East Pakistan government had recruited many women who had just come back from Kolkata after completing their Bachelor's degree. Interestingly, most of these women were unmarried and yet they had the courage to defy the social taboo for Muslim women and go off to distant districts of the country to work as teacher. The East Pakistan government had also taken initiatives to send the women for the BT (Bachelor of Training) programme; later, many of them were awarded scholarships by the British Council to study on Education and English language teaching. The Brabourne girls who had completed their Masters' from Dhaka University had established many schools and colleges among which Agrani School, Central Women's College and University and Women's Federation College is noteworthy. Brabourne's girls were among the first Bengali Muslims of East Pakistan who came out of the four walls of their homes and contributed to the economy and welfare of the state by holding up the torch of education, as well as enriching other sectors of the nation, such as health care, literature, music, journalism and sports.
Brabournians Leading the Way
Some of the most prominent Brabournians who helped rebuild the disintegrating women's education in East Pakistan are
* Dr. Anwara Mansur founder Agrani Balika Bidyalay
* Rokeya Mannan served in Agrani Balika Bidyalay as headmistress
* Begzadi Mahmuda Nasir - Founder principal of Central Women's College, Dhaka. At Present Chairman of the Central Women's University. Vice Chancellor of the first women's university in Bangladesh. Served in Kumudini College.
* Prof Latifa Akanda founder principal Purana Paltan College. Retired as professor of Dhaka University.
* Late Dr. Safia Khatun Professor, Dhaka University
* Late Hasna Begum- served as principal of Eden College
* Razia Majid - served in Bidyamoyee Govt. Girls School, Mymensingh and Rampura Govt. Girls School; a well-known writer.
* Helena Khan served in five different government school; a well-known writer.
* Farrukh Mahal Khan- served in Mymensingh Vidyamoyi Girls' School, Kamrunnesa Govt. Girls School and Bangla Bazaar Govt. Girls High School; worked as principal at Karachi Residential Model School.
* Late Jahanara Imam- served in Siddheswari Girl's School; a well-known writer.
Others who worked as teachers in different educational institutes throughout the country include: Dr. Khaleda Salauddin, Abeda Hafiz, Rokeya Rahman Kabir, Hosna Banu Khanam, Khorshedi Alam, Rabeya Talukdar, Rajia Jobeda Mirza, Jahan Ara Karim, Zobeda, Khorsheda (Dolly), Gulchemonara, Iftekharunnesa, Kulsum Huda, Tahmina Zakaria, Shamsunnahar, Sufia Khan, Begum Anjum Ara, Tabenda Akhter, Razia Begum, Quazi Jahanara Khan, Nadera Chowdhury, Fatema Rafiquddin, Late Halima Khatun, Razia Matin Chowdhury, Late Rahela Khatun, Anwara Khatun, Betu Karim, Late Amina Begum, Late Afia Khanam, Zubeda Khalil, Atia Khanam and Pari Banu.
--Complied from a write up of Fatema Salam, founder president and social activist of Lady Brabourne College Old Student's Association and other members of the association.

Copyright (R) thedailystar.net 2010