Exhibition
Framing the Flow
Mahtabi Zaman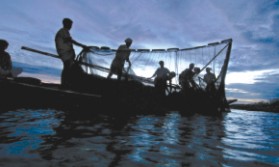 "God kept me as well-water in a bounded pond, panting for the monsoon days. I wait for God to shower grace on me. God only knows how long I should be in this unblessed state. Who knows… I may fail to deserve His grace, after all!
River water flowing into beels and haors is also like well-water, because none can mingle with the Ganges, unless the all-purifying Ganges Herself chooses to come to them. In the same manner, (O Almighty!) our toils and prayers will be nullified if You decide not to grace our being!"
This is the expression of Fakir Lalon Shah, the great philosopher poet of Bangladesh, about river and life. Great Bengali poets like Rabindranath Tagore, Kazi Nazrul Islam, Jibonanondo Das, Michael Madhusudan Dutt and many more were born and brought up near rivers. Their works reflect a heavy influence from the river life they were accustomed to.
"Nowadays, the rivers lead to heavy devastation of nature and livelihoods preventing the emergence of such characters with great souls in Bangladesh," says Kabir Hossain, a photographer and nature lover whose photography exhibition "River and Life" was held at Drik Gallery from July 12 to 17.
Countless tales of religious and spiritual men and women are associated with our rivers. The riverbanks also hold numerous burial sites of holy men. The spirituality of the rivers is especially expressed in Lalon Geeti, the devotional and enchanting songs sung by the bauls or disciples of Fakir Lalon Shah. These songs enshrine the truth that our ideologies and activities are naturally entangled with our rivers.
"While working on this project, I found that river patterns were changing every six months. Often, their traces were vanishing which is a matter of concern for our environment and ecology. That's why I found it necessary to keep documents on rivers which should be started immediately," says Kabir Hossain. "That's why I decided to focus my work on rivers, the source of life in Bangladesh."
"Bangladesh has always been a land of rivers, tributaries, distributaries, rivulets and canals. Life is inseparably related to these water bodies, but this feature of Bangladesh is changing so rapidly that rivers and dependant activities will disappear very soon," he says.
Many rivers have died and many of them are falling victim to illegal land grabbing by businesses and industries. So, to save our most essential resource and our nature, we need to save our rivers. The industries should be established at a safe distance from water bodies to maintain security of livelihoods and biodiversity and prevent encroachment and contamination.
Kabir passed his childhood and adolescence beside the river Ichhamoti at Dosorpara village of Sirajdikhan in Munshiganj, his birthplace. Fishers and their casting nets in the water of the river Ichhamoti, sailing and towing the boat and the smell of burning petrol generated a love for the river and his life around it. Bedtime stories about rivers from his mother also contributed to his passion.
"When I learned to take photos, I always used to rush out to the river carrying my camera," Kabir says. "I chose it as the subject of my studies later, as I gradually acquired a way of regarding the river as a matter of serious concern."
"My heart pains, when I see a farmer tilling the sandy soils of a dried up river-bed. We hear the not too distant danger horns blaring 'apocalypse now!' as the climate changes set in irreversibly, globally. The natural varieties displayed by the six Bangladeshi seasons are not perceivable any more," says Kabir.
Kabir Hossain, a photojournalist with the daily Prothom Alo, wants to donate 50 percent of the money earned from his photography work to a shelter home he has established in his village in Dosorpara, as well as to a Lalon music school in the same area.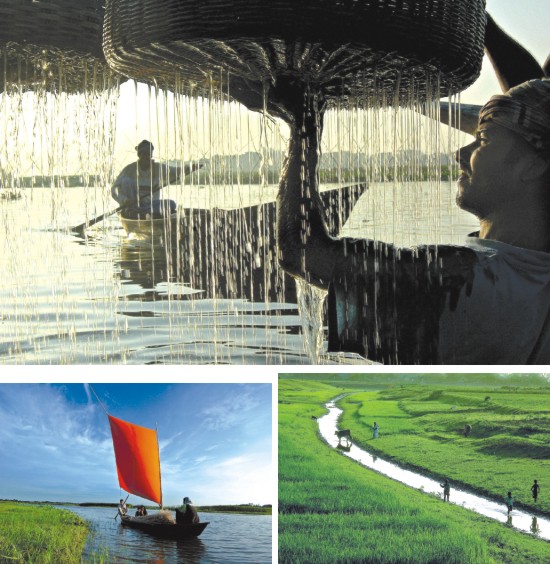 Copyright (R) thedailystar.net 2010