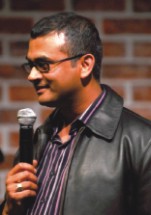 Naveed Mahbub
Lifestyle
Bangladeshi Funny Man Making Waves

Quazi Zulquarnain Islam


As a kid growing up in Dhaka in the 80's, Naveed Mahbub could be passed off as just about every other Bangladeshi. He was a hard worker, shy and reserved when it came to public speaking, with a dream of becoming an engineer. To top it off, he was even culturally active, competent in the tabla and in a slight departure from tradition, the star of a bevy of commercials for corporates such as Pepsi and Peps Gel.
In short, he was almost the model child. The guy every mother loved and wanted their sons to be.
But then, suddenly, it all went very wrong.
It was in 1995 and a long way away from home that the winds of change first caught up with Naveed. At that time, he was a young engineer, having completed his degree from Bangladesh University of Engineering and Technology (BUET).
"I attended my first ever comedy show, in Ann Arbour, Michigan. It was the early nineties and for a fresh-off-the-boat kid from Bangladesh, it was an absolutely unique experience," recalls Naveed.
"I was completely blown away by the energy," he admits sheepishly.
The seeds of his demise from 'Bangladeshi poster child of the 80's' were sown that very day. Two decades, numerous engineering jobs, re-migration, marriage and a kid later, Naveed Mahbub is now Bangladesh's first fully-fledged stand-up comedian.
And it is a career that he wouldn't swap for anything.
"I love what I do," says Naveed, and it is evident. Comedy is his absolute passion and as they say, lucky is he who can make his passion his job.
Naveed has so far managed that transition effectively.
He has recently established Dhaka's first ever comedy club, predictably titled "Naveed's Comedy Club". Based in Baridhara, the Comedy Club is now increasingly popular as folks horde to the diplomatic zone to check out the latest entertainment offing in a city crying out for versatility.
Dhaka's first comedy club.
"I was always certain that there is a huge potential for comedy in Bangladesh," says Naveed. "As a general rule, we all like to laugh, and plus, what else is there to do here? I think we have all had enough of just going out for a bite to eat."
Fully-fledged work on the comedy club started in 2009, when Naveed finally moved back to Dhaka. After a year of hard labour, the club has become something, he is immensely proud of.
"Me and my wife Zara, [a product of the Peps Gel commercial] put a lot of work into this comedy club. It may be small but I think once you step inside it will be hard to say that you are in Dhaka."
And it is true. Naveed's Comedy Club is something straight out of the movies. A small stage, the classic stool, soft but illuminating lighting and a wall adorned with posters of comics from Bill Cosby to Jay Leno to Ellen DeGeneres; it sure does not feel like your usual Dhaka hangout.
And then there are the shows.
Every week on Wednesdays and Saturdays, Naveed's Comedy Club is teeming with activity, and laughter. Crowds throng to the little studio that can house upto sixty people on a good day.
"The response has been exceptional, I would say, but it could be better still," says Naveed.
"Our shows have attracted a very diverse clientele. We have the regulars, the foreigners and the eager to sample something new crowd."
"But we want to attract the mass and have shows that appeal to the general populace," he concedes, which is why his skits are always a mixture of both Bangla and English.
Naveed admits that his biggest challenge is keeping the material fresh, and scoping for new comedy acts.
"We are absolutely starting from scratch here, and although there are a lot of socially funny people in Bangladesh, not many have formal training in stand-up comedy."
It is here that Naveed recognises the impact of attending the famous Sandy Shores comedy workshop in California, which is where he learned the ropes, so to speak. Consequently, Naveed has already started his own training course and he is sure response will improve once people get over their fear of speaking in public.
"As more and more people know about myself and the comedy club, I am sure it will be almost like a sub-culture. Response will be huge then."
Already the signs are good. While we are sitting down for lunch, at least three people have overheard our conversation and come over to say hello. They are all interested in the comedy club and one of the guys wants to come on stage and try out during open-mic night on Wednesdays.
Naveed is enthralled. "Celebrity?" I venture. "More like the magic of Facebook," he quips.
Indeed the social media site has proved very popular for Naveed as a means of spreading the word about the Comedy Club. The trick, he says, is to keep them coming back.
"In the long run, I want to move into political humour," he says. It is a massively untapped zone and in the West political humour is all the rage.
"We have to be incremental though," Naveed realises, wary of the dangers of going all out. "People and the government have to be conditioned first to be receptive to this kind of humour and not turn violent. We have to understand that laughing at ourselves is a way of showcasing a self-effacing demeanour, and there is nothing wrong in it!"
For those of a family inclination, Naveed's shows are generally very clean, with almost no abuse riddled into his quips. As he says, it is for everyone, as laughter should be.
Naveed Mahbub's journey from poster child of the 80's to pioneer stand-up comedian is an enduring story in and of itself. It serves as an example for many youngsters to stand up and pursue non-traditional career choices, although Naveed readily admits, that without his day-job, financing his alter-ego would have been almost impossible.
He hopes it will change soon, as the market keeps growing.
It is said that with comedy, timing is everything. Naveed Mahbub's timing has so far been impeccable. And in that way, his real journey is only just beginning.

Copyright (R) thedailystar.net 2010