Environment
Dhaka City Corporation can collect only half of the capital's waste, leaving the rest to rot in the open. PHOTO: ZAHEDUL I KHAN
Down in the Dumps
Syed Zain Al-mahmood
Beneath the swirl of noise, a droning army of bulldozers provides a bass-line for the soundtrack of Matuail. The treble is supplied by the shrill cry of vultures and hawks circling overhead. But it is the smell that assails the senses -- hitting the visitor like a wall of stench that automatically triggers the gag reflex.
Matuail is Dhaka's garbage dump -- a rotting, stinking mountain of waste. This is where Shahab Uddin, 15, works. He forages in the trash from dawn to dusk, grimacing against the smell and the methane gas that rises from the rot.
As a Dhaka city corporation garbage truck approaches, Shahab, along with dozens of other people rush towards it, running through knee-high garbage to reach the fresh booty. Ignoring the smell, they gather around as the truck opens its rear gate to pour out its stinking cargo.
They are after empty plastic bottles, lead batteries, scraps of metal or paper -- all of which can be recycled by the sackful for a few Taka. Shahab and the other collectors carry bags of garbage into a nearby warehouse. They sift through the trash for food or recyclables, leaving the leftovers of Dhaka's leftovers to rot while flies swarm, rats scurry about and little children play nearby.
Theirs is an occupation born out of desperation and extreme poverty.
"My mother and I work from morning till evening," says Shahab. "My father left us when I was little. Some days I find something good, and make a bit of money. Other days I make nothing at all."
In a city where half of the almost 11 million inhabitants live on the fringes, it would be hard to find a more marginal life than that of Shahab Uddin. But a new UN-backed initiative that seeks to address Dhaka's perennial waste disposal problem could bring hope to the poorest of Dhaka's poor. The project is aiming to harness the potential of the informal waste collection sector, which has demonstrated that recycling trash can be extremely profitable.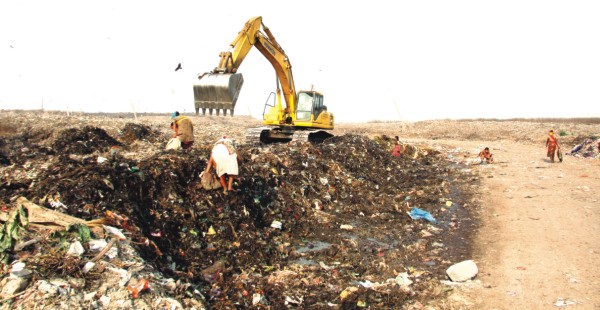 Open landfills cause a health hazard and release potent greenhouse gases. Photo: Zahedul I Khan
The scheme unveiled by the UN Economic and Social Commission for Asia and the Pacific (UNESCAP) and Waste Concern, a Bangladeshi non-governmental organisation, seeks to help solid waste development strategies become decentralised, pro-poor, low-carbon and self-financing through the sale of carbon credits.
"We will provide training for garbage collectors and buyers so they know how to separate the trash to make it easier to recycle, and become part of an organised and efficient waste management system," says AH Maqsood Sinha, co-founder and executive director of Waste Concern. "Their income and living standards will correspondingly improve."
Dhaka has a waste disposal problem of biblical proportions. Every day the nearly 11 million people of Dhaka city produce around 3,500 tonnes of solid waste. Dhaka City Corporation, which is understaffed and cash strapped, can only collect half of the garbage while the rest is left to rot in the heat and humidity in different parts of the capital.
The majority of the trash that does get collected ends up at the massive Matuail dump, a 50-acre pile of debris that is already nearing capacity.
According to Waste Concern, 80 percent of the city's waste is comprised of organic matter, and the festering garbage releases copious amounts of methane -- a greenhouse gas more than 20 times more destructive than carbon dioxide.
Social entrepreneurs nowadays are looking at waste as a resource. Photo: Zahedul I Khan
All of this, coupled with a very high population density, has had a devastating effect on the environment. Dhaka has attained the dubious distinction of being the second worst polluted and unlivable city of the world by a survey conducted over 140 cities by the Economist Intelligence Group, an organisation associated with The Economist. A World Bank study suggests that the soaring pollution level in the capital city is causing premature death of about 40,000 people every year.
Analysts suggest that the problem has so far not been solved because the authorities have concentrated on dumping the waste in open landfills, creating a health hazard and releasing potent greenhouse gases. With land at a premium, this was never going to be a sustainable solution. Both the major landfill sites of the mega-city, Mautail and Aminbazar, are filled to capacity.
It has been clear for a while that a new approach would be needed. Enter "garbiologists" Iftekhar Enayetulah and AH Maqsood Sinha -- co-founders of Waste Concern.
"With a very high density of people, a poor country like Bangladesh cannot afford to look at waste as a problem," says Sinha. "We realised early on that we must turn it into a resource."
Waste Concern has been around since 1994, starting out with small scale projects to get city residents to compost their waste. The idea was simple: most of Dhaka's garbage is biodegradable and organic. So Waste Concern arranged for some of it to be collected and taken to one of several processing centres, where it was turned into compost.
The transformation of trash to fertiliser solves in one stroke two critical problems in Dhaka's development: the Aegean stable of waste and the infertile soil in surrounding rural land devastated by overuse. Years of heavy farming in the area around the city have devastated the fertility of the top soil. Farmers need a cheap, organic way to support their crops and reinvigorate their top soil. Waste Concern moved beyond garbage dumps, and attempts to reduce waste by putting a value on waste itself.
Waste Concern initially set up a number of community-based composting centres in the city and launched a fleet of rickshaw vans taking waste to the collection centres from households that pay a small fee to have their overflowing bins emptied. Soon, the "rag pickers" of Dhaka were getting formal employment.
But it wasn't easy to win the critics over. Maqsood Sinha recalls that at first he and his partner were called the 'garbage men'-- they say they prefer being called 'garbiologists'. Now they are being lauded as pioneers whose ideas are being exported around the world. They won the UN's Race Against Poverty Award for their success in tackling climate change and improving the lives of the urban poor.
Sinha says they are continuing to think big. Money from carbon trading is helping. Waste Concern secured funding to build new large scale plants, approved by the United Nations Framework Convention on Climate Change (UNFCCC), that will tackle 700 tonnes of rubbish a day, saving 89,000 tonnes of greenhouse gas a year -- equivalent to the annual greenhouse gas output of more than 300,000 cars.
The first plant at Bhulta, near Narayangonj, has opened, handling 130 tonnes a day, and three more are planned. Sinha says Waste Concern is remaining firmly low-tech so it can employ more people who will get free meals, health insurance and a good salary. More than half of the workers are women, coming from what is termed the 'informal sector'.
"We have also helped the government draw up a 3R (Reduce, reuse, recycle) strategy," says Maqsood Sinha. "The strategy has at its heart the informal trash collectors of Dhaka."
The revolutionary changes in waste disposal may not translate into a "rags to riches" story for Shahab Uddin and his fellow scavengers. But real cash for trash may not be too far away.
Copyright (R) thedailystar.net 2010