A Roman Column
A City in Andalusia
Neeman Sobhan
Yesterday, I heard flamenco music drifting from someone's open window and instantly my heart left Rome, winging across the desolate plains of Andalusia to Córdoba in Moorish Spain. I was back at a Tablao, where to the accompaniment of guitar and live singing, a woman of severe beauty in a flouncy scarlet skirt and a man, his frame lithe and lethal as a sword, with the rhythmic clicking and stamping of their heels were setting the stage ablaze in a wild yet controlled fire of dancing that set the blood of spectators pounding and their feet tapping.
Córdoba city view from Alcazar.
The magic and passion of pure, non-commercial Flamenco dance and Fandango music, in the heart of Espana: my husband and I, in spite of being tourists were lucky to find ourselves among local aficionados of the art of Flamenco in the heartland of this dance form. We were watching some of the best national artists display their electrifying technique in an old building in front of the famous mosque-cathedral, El Mesquita, on our very first evening in Córdoba. It was one of the highlights of our trip.
We had arrived mid-morning and checked into our hotel, located almost opposite the Mesquita in the old part of Córdoba, now a world heritage spot. All this was last December, when my husband and I made a short sojourn into Moorish Spain. And yesterday, the flamenco music took me back there.
I looked at my diary and this is what I had written after I came back:
'Can beauty be exhausting? Yes, I am happily drained, and reeling from an overload of loveliness during my recent trip to two famous Andalusian towns of Spain, both studded with the resplendent history of their Muslim past: Cordoba and Granada.
Returning to reality was like coming out of the glare of a violently refulgent sun. My inner eye, then and now, is still adjusting its bedazzled vision to the everyday light, happily blinded. I am still seeing palaces and castles, mihrabs and cloisters, torres and tiles; my train is still crossing oceans of dusty olive groves and outcrops of rocks…….' Let me stop right there to comment on the Spanish countryside, based on our train route from Madrid to Córdoba and Granada and back. In some lazy part of my mind I had harboured a common misconception-- that of imagining Spain as a gentle southern region, verdant like Italy. My train window showed me a rugged arid terrain with no signs of human habitation; a somber brown landscape broken only by rocks and craggy mounds under a brooding sky, with no shady groves except for miles upon miles of olive trees marching endlessly like foot weary soldiers, and not a bird or animal in sight. I understood the melancholic source of the fandango music.
Back to my diary: '….I am still walking over the cobbled and cloistered Patio di los Naranjos or the orange trees courtyard outside the Mesquita, then entering it and losing ourselves among the myriad stalactites of striped double arches of this strange mosque turned into a cathedral in this historical city of Qurtuba, as the Arabs called this medieval capital of a faded caliphate.'
Yes, I was back there in this city, which in the Middle Ages and under the Ummayads was one of the largest, most populated cities in Europe with up to 500,000 inhabitants. Today, it is a moderately-sized modern city, and capital of the province of Córdoba in southern Spain.
Before the Ummayyads, it was also a thriving Roman city in ancient times. There are architectural
Flamenco
reminders of that, but it is the history of its Islamic past and its recapture by the Christian kings that gives this city its fascinating layers and harmonious blending of a multi-cultural past in its art and architecture, its food and music. The Mosque cathedral, from its very name gives a foretaste of this, and our tour inside it was a physical slipping into the palimpsest of religious and architectural history.
The Great Mosque of Cordoba was for three centuries seen as the focal point of the capital of Al-Andalus. It was created from a Christian Visigothic church by Abd-Al-Rahman I in the 8th century. He and his descendants reworked it over two centuries to refashion it as a mosque, starting in 784. There have been speculations about the reasons for the unorthodox orientation of its mihrab, which traditionally, faces in the direction of Mecca. But Abd Al-Rahman oriented it southward, perhaps to feel he were still in the Ummayyad capital of Damascus and not in exile.
The Mesquita's most notable features that awed us were the 856 columns topped by double arches, in stripes of jasper, onyx, marble and granite. These, apparemtly, were made from remnants of the Roman temple which had occupied the site previously, and other ruined Roman structures. The double arches were an innovation in architecture, designed to support the enormous weight of the towering ceilings. The gilded prayer niches, honey-combed domes in blue tiles, the mihrab with geometric patterns of plants, all took our breath away.
In 1236. after the reconquista by the Christians under King Ferdinand of Castille it was transformed into a church. The mosque was left intact encased by the shell of the later cathedral. Within, there is a sense of harmony, the Islamic features blending with Gothic and christian elements.
The next day a morning stroll within the crenellated towers of the castle of Alcazar of the Muslim and later the Christian Kings. We were taken into the hall of the infamous Inquisition and the garden where Columbus first whispered to Queen Isabella about his dream of a 'new world'.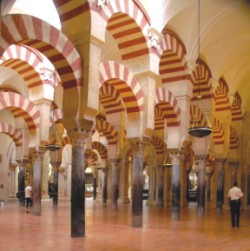 El Mesquita - Córdoba's famous mosque-cathedral.
We explored during the day the old quarters of the city, the bridges and towers, the Jewish quarters and the Arab ones. We stood before the bust of the Arab opthalmologist Al-Ghafiqi in the quadrangle of a municipal hospital, who was one of pioneers of the cataract operation. He was of that tribe of learned and modern Arabs who were part of the enlightenment of Europe.
During our meals at charming places, perhaps because we have been spoilt by Italian food, we found ourselves, despite our enthusiasm, somewhat disappointed by the Spanish cuisine, especially the slightly over-rated Tapas and the Paella. Dishes on the menu with an Arab influence were tasy, though. Still we enjoyed it all.
We walked in the winter sun, happy for our woollens, because it was much colder than in Italy. And in the evenings, the rhythms and full throated passion of flamenco music within the tableros of dancers whirling and clicking their heels to wailing fandangos, bulerias, alegrias, blew us away.
However, we were already aware about what we would realise at the end of the trip, after Granada and Madrid, that our initial encounter with authentic Flamenco dance at the performance of the Tablao Cardenal, frente a la Mesquite on our first evening in Cordoba would not be repeated in any of the tableros where we would go seeking more of this dance, only to find a diluted, ersatz version.
Next week: Granada
Copyright (R) thedailystar.net 2009