Art
Colours in Motion
Fayza Haq
Like every year the collection at Saju's Grand Exhibition is something to marvel at. The variety of
Farida Zaman,
Sufia's Dream
.
paintings at Saju's Grand Exhibition appears to be unlimited which is not unusual for this gallery. Despite a dip in prices in the art market in the west, Bangladeshi artists are going ahead, showing everyone that they are not lagging behind in energy or passion. They have worked on their rich heritage and presented their lifestyle in an optimistic way.
Quamrul Hassan"s "Cow and Bird" presents the peaceful, lyrical countryside of our past, as we can only reminisce today, in the twenty-first century. The element of ease and peace that is brought to mind with a few strokes of black is unparalleled in this day and age.
S.M. Sultan's "Palki" depicts the average man with ripping muscles. And the setting of the harmonious village behind, with thatched huts all in raw brown and bluish green-- create the rhythm of simple but serene village life. This serenity is almost forgotten in our modern craze to get a head in life.
To bring back an era that is gone, when rivers flowed aplenty and catching fish was a luxury as well as a necessity, there is Safiuddin Ahmed's grand swirls, with its geometric simplicity. Working with minimal lines, shapes and colours, Safiuddin has presented the magic of the countless fish in our rivers. Beige, burnt orange and blue shades in the form of ovals, lines and dots present waves, fish and boats with single sweeps.
The sweeps of Mohammed Kibria's shades of turquoise, with touches of brown, black and burnished brown also lull our sensitivity as no other abstract pieces can in"Painting-88".
Among the younger painters there is Abdus Shakoor Shah's "Ballads and Faces". The evocation of life in our villages with our dusky maidens with flowing hair, decked with simple but eye-catching jewellery, and traditional sari has never been made more appealing for expatriates. The embellishment with traditional motifs on cloth, and calligraphy makes the item more folk. The elongated bird perched at the side and the black crescent moon with the cobalt blue backdrop is certainly stirring.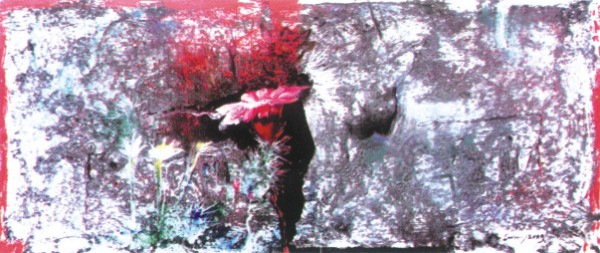 Mohammad Eunus, Pleasure from Rejection-1.
Jamal Ahmed's riverscape in bars of gray intermingled with gray and blue and yellow appears as real as anything can be. The figures in them appear to be taken from pages of an eastern legend. Looking at this piece, one can almost hear the roar of the waves and get the cold wet feel of the water in the scorching heat of May. Similarly Nasim Ahmed Nadvi's "The shore at night" takes one away from the claustrophobic binds of the cement jungles of our city.
"Pleasure from rejection" by Mohammed Eunus with the suggestion of the riot of white and pink flowers makes us dream and hope of empty spaces filled with wild flowers. Iftikharuddin Ahmed's "Searching for Space and Perfection" with its suggestions of delicate elements like compasses, is set in a world of dreamy blue, white and gray.
When it comes to women's prowess there is Farida Zaman's dream of empowering women. There is the gold and black creation with a net full of fish and birds surrounding Sufia, the heroine of Farida's imagination. Floating flowers hold up the figure of the simply clad woman in her pristine white sari. The yellow of Bengal's mustard fields bring in the songs of warm days just as the jet black of the background reminds one of the "kal boishakis" that bring in the much needed rain.
Shades of blue and emerald bring in more hopes and aspirations in Rokeya Sultana's "Untitled". Rokeya's work is as much inspired by the six seasons of Bengal as the songs of poets spun around the countryside in wet weathers and dry spells. In the abstract piece, the artist creates a fantasy world of expanses of blues and greens, which we need so badly in our country and which is being ravaged by the present ecology imbalance.
Jamal Ahmed, Going to River.

Nasim Ahmed Nadvi, The Shore at Night.
Another unforgettable and impassioned image of the countryside is found in Kanak Chanpa's "Beauty of the Hill". A young woman appears to blend with the colours of the hills in the backdrop. The flowers in her hair and the heavy silver ornaments heighten the charm of the subject. It is Kanak Chanpa's painting that has contributed so much to the understanding and appreciation of the tribal people of the Hill Tracts.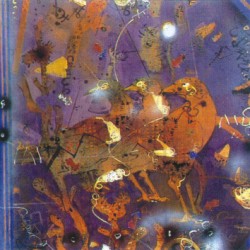 Ranjit Das,
Bird
.
"Sea-girl-13" by Nasreen Begum also adds to the glory of womanhood. Like her fellow artists, with a feminine angle, she too has striven for decades to portray the importance of women's role in society. Her trip to St. Martin's inspired her to paint this woman surrounded by the shower of exotic sea shells.
Shamsuddoha's "Dream of red and green" brings a golden blossom blooming from a spiked cactus. Tufts of spiked grass and floating bubbles complete the composition. Zahiruddin, who is superb with paintings depicting nature in watercolour and acrylic, portrays the unimaginable charm of the countryside, with its submerged fields, trees in the distance, and a horizon crammed with barred clouds. "Dream moon" has an imaginary moonscape with delicate texture work on spheres of green and gray. Dots and flecks of ruby red and yellow complete Ahmed Nazir's imaginary world of romance and idylls.
A seated woman, with her bareback facing the viewer, in Naima Haque's " Withdrawn" has all the poise of a person meditating in a world of her own. Anukul Mujumder's "Heart's song" has melodies pouring through the images of rejoicing with "Banglar dhol" and cymbals by happy country people wrapped in their simple celebration of life. "Angry cat" with its bars and streaks of gold and green is a unique portrayal of this domestic animal, much loved by man.
This exhibition, which ends on June 6, proves Ramiz Chowdhury (Saju) to be a fine connoisseur and collector of visual art.

Copyright (R) thedailystar.net 2010